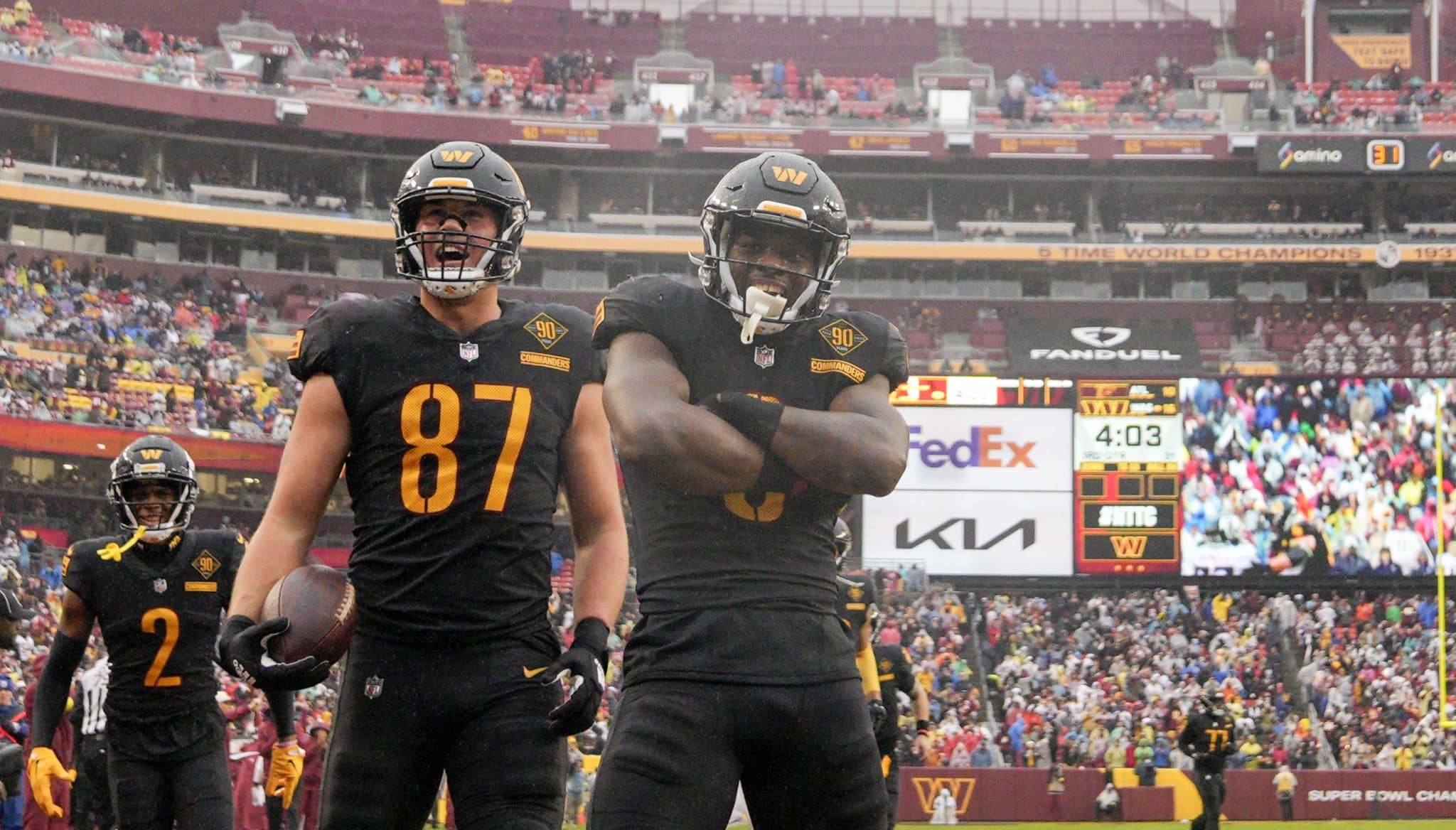 Every NFL Wednesday, the Rookie Diary honors the most prominent rookies. The best offensive beginner, his defensive alter ego, the action, the revelation of the week, the flop… And, to finish, the Power Rooking. Everything, you will know everything about the Rookies!
Offensive Rookie of the Week
Brian Robinson – RB – Washington Commanders (98th pick)
18 carries, 105 yards, 2 receptions, 20 yards, 1 touchdown
It's not just Taylor Heinicke who symbolizes Washington's good period, Brian Robinson has established himself as an essential link in the attack of the men of the capital. Efficient in the race, he was also able to provide a solution to the reception as shown by his touchdown. The former Alabama runner becomes a formidable weapon and perfectly complements a talent-rich offense.
Special Mention: Garrett Wilson – WR – New York Jets (60th pick)
Like what, when you throw the leather well, it can help the performance of the receivers. Garrett Wilson remembered the good memories of his supporters and the NFL like his first magnificent touchdown where his magnificent "cut" totally put his face to the kneecaps and opened the way for him. A very big performance that revives the Jets and helps install Mike White in charge of the attack.
Defensive Rookie of the Week
Cam Taylor-Britt – CB – Cincinnati Bengals (100th pick)
8 tackles, 1 forced fumble
If he conceded a big reception on Treylon Burks, the young cornerback still produced a big game to help his team win in an AFC clash. Allowing only 21 yards on the other 5 balls on which he was targeted, he also caused a fumble. His physical dimension is a big asset for the Bengals backfiel.
action of the week
Reed Blankenship – DB – Philadelphia Eagles (Undrafted)
He didn't have a lot of snaps, but that was enough for him to shine. The former Middle Tennessee player broke the Packers' good offensive dynamic by intercepting Aaron Rodgers thanks to magnificent reading and anticipation.
Rookie Reed Blankenship picks it! @reedus99_reed | #FlyEaglesFly

📺: #GBvsPHI on NBC
📱: Stream on NFL+ https://t.co/FRZHlv4OoL pic.twitter.com/I6pOgV3DXx

— NFL (@NFL) November 28, 2022
Revelation of the week
James Houston – LB – Detroit Lions (217th pick)
2 tackles, 2 sacks
Definitely the cuvée de Lions shines on all floors. For his first NFL game, James Houston immediately stood out by knocking down Josh Allen twice. Good news for the rotation, and more generally for this young team which, despite the defeat, continues to give itself great grounds for hope.
Offensive Power Rooking
1. Kenneth Walker – RB – Seattle Seahawks
11 games, 135 carries, 613 yards, 9 touchdowns, 19 receptions, 116 yards
2. Chris Olave – WR – New Orleans Saints
11 games, 56 receptions, 822 yards, 3 touchdowns
3. Dameon Pierce – RB – Houston Texans
11 games, 180 carries, 788 yards, 3 touchdowns, 27 receptions, 143 yards, 1 touchdown
4. Garrett Wilson – WR – New York Jets
11 games, 49 receptions, 628 yards, 4 touchdowns
5. Christian Watson – WR – Green Bay Packers
9 games, 22 receptions, 353 yards, 6 touchdowns, 4 carries, 22 yards, 1 touchdown
Defensive Power Rooking
1. Gardner Sauce – BC – New York Jets
11 matches, 48 ​​tackles, 2 interceptions, 14 passes defended
2. Tariq Woolen – CB – Seattle Seahawks
11 matches, 38 tackles, 5 interceptions, 9 passes defended, 2 fumbles covered, 1 touchdown
3. Jaquan Brisker – S – Chicago Bears
10 games, 73 tackles, 3 sacks, 1 interception, 1 fumble covered, 1 pass defended, 4 tackles for loss
4. Devin Lloyd – LB – Jacksonville Jaguars
11 games, 74 tackles, 2 interceptions, 2 fumbles covered, 7 passes defended, 3.5 tackles for loss
5. Jalen Pitre – S – Houston Texans
11 games, 76 tackles, 1 sack, 2 interceptions, 3 passes defended, 8 tackles for loss