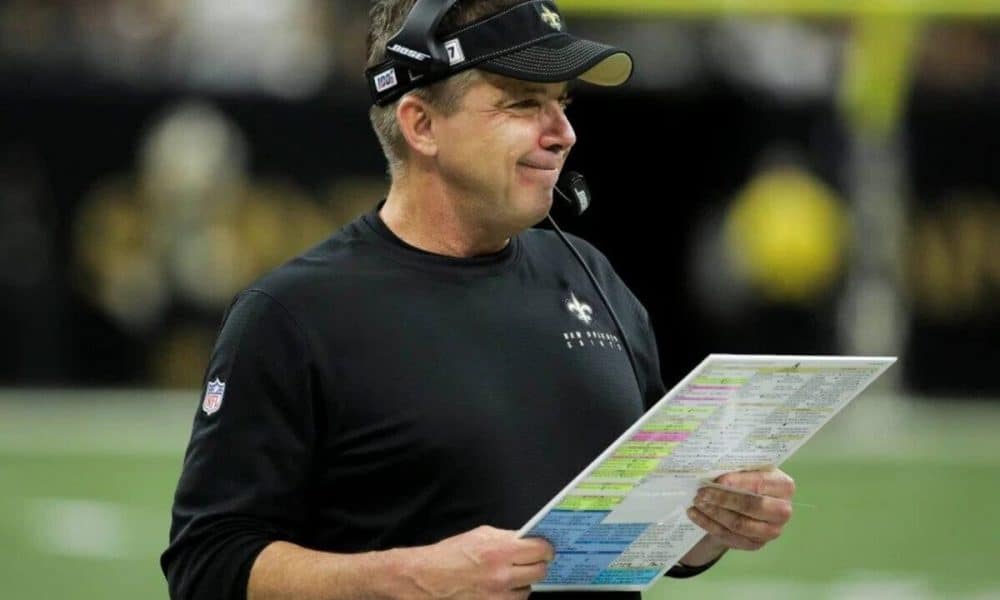 hot news
– Jaguars – Titans (20-16): Josh Allen sends Jacksonville to the playoffs
– Raiders – Chiefs (13-31): quiet repetition before the playoffs for Kansas City
[podcast] Retro – Draft 2019: Kyler Murray, Daniel Jones… and Clelin Ferrell
A star coach for the Broncos?
The end of the regular season is coming, and the coaching market is going to get carried away. The Broncos are in the starting blocks when it comes to the most recognized names.
According to NFL Media, Denver was granted permission to chat with Sean Payton. Authorization necessary since he is still under contract with New Orleans. Our colleagues also specify that the two franchises would be on the same wavelength in the event of compensation to be paid to obtain the coach. The Saints would apparently want at least one first-round pick.
But Payton is not alone in the race. An interview would also be scheduled with Jim Harbaugh during the coming week. Note that the latter would be in full discussions with the University of Michigan to increase his salary. This kind of interview therefore also looks like a means of pressure.
Finally, Dan Quinn, the defensive coordinator of the Cowboys, would also be among the most serious candidates for the position of the Broncos.
Giants starting Davis Webb
The Giants should let Davis Webb (QB) start this Sunday's game in place of Daniel Jones (QB), according to the New York Post. Webb was a third-round pick in 2017, but he never threw a pass in an official game.
Sean McVay still hesitant about his future?
Belote again? Like last year, the start of the Rams' offseason could be punctuated by questions about the future of their coach.
According to ESPN, the future of Sean McVay is up in the air, and the coach could take some time after the last game of the season on Sunday to reflect on what he plans to do in 2023. On Friday, in front of the press, McVay said he was flattered by the rumors sending him to the side of TV commentators, but assured that he had the will to continue coaching in the near future.
Bengals furious at maybe playing home-court advantage to a coin toss
If the Bengals had beaten the Bills, they were assured of the division title, and therefore to host the first game of the playoffs. They could thus have rested players this Sunday. But the league ultimately decided to play the home field advantage of a potential Bengals-Ravens playoff toss. That's what will happen if the Ravens beat Cincinnati and the Chargers beat the Broncos. An on-the-fly rule change that would infuriate Cincinnati executives, according to ESPN.
injuries
– According to Nick Sirianni, Jalen Hurts (QB, Eagles) should be able to hold his starting position this Sunday against the Giants. (ESPN)
– In remission, Jimmy Garropolo (QB, 49ers) would be in time for a potential return to the conference finals or the Super Bowl, according to Kyle Shanahan. (FTP)
– Lamar Jackson (QB, Ravens, knee) will not be on the field this Sunday, but ESPN announces that he has a good chance of making the playoffs. The fact remains that he still does not train, and that his knee would always have swelling.
– Frank Clark (DE, Chiefs, groin) didn't finish Saturday's game against the Raiders.
– Harvey Langi (LB, Raiders, concussion), Nate Hobbs (CB, hand) didn't finish Saturday's game against the Chiefs.
They should be back this Sunday
49ers: Deebo Samuel (WR), Elijah Mitchell (RB)
Bills: Christian Benford (BC)
Eagles: CJ Gardner-Johnson (BC), Shaun Bradley (LB), Robert Quinn (DE), Janarius Robinson (DE)
Seahawks: Tyler Lockett (WR, leg)
Vikings: Irv Smith Jr (TE)
They are uncertain
Bears: Kyler Gordon (CB, adductors/sick)
Cowboys: Connor McGovern (OG, sick)
Panthers: Yetur Gross-Matos (DE, hamstrings)
They will not play this Sunday
Buccaneers: Donovan Smith (OT)
Browns: Jadeveon Clowney (DE)
Commanders: Brian Robinson (RB), Jonathan Allen (DT), Benjamin St-Juste (CB), Saahdiq Charles (OL), Cornelius Lucas (OL), Andrew Norwell (OL), James Smith-Williams (DL), Kam Curl (S), Jamin Davis (LB), Nate Gerry (LB)
Giants: Leonard Williams (DT), Azeez Ojulari (OLB)
Patriots: Jake Bailey (P), Jack Jones (CB), Jonnu Smith (TE), Jalen Mills (CB)
Texans: Steven Nelson (CB, sick)
Vikings: Harrison Smith (S, knee)
They are placed on the injured list:
Bills: Damar Hamlin (S)
Cardinals: Chris Banjo (S), Jonathan Ledbetter (DL)
Jets: Duane Brown (OT), George Fant (OL), Nate Herbig (OL), Lamarcus Joyner (S), Brandin Echols (CB)
Rams: Nick Scott (CB, shoulder)
Seahawks: Travis Homer (RB)
Transactions
– Michael Thomas (WR, Saints) has agreed to change his contract. His 2023 base salary is increased from $15.5 million to $1.165 million, but a bonus of $31.7 million is added for the 2024 season. A bonus that becomes guaranteed on the third day of the 2023 NFL New Year is to say in March. What allow New Orleans to cut it before?
–Rodney Hudson (C, Cardinals) has agreed to cut his 2023 salary from $8.25 million to $2.05 million. According to ESPN, this could be a sign of an upcoming retirement.
Discipline
– The Patriots have suspended Jack Jones (CB) and Jake Bailey (P). Jones' agent clarified to ESPN that it was a disagreement with the team over the rehabilitation of the player, who is currently on the injured list.
In short
– Peyton Hillis, former star runner for the Browns, notably seen on the cover of the Madden game, is in intensive care after trying to save members of his family from drowning. A family member announced on Facebook that Hillis would make progress, although he still had problems with his kidneys and lungs.
Water in the gas between Jadeveon Clowney and the Browns
It's time for it to end between Jadeveon Clowney (DE) and Cleveland. The former number one pick in the 2014 draft was kicked out of Browns practice this Friday, according to Mike Garafolo (NFL Network). Indeed, the staff would have appreciated Clowney's comments about them very little.
Another draft number, his teammate Myles Garrett (DE) said he was disappointed with Clowney's statements ("the team is trying to put Garrett in the Hall of Fame instead of trying to win games"):
"I know Jadeveon is frustrated. We are all frustrated: we are not winning. I would still have hoped that he would come and talk to me face to face. He could have done it a little differently. »
For the moment, Kevin Stefanski (head coach) refused to specify if Clowney will be on the score sheet against the Steelers.
Support DNA of Sports
Don't forget to follow us on social networks by clicking on the links: Twitch – Twitter – Instagram – Facebook – TikTok
You can support us directly on Tipeee.
Or by betting at Unibet.
Or by subscribing to NordVPN through this link