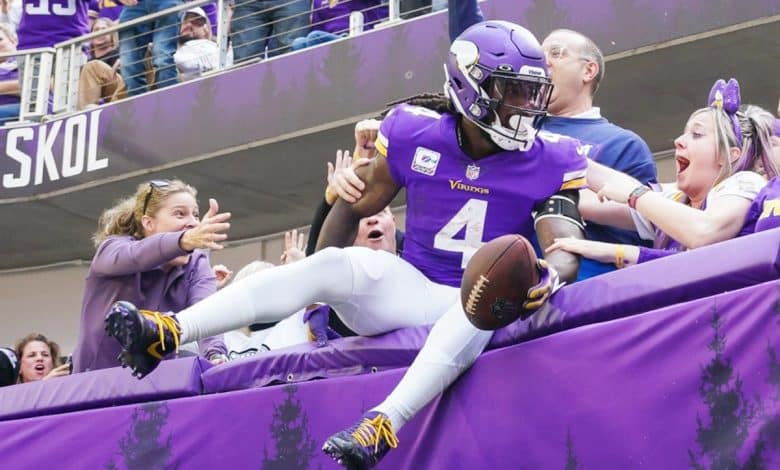 While the training camps will start, there is still enough to improve the workforce in the NFL. Today the best in attack, next Wednesday the best in defense.
1- DeAndre Hopkins, WR
Over 11,000 yards in ten seasons! DeAndre Hopkins is recognized as a receiver with very reliable hands and knowing how to stand out. Aged 31, his best period is probably behind him but his level is still worthy of a top 5 in this position.
Only 31 years old recently (June 2023), he still has at least two good seasons to give: so 3615 code who doesn't want it?
Possible destinations: New England Patriots, Tennessee Titans, Buffalo Bills, New York Giants, Carolina Panthers
After giving his young quarterback targets like Juju Smith-Schuster and Mike Gesicki, the Patriots could promote the development of Mac Jones and drastically improve their offensive performance with a receiver of this caliber!
Almost touching the goal, the Bills could form an intimidating Hopkins-Diggs duo to clinch the Grail. The Titans have a reduced window with the Tannehill-Henry duo and the arrival of DeAndre Hopkins would greatly increase their chance of having a good run.
The Panthers do not look like a franchise that can allow him to play the playoffs, but a native of South Carolina and having studied at Clemson University (200 km from Charlotte), DeAndre Hopkins could be tempted to return to the region: especially since Carolina has a sufficient salary margin to offer him a nice contract.
DeAndre Hopkins has an amazing life story so he will have the strength to show his qualities again in 2023, wherever it is!
2- Dalvin Cook, RB
Four consecutive seasons that Dalvin Cook exceeds 1000 yards on the ground in season! Intelligent to take the right breach and explosive in his changes of support, this runner who will be 28 years old in August is a "difference maker": this is why he refuses to sell off and has already refused a first offer from the Dolphins .
Possible destinations: Miami Dolphins, New York Jets, Buffalo Bills, New England Patriots
Native of the city of Miami, Dalvin Cook could return home in 2023. Coach Mike McDaniel likes to use a committee provided in this position but a real number 1 in the position would be beneficial in Florida.
He could also accompany Breece Hall to New York for his return from injury and offer a very exciting duet with Aaron Rodgers.
His younger brother James Cook is entering his second season with Josh Allen's Bills and a family reunion could become the missing link for this team that is close to the top.
3- Teddy Bridgewater, QB
Only 30 years old, Teddy Bridgewater could experience a 6th franchise in 2023. After his debut with the Minnesota Vikings in 2015, he is still paying the consequences of an injury suffered in 2016! Now only used in a back-up role in case of injury, he proved he had the character to adapt: ​​serious in his work and positive in his attitude within the team.
Some franchises will wait for a possible injury during training camps, to try to save their 2023 season. One of them already knows that its holder will miss the first third, at least, of the season. 2023.
Possible destinations: Arizona Cardinals, Detroit Lions, Green Bay Packers, Los Angeles Rams
Kyler Murray is injured and will not be recovered in time for the start of the 2023 season against Washington on September 10: the Cardinals find themselves with Colt McCoy, rookie Clayton Tune and means Jeff Driskel (11 NFL starts) and David Blow (7) in the QB-Room. Teddy Bridgewater has thrown 75 touchdowns in the NFL and seems a better option than Colt McCoy: 36 starts, 34 touchdowns for 32 interceptions!
A new coach arrived in the desert in 2023. Jonathan Gannon cut his teeth as a coach at the University of Louisville, where a few years later Teddy Bridgewater was trained. A reunion would make sense, especially since offensive coordinator Drew Petzing worked with the quarterback in Minnesota.
4- Ezekiel Elliott, RB
For ten years, the position of runner has been devalued in the NFL: players are chosen lower in the drafts and they rarely get major contracts.
Extend a runner? Here too, the trend is negative for franchises that favor draft to fill, at a lower cost, this position in a committee. Position too exposed to shocks, the level of play declines very quickly for a runner and the staffs prefer to quickly renew their forces in this position.
However, Zeke was the author of a remarkable 2022 season with 12 touchdowns. It offers the possibility of being ready from the start for a correct return.
Possible destinations: New England Patriots, Tampa Bay Buccaneers, Cincinnati Bengals
Bill Belichick likes his riders to be strong, very strong (LeGarrette Blount, Steven Ridley, Damian Harris…). Despite James Robinson's cut, Rhamondre Stevenson and Kevin Harris continue to offer this mover profile. Ezekiel Elliott would be invaluable for a young quarterback like Mac Jones, bringing 700 yards and 8 touchdowns overall in the season.
5- Taylor Lewan, OT
111 NFL games including 6 playoffs for this almost 32-year-old left tackle (July 22). Three times elected to play the Pro Bowl (2016, 2017 and 2018), the recurrence of a knee injury caused him to miss almost all the games in 2022! Even if he had one year left on his contract, the Tennessee Titans therefore logically decided to part with him. Operated in 2020, he is in the process of suing the surgeon who took care of it.
So retire or not? Converted into a youtuber with his NFL podcast "bussin' with the boys", Taylor Lewan is still on the market. He could retire or play one last season if a sporting challenge proves motivating. Playing one of the most important positions on the pitch, several teams could look into his profile.
Possible destinations: Chicago Bears, Tennessee Titans, Jacksonville Jaguars
Chicago will start the 2023 season with two tackles in development: Braxton Jones on the left (2nd season) and rookie Darnell Wright on the right. No doubt his experience would be invaluable to a team hoping to take a step forward in their results. Born in California and raised in Arizona, Taylor Lewan also knows the harsh climate of the north after his training at the University of Michigan.
Others
Jarvis Landry (WR), Sammy Watkins (WR), Kareem Hunt (RB), Leonard Fournette (RB), Dalton Risner (OL), Maxx Williams (TE), Carson Wentz (QB), Matt Ryan (QB), George Fant (OT), Ben Jones (OL), Kenny Golladay (WR), Trai Turner (OL), AJ Cann (OL), N'Keal Harry (WR), Kenyan Drake (RB), TY Hilton (WR), Justin Pugh (OL)