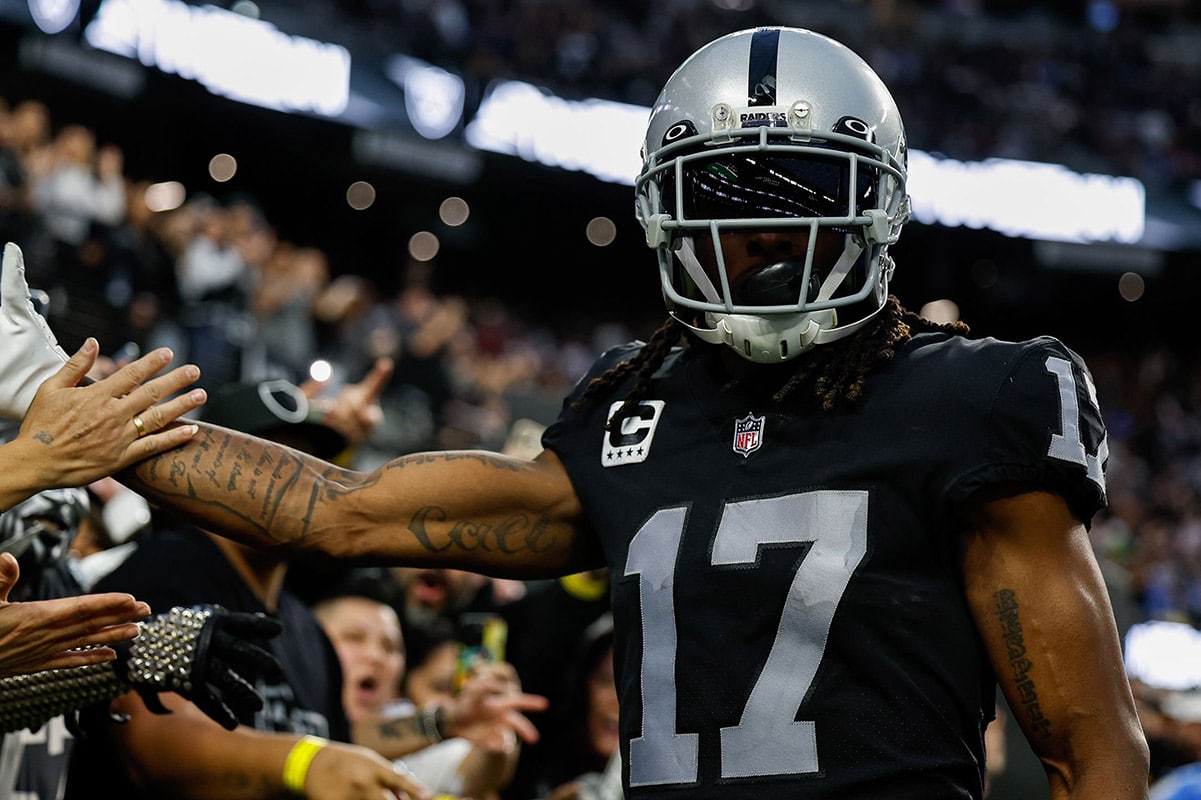 Las Vegas Raiders (5-7) – Los Angeles Chargers (6-6): 27-20
We had to wait for the 2nd half of the 4th quarter to finally see a hard-hitting Justin Herbert, moving the chains and finding his targets. A late awakening which is not enough for the Chargers to return despite a last opportunity at the end of the game with 22 seconds to play. With a ground game that had too little impact, the attack had all the trouble in the world to widen the gap at the start of the game despite several opportunities.
Carried by a huge Davante Adams (8 receptions, 177 yards, 2 TD) and no less solid Josh Jacobs (26 races, 144 yards, 1 TD), Vegas returned to the game thanks in particular to a 3rd quarter where they swings the momentum in a few games. The Raiders' attack has found some rhythm and finally seems to be working and the blacks and silvers sign a 3rd victory in a row.
The Chargers attack without energy
If Los Angeles quickly takes control thanks to an interception by Bryce Callahan returned for a touchdown, Justin Herbert and his family are having a hard time moving the chains. Although limited by a defense that puts a lot of pressure on the quarterback, like a found Chandler Jones (3 sacks), they have to settle for field goals when they are not punting. And if the Raiders' attack is not fundamentally better in the first half, it can at least count on Josh Jacobs. The runner launches his own on a nice run of 20 yards.
Herbert is struggling to find his targets, the quarterback lacks solutions and precision. Even Ekeler is not totally there. The runner, already discreet, releases the leather and returns possession as soon as the recovery takes place. An opportunity, immediately enhanced by the Raiders. Carr finds Davante Adams for a magnificent reception from 31 yards.
The road. The catch. @tae15adams never ceases to amaze 😱

📺: #LACvsLV on CBS⁰📱: Stream on NFL+ https://t.co/5fID6CMIjK pic.twitter.com/zUD9dtZlN3

— NFL (@NFL) December 4, 2022
Davante Adams and Josh Jacobs superstars
A few minutes later, we take the same ones and we start again. Adams drives the point home on a new long distance touchdown. In just 3 offensive games, Vegas turned the game around and took the psychological advantage. The receiver is back to his best. He is everywhere, multiplies the receptions, undermines his opposite on each route, each support. The running back is no exception. Percussive on every impact, he is a more than precious help for his quarterback.
Despite a late touchdown from Allen on a very nice pass from Hebert on a 4th & 12, the Chargers are going too far to hope for one as a back. New setback for Staley's men who are still out of the playoffs.