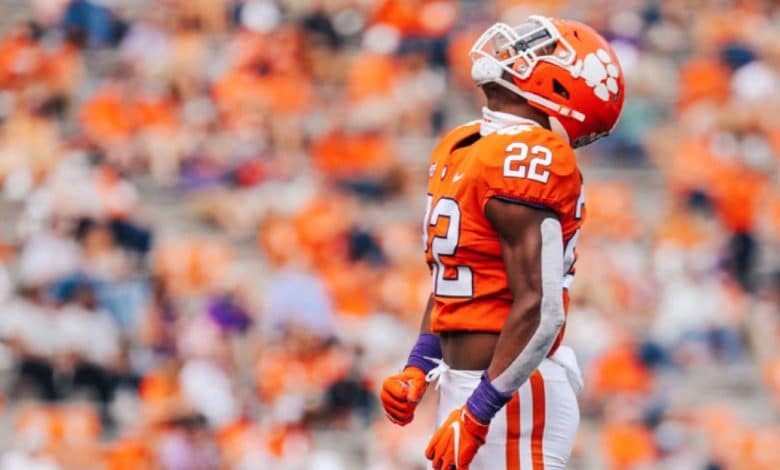 Extremely athletic, not suitable for all schemes, but devilishly intriguing!
Trenton Simpson – Linebacker – 21 – Junior – Clemson
Height: 1m91
Weight: 109kg
Estimated Draft Position: Top 50
2022 stats: 41 tackles including 2.5 sacks, 2 forced fumbles
NFL comparison: Jeremiah Owusu-Koramoah (Browns)
Very successful in 2021 in the defense of Brent Venables at Clemson, Trenton Simpson was a little less comfortable in 2022 in a slightly more classic defense. Used to being used as a defensive gimmick, Simpson's rating went down a bit with the defensive coordinator's departure to Oklahoma and his use as a regular linebacker in 2022.
Strong points
– Very athletic
– Fast
– Powerful
Trenton Simpson is a very explosive player who, put in the right system, can bring enormous added value to his future franchise. He is probably one of the most skilful of this vintage to avoid and break the blocks in order to make his way and tackle the ball carrier. Its explosiveness is among the most impressive of this cuvée. He could have a role similar to a Shaq Thompson in Carolina who oscillates between the position of strong safety and that of linebacker. This kind of player is widely used in the NFL these days, but not necessarily valued at the time of the Draft because there is no defined position. Simpson will be very valuable to a team that blitzes a lot or is looking for a player capable of stopping a run behind the line of scrimmage.
Weak points
– Not ideal for all schemes
– Work with his hands
Trenton Simpson is not a standard linebacker, he is an outstanding athlete with a good football IQ, but asking him to step back in coverage on every action would be malpractice by the coordinator in question. It's not a pure edge rusher either. He will probably be aligned with the WILL linebacker position, ie on the weak side in a 4-3 system. If his ability to avoid blocks is excellent when he is in motion, he has a lot more trouble when the race comes on him and he is put on the back foot.
Possible destinations
Detroit Lions, Los Angeles Chargers, New England Patriots, Washington Commanders
On the side of Detroit, the pass rush seems well established with Aidan Hutchinson and James Houston, but it would not be uninteresting to add a little pressure and efficiency against the race coming from the 2nd curtain. As for the Chargers, the defense disappointed in 2022 and selecting Trenton Simpson to back up Kenneth Murray could create a very dynamic duo. In New England, we like "football players" according to Bill Belichick and it's a definition that fits Simpson's profile very well. It is very likely that if the former Clemson takes the direction of the Patriots, he will be found a tailor-made role. Finally, in the federal capital, it's a bit of nothing at the linebacker position and adding an explosive player like Simpson could take the defensive squad to a new level.