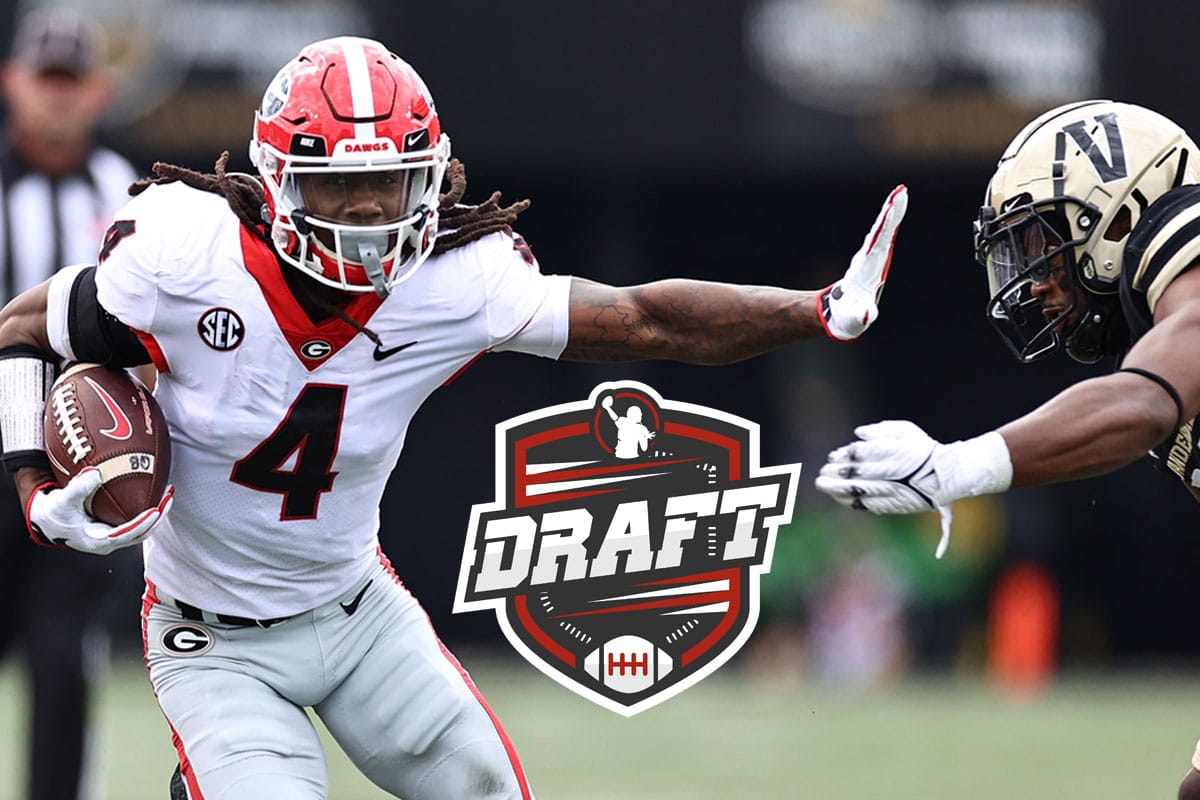 James Cook – Running Back – 22 years old – Senior – Georgia
Cut : 1m80
Weight : 86kg
Estimated draft position: 2nd – 3rd round
Stats 2021: 113 carries for 728 yards, 27 receptions for 284 yards, 11 touchdowns
NFL Comparison: Nyheim Hines
Strong points
– Changes of direction
– Versatility / Reception
– Patience
– Hands / Fumble
– Sight
– Explosiveness
Even if statistical production is modest in a Georgia system that advocates committee, Cook is a real double threat. Author of a single drop on 68 passes in his direction, he has hands worthy of a receiver. This reliability is also felt on the ground, where it limits fumbles (2 in career). This is his strength, and more and more NFL franchises need this profile, which should ensure him playing time from the first years.
When running, Cook is a patient player, using his vision to find the gap that gives him the best chance, before quickly rushing into it. Able to run indoors, it is however outside that he does wonders, taking advantage of his explosiveness to quickly project himself laterally.
If he does not necessarily have the physical capacity to start on all three attempts, he is a modern, unpredictable tool, which does not give any indication of the attacking game before the snap. He won't necessarily be a star, but he will definitely be useful.
Weak points
– Physical Dimension
– Block
James Cook is a formidable player in third attempt and passing play, but he lacks the physical power to make him a decisive player on all attempts. Often limited in his use on the first and second attempts, he is therefore more of a committee player and this limits his value.
With limited physical dimensions, it does not shine in block. If he is aligned in play it is often that he will be a receiver, and the opposing team will be able to prepare. This predictability is a problem, and Cook is going to have to work on this aspect of the game. James Cook is therefore not a complete player, he must rather be seen as a specialist, but in today's NFL the value of versatile runner/receiver stays strong.
The stat
747 snaps in four seasons
Durability is always an important parameter for a runner, especially for a 22-year-old player who has played four seasons at the university level. The good news is that Cook's slow progress and Georgia's rotation policy have limited his playing time. So no comparison with a Jonathan Taylor for example, Cook is quite "fresh" even after 46 career matches.
Possible destinations
Chicago Bears, Buffalo Bills, Arizona Cardinals, Baltimore Ravens, Tennessee Titans
For Cook, the ideal situation would be to be on a committee looking for a double threat. A team like Chicago could use his services to be a safety valve for a Justin Fields looking for benchmarks. It's unlikely to see Cook in the first round, but a second-round selection isn't impossible.