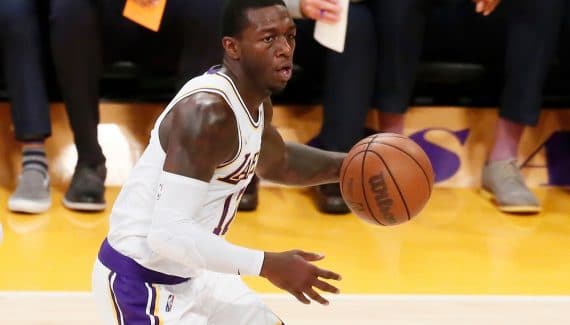 Interesting rookie of the Lakers during the last offseason, after his two years in Miami, Kendrick Nunn is still waiting in Los Angeles. Touched in the right knee in October, he has indeed still not played under the colors of the Lakers in the regular season.
A bone contusion has plagued him for almost four months now and it will last a few more weeks. Frank Vogel has indeed explained that it is very likely that the back will not play again before March.
"But we are still optimistic that he will play for us this season"added the Californians coach, cited in the Orange County Registerwithout ruling out a white season either. "Anything is possible, but we hope to see him with us this year. "
Besides that of his state of health, another question concerns the future of Kendrick Nunn: will he return to the Lakers? The 2020 champions will surely try to improve their squad by the final hours of the transfer market and his contract could be used in a trade according to The Athletic.
Shots
Bounces
Players
GM
Minimum
Shots
3 points
LF
Off
Def
Early
pd
bp
Int
CT
party
Points
lebron james
37
36.7
52.3
35.1
75.7
1.1
6.7
7.8
6.4
3.1
1.6
1.1
2.2
29.1
Anthony Davis
33
35.4
52.9
17.5
72.6
2.9
7.2
10.2
2.8
2.2
1.3
2.2
2.6
23.7
Russell Westbrook
54
34.7
43.7
30.0
66.8
1.4
6.4
7.8
7.7
4.1
1.1
0.3
3.0
18.4
carmelo anthony
50
26.5
43.7
39.2
82.4
0.8
3.3
4.2
1.0
0.9
0.7
0.8
2.2
13.4
Malik Monk
48
27.0
47.3
40.9
78.9
0.4
2.8
3.3
2.5
1.3
0.7
0.4
1.6
13.0
Talen Horton-tucker
38
25.7
40.6
25.0
79.2
0.6
2.6
3.2
2.5
1.4
0.9
0.4
2.4
9.5
isaiah thomas
4
25.2
30.8
22.7
72.7
0.2
1.8
2.0
1.5
1.2
0.0
0.5
3.0
9.2
Sekou Doumbouya
2
8.2
62.5
50.0
75.0
1.0
2.0
3.0
0.0
1.0
1.5
1.0
0.5
7.0
Avery Bradley
46
23.6
41.4
38.0
85.7
0.5
1.8
2.3
0.8
0.6
1.0
0.2
2.0
6.8
Wayne Ellington
33
19.4
39.5
38.8
80.0
0.2
1.5
1.7
0.7
0.5
0.5
0.1
1.0
6.2
Stanley Johnson
20
22.1
47.4
31.8
72.7
0.6
2.5
3.0
1.3
0.6
0.8
0.5
2.9
6.0
Austin Reaves
35
21.3
46.3
31.0
85.7
0.5
2.1
2.7
1.3
0.6
0.3
0.2
1.5
5.8
Dwight Howard
41
14.5
62.1
66.7
61.2
1.9
3.5
5.4
0.5
0.8
0.7
0.6
2.0
5.2
Deandre Jordan
31
12.9
67.0
0.0
48.0
1.6
3.9
5.5
0.4
0.6
0.3
0.8
1.6
4.2
Trevor Ariza
16
19.4
33.3
32.0
70.0
0.3
3.1
3.4
1.2
0.5
0.4
0.2
0.8
3.9
Kent Bazemore
31
14.7
32.8
35.4
76.5
0.3
1.5
1.7
0.9
0.3
0.6
0.2
1.8
3.7
Rajon Rondo
18
16.1
32.4
26.7
50.0
0.6
2.2
2.7
3.7
1.9
0.7
0.3
1.4
3.1
mason jones
2
4.4
25.0
0.0
50.0
0.5
0.5
1.0
0.0
0.5
0.5
0.0
0.5
2.5
jemerrio jones
2
7.4
66.7
0.0
0.0
1.0
0.5
1.5
0.0
0.0
0.5
0.0
1.0
2.0
Darren Collison
3
12.4
28.6
0.0
0.0
0.0
1.3
1.3
0.7
0.3
0.3
0.0
1.7
1.3
Chaundee Brown
2
10.3
14.3
0.0
0.0
0.0
1.0
1.0
0.0
0.5
0.0
0.0
0.0
1.0
Jay Huff
4
5.1
0.0
0.0
0.0
0.2
0.8
1.0
0.2
0.2
0.2
0.2
0.2
0.0