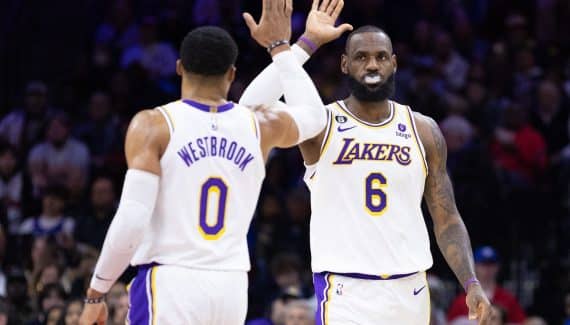 Between December 2 and 11, the Lakers traveled six games in the Eastern Conference: Milwaukee, Washington, Cleveland, Toronto, Philadelphia and Detroit. Result: three wins for three losses.
What assessment for his troops does Darvin Ham draw from this "road trip", the longest of their season?
"It was like a storm", compares the coach of the Californians for ESPN. "But I'm happy with our team. We did a lot of good things. There are things we can do better, but we are going in the right direction. It delights me. »
Of the three defeats, it should be noted that in Cleveland, Anthony Davis was ill and only played eight minutes, while neither the interior nor LeBron James were present in Toronto. And the Lakers nearly overthrew the Sixers.
In addition to Washington and Detroit, there is above all this big success against Giannis Antetokounmpo and his Bucks.
"I think it was a good road trip", Judge LeBron James for the Los Angeles Times. "Playing six matches in eleven days, it allows us to be welded together. We started well, then injuries and illnesses broke the rhythm. But overall we played well. We end on a good note, which is always positive. »
Anthony Davis makes the same analysis as his teammate. When the All-Star duo were able to play a whole game together, the Lakers won three out of four games.
"It's me who loses the meeting in Philadelphia", advance inside, in reference to his only missed free throw of the game in the last seconds. "LeBron and I missed a game, and I didn't play in Cleveland… So we can consider that, at 50% wins, it's a successful road trip. I can't wait to go home, to sleep in my bed and see my family again. »
Shots
Bounces
Players
GM
Minimum
Shots
3 points
LF
Off
Def
Early
pd
bp
Int
CT
party
Points
Anthony Davis
22
33.5
59.3
32.1
83.1
3.2
9.1
12.3
2.5
2.0
1.3
2.3
2.8
27.5
lebron james
18
35.9
46.3
31.8
69.8
1.6
7.2
8.8
6.4
3.4
1.2
0.6
1.9
25.7
lonnie walker
22
30.8
47.0
37.6
86.5
0.3
2.0
2.3
1.6
1.1
0.8
0.4
1.6
16.0
Russell Westbrook
24
28.3
40.1
29.5
69.4
1.2
4.5
5.6
7.5
3.6
1.0
0.4
2.5
14.6
Austin Reaves
25
29.1
51.5
37.2
90.8
0.7
2.3
3.0
2.1
1.1
0.5
0.3
1.6
10.9
Thomas Bryant
11
15.3
70.4
30.0
71.9
1.3
3.3
4.5
0.7
0.5
0.2
0.6
1.6
9.3
Dennis Schroder
11
25.7
42.0
25.0
92.9
0.1
1.8
1.9
3.6
1.4
0.5
0.0
1.4
9.2
Troy Brown, Jr.
22
24.5
43.7
32.4
100.0
0.9
3.5
4.4
0.9
1.0
0.7
0.1
1.5
7.3
Kendrick Nunn
21
13.4
35.7
26.6
90.9
0.0
1.3
1.3
1.2
1.2
0.2
0.0
1.0
5.7
Wenyen Gabriel
20
13.6
59.7
30.8
81.8
1.3
2.4
3.7
0.7
0.7
0.6
0.5
1.8
5.1
Patrick Beverly
19
27.0
30.3
23.3
81.0
0.6
3.1
3.7
2.5
0.9
0.9
0.5
2.9
4.5
matt ryan
12
10.8
30.6
37.1
80.0
0.2
1.0
1.2
0.3
0.3
0.2
0.0
1.2
3.9
Damian Jones
13
9.1
53.8
0.0
78.6
1.2
1.9
3.1
0.3
0.5
0.1
0.5
0.8
3.0
Max Christie
11
11.4
39.3
42.1
75.0
0.1
2.2
2.3
0.5
0.3
0.3
0.0
0.5
3.0
Juan Toscano Anderson
14
10.4
42.9
18.2
71.4
0.1
1.7
1.8
0.6
0.6
0.2
0.2
1.4
2.2
Scotty Pippen, Jr.
2
4.2
0.0
0.0
75.0
0.5
0.5
1.0
0.0
0.5
0.0
0.0
1.0
1.5
cole swider
1
1.9
0.0
0.0
0.0
0.0
1.0
1.0
1.0
0.0
0.0
0.0
0.0
0.0