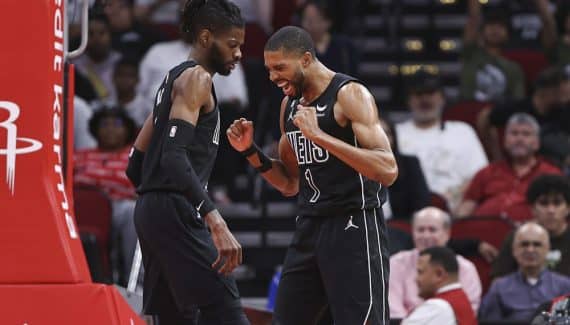 Kevin Durant and Kyrie Irving are gone, but the Nets haven't lost their ambitions. After a logical period of adaptation, marked by four setbacks in a row, Brooklyn has found the right formula, as proven by their five wins in six matches. Their only setback? Against the Bucks, leaders of the NBA.
Sunday evening, the teammates of Mikal Bridges have the luxury of bringing down the Nuggets in Denver, and their atypical profile continues to pose problems for opponents. "Even if sometimes we don't really know what we're doing and it's rough, the five guys on the ground are united", analyzes the former Suns winger. "Sometimes it won't be perfect, but I think the most important thing is that the guy who comes in raises his level of play."
Admittedly, it took a shoot from Nikola Jokic, five seconds from the siren, for the Nets to bow, but the solidarity but also the solidity of Brooklyn paid off. "The most important thing is to stick together, and it's amazing to see how little time we've had together," continues Mikal Bridges. 'But we were all confident when we arrived here and were put together. In mind, we had this state of mind: "OK, a lot of us have been traded, and in these cases, we are not necessarily at our best. We just want to play basketball. And it's crazy how quickly we've come together, regardless of the situation, whether we're trailing by 13 points, or making series and keeping the advantage. »
At times, we find the Nets version Kenny Atkinson, with an energetic, very high and mobile defense. Brooklyn wants to find a defensive identity, and it's getting there around Mikal Bridges and Nic Claxton. "JV has been telling us about this defensive identity since the first one" confirms Spencer Dinwiddie. "Look at our squad, it goes from 1m98 to 2m10 with Nic. Everyone can defend wide. They brought in someone like Royce, who is a very good defender off the bench. We know that our identity is in defense. »
" It's interesting to see the metamorphosis of this group"
The Nets coach, extended until 2027, admits having been amazed by his players when they returned from the locker room. "That's what we're talking about: getting to the bottom of things, not complaining. And we did a good job of sticking together." he appreciates. "Our third quarter is one of the most impressive quarters I've had with this team. … We stayed united. It's an impressive away win. »
Before the game, Jacque Vaughn explained that to forget the Durant-Irving era, you had to focus on defense. He has the players to do it, even without Ben Simmons, in the infirmary with his knee and back problems.
"It's interesting to see the metamorphosis of this group", concludes Jacques Vaughn. "At the beginning, we wondered how we were going to score points. We can no longer play in 'isolation' like we used to. We were able to create and score enough points, but we struggled defensively. So we had to ask this group to change their mentality, to no longer absolutely think about scoring, but above all to be a defensive-oriented team. I think we reacted, we started to form an identity with this band and I hope they realize that. »
A priori, the answer is "yes"!