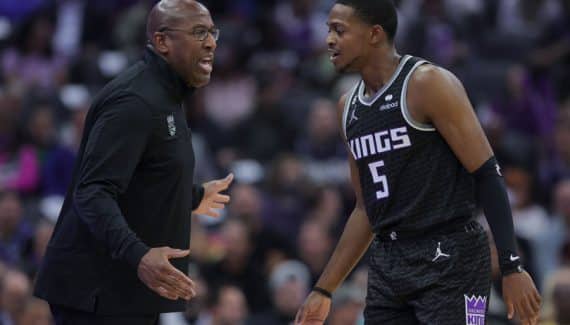 "Mr. Clutch", "Fourth Quarter Fox"… These are the new nicknames that De'Aaron Fox has inherited in recent weeks. The Sacramento point guard has become extremely "clutch" in the "money-time", notably shooting 58.8% in the last five minutes of a match before the All-Star Break. And if De'Aaron Fox took on a new dimension this season, the person concerned praised the role of his new coach, Mike Brown, in his success.
"What Mike Brown did here and what he said before the start of the season was that he gave us confidence"he pointed out. "He might even manage to make you think you're better than you really are."
Always in this vision of excellence, Mike Brown thus put pressure on De'Aaron Fox and Domantas Sabonis after the meeting against the Knicks, which the Kings nevertheless won (122-117)!
"We weren't good", did he let go after the match. "Josh Hart kicked our ass. Nobody got in his way all evening (…). I am not satisfied with our performance. Somehow we have to be better throughout the game. I will put pressure on Domantas Sabonis and Foxy. They need to maintain an elite level on every possession. But what's just as important is that they have to open their mouths and demand that their teammates deliver."
A margin of progress to be exploited
Beyond the 21-point lead gone up in smoke at the end, Mike Brown must have been enraged by the number of offensive rebounds swallowed by the Knicks: 23! "If we don't fix that, we're going to get our ass kicked in the playoffs. That's when the big guys show up."
Fortunately, Sacramento was still able to count on a De'Aaron Fox at the end. Always in the same perspective, Mike Brown would now like to see his leader displayed the same desire from the first to the last minute, and that his new nickname "Fourth Quarter Fox" turns into "Full Game Fox".
"De'Aaron Fox's ability to be a two-way player can make him an elite player. The elite of the elite. But he doesn't know it yet. He has this thing that he can activate, which he usually activates in the fourth quarter when we need him on both ends of the field.continued Mike Brown. "Somehow I have to get him to activate it more in the 33 or 34 minutes he plays instead of waiting for the fourth quarter. I rubbed shoulders with a lot of great elite players. I'm a little hesitant to say it because I haven't been around him long enough or I haven't seen him do in the playoffs, but he may be capable of being at this level. Great players, elite players, do it all the time".
How will De'Aaron Fox react? First elements of response in the next two games, in Phoenix this Saturday then against Milwaukee.
De'Aaron Fox
Percentage
Bounces
Season
Crew
GM
Minimum
Shots
3 points
LF
Off
Def
Early
pd
party
Int
bp
CT
Points
2017-18
BAG
73
28
41.2
30.7
72.3
0.5
2.3
2.8
4.4
2.2
1.0
2.4
0.3
11.6
2018-19
BAG
81
31
45.8
37.1
72.7
0.5
3.2
3.8
7.3
2.5
1.6
2.8
0.6
17.3
2019-20
BAG
51
32
48.0
29.2
70.5
0.7
3.2
3.8
6.8
2.8
1.5
3.1
0.5
21.1
2020-21
BAG
58
35
47.7
32.2
71.9
0.6
2.9
3.5
7.2
2.9
1.5
3.0
0.5
25.2
2021-22
BAG
59
35
47.3
29.7
75.0
0.4
3.5
3.9
5.6
2.9
1.2
2.9
0.4
23.2
2022-23
BAG
58
34
51.5
32.5
78.5
0.5
3.7
4.2
6.3
2.5
1.2
2.7
0.3
25.5
Total
380
32
47.1
32.1
73.6
0.5
3.1
3.6
6.2
2.6
1.3
2.8
0.4
20.1