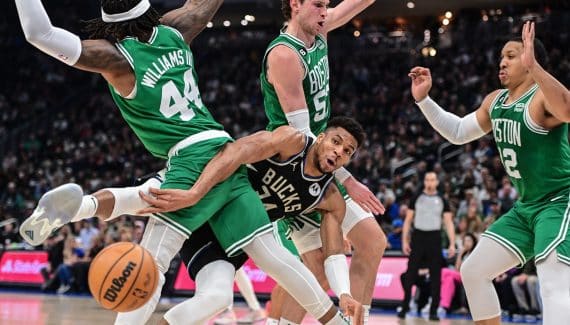 Between Nov. 14, 2022, and Feb. 26, the Celtics held first place in the Eastern Conference. Almost undivided, one might say, except for five short days before Christmas.
Then, the Bucks won 16 games in a row, between the end of January and March 1, and passed them. For four weeks, it is therefore Giannis Antetokounmpo and his band who have been sitting on the throne of the East.
"When Milwaukee took first place, after the All-Star Game, it was like a shock"says Malcolm Brogdon at The Athletic. "Because we had steered clear of them. We want that first place. We know that it is important to have the advantage of the field in the playoffs. »
Was this shock the reason for the slippage of Joe Mazzulla's men, with four defeats in five matches after the cut? Maybe. But for ten days, Boston has won 7 games out of 9, and the two losses were very, very short. "I think we are more and more focused"continues Malcolm Brogdon.
The Celtics are right to still believe it because they are only two victories behind the 2021 champions and a duel against Milwaukee is looming on Thursday evening. A success, which would also mean the "tiebreaker" for the 2022 finalists, and everything would be restarted. Especially since the Bucks will then have matches against Philadelphia or Memphis.
For his part, Jaylen Brown seems less focused on the Celtics' ranking than on their level of play.
"First place or not, we will have to play against teams like Milwaukee"he explains. "We'll have to be ready for that. Yes, ranking is important, but our game is even more so. I was more focused on that, than on our place. We dominated the league for a large part of the season because we won games because we were better than the others, but I think we could do even better. Now that we are chasing our opponent a bit, everyone is focused again. »
Shots
Bounces
Players
GM
Minimum
Shots
3 points
LF
Off
Def
Early
pd
bp
Int
CT
party
Points
Jayson Tatum
69
37.3
46.0
34.4
85.3
1.1
7.8
8.9
4.7
3.0
1.0
0.7
2.1
30.1
Jaylen Brown
63
36.1
49.4
34.3
76.9
1.2
5.7
7.0
3.4
2.9
1.1
0.4
2.6
27.0
Malcolm Brogdon
62
25.8
48.3
45.0
87.6
0.6
3.6
4.2
3.7
1.5
0.6
0.3
1.6
14.6
Derrick White
75
28.4
46.4
38.7
87.2
0.7
2.9
3.5
4.0
1.1
0.7
0.9
2.2
12.4
Marcus Smart
57
32.3
41.4
33.3
75.7
0.8
2.4
3.2
6.4
2.4
1.5
0.4
2.8
11.4
Al Horford
59
30.7
48.3
45.4
71.4
1.2
5.1
6.3
2.9
0.6
0.5
0.9
1.9
9.7
Grant Williams
72
26.5
45.5
40.4
78.9
1.1
3.6
4.7
1.7
1.1
0.6
0.4
2.6
8.3
Robert Williams
31
23.7
74.1
0.0
63.9
3.0
5.5
8.5
1.4
0.9
0.5
1.2
2.0
8.3
Sam Hauser
73
15.8
45.0
41.8
70.6
0.5
2.1
2.5
0.8
0.3
0.3
0.3
1.3
6.1
Mike Muscala
13
14.9
45.5
39.5
50.0
0.5
2.6
3.1
0.3
0.4
0.3
0.3
1.5
5.2
Payton Pritchard
45
12.5
39.0
33.1
73.3
0.5
1.0
1.5
1.0
0.7
0.3
0.0
0.8
4.7
Blake Griffin
35
14.1
49.2
34.5
61.5
1.1
2.6
3.7
1.3
0.5
0.3
0.2
1.9
4.3
Luke Kornet
62
11.4
69.0
30.0
81.1
1.3
1.5
2.8
0.7
0.4
0.2
0.7
1.2
3.8
Jd Davison
10
2.7
38.5
25.0
0.0
0.1
0.5
0.6
0.6
0.2
0.2
0.0
0.4
1.1
noah vonleh
23
7.4
45.8
25.0
100.0
0.8
1.3
2.1
0.3
0.5
0.1
0.3
1.5
1.1
Mfiondu Kabengele
2
7.0
50.0
0.0
0.0
1.5
1.0
2.5
0.0
0.5
0.0
0.0
1.5
1.0
justin jackson
23
4.7
25.9
25.0
50.0
0.1
0.7
0.7
0.4
0.1
0.2
0.2
0.3
0.9