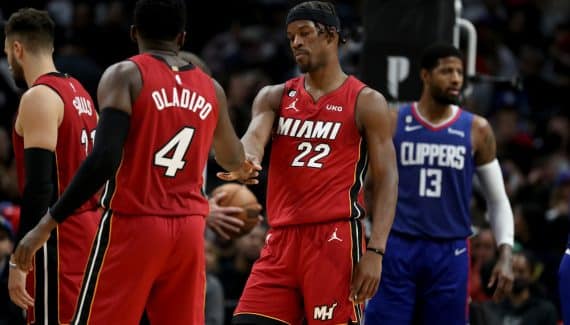 Jimmy Butler had already missed seven games in early November due to right knee pain. These reappeared in December, forcing the Florida franchise to operate with caution.
Saturday night, he therefore did not take part in Miami's "back-to-back" against Utah and only replayed that night, participating in the 110-100 victory on the Clippers floor with 9 points, 6 assists , 2 rebounds and 2 steals in 32 minutes.
The player said he was doing better, but there was still work to be done to make him feel 100% again. "I am not yet where I should be"he slipped.
Rest, but not too much
Erik Spoelstra has also confirmed his major player's progress. It remains to be hoped that this option, to spare him on certain matches without going through the Infirmary box will help him find his best condition.
" It's the case ", defended himself Jimmy Butler. "Because I can go out there and be competitive. I can't say that I'm in great shape. But there are a lot of players who aren't at this time of year. So I think that's a good thing in many ways. The more I rest and the more I am able to recover, the better. So every time I don't play, I do something to try to recover.
Jimmy Butler does not despair of being able to return to 100% during the season. "Yes it will come. It will definitely happen. I just have to keep doing these recovery exercises and warming up properly. I'll manage to deal with that ".
Jimmy Butler
Percentage
Bounces
Season
Team
GM
Minimum
Shots
3 points
LF
Off
Def
Early
pd
party
Int
bp
CT
Points
2011-12
CHI
42
9
40.5
18.2
76.8
0.6
0.8
1.3
0.3
0.5
0.3
0.3
0.1
2.6
2012-13
CHI
82
26
46.7
38.1
80.3
1.7
2.3
4.0
1.4
1.2
1.0
0.8
0.4
8.6
2013-14
CHI
67
39
39.7
28.3
76.9
1.3
3.6
4.9
2.6
1.6
1.9
1.5
0.5
13.1
2014-15
CHI
65
39
46.2
37.8
83.4
1.8
4.1
5.8
3.3
1.7
1.8
1.4
0.6
20.0
2015-16
CHI
67
37
45.5
31.1
83.2
1.2
4.2
5.3
4.8
1.9
1.6
2.0
0.6
20.9
2016-17
CHI
76
37
45.5
36.7
86.5
1.7
4.5
6.2
5.5
1.5
1.9
2.1
0.4
23.9
2017-18
MIN
59
37
47.4
35.0
85.4
1.3
4.0
5.3
4.9
1.3
2.0
1.8
0.4
22.2
2018-19 *
All Teams
65
34
46.2
34.7
85.5
1.9
3.4
5.3
4.1
1.7
1.9
1.5
0.6
18.7
2018-19 *
PHL
55
33
46.1
33.8
86.8
1.9
3.4
5.3
4.0
1.7
1.8
1.5
0.5
18.2
2018-19 *
MIN
10
36
47.1
37.8
78.7
1.6
3.6
5.2
4.3
1.8
2.4
1.4
1.0
21.3
2019-20
MIA
58
34
45.5
24.4
83.4
1.8
4.8
6.7
6.0
1.4
1.8
2.2
0.6
20.0
2020-21
MIA
52
34
49.7
24.5
86.3
1.8
5.1
6.9
7.1
1.4
2.1
2.1
0.4
21.5
2021-22
MIA
57
34
48.0
23.3
87.0
1.8
4.1
5.9
5.5
1.5
1.7
2.1
0.5
21.4
2022-23
MIA
23
35
52.8
34.0
82.9
2.0
4.7
6.7
5.8
1.5
2.1
1.7
0.4
21.8
Total
713
33
46.3
32.1
84.1
1.6
3.8
5.4
4.2
1.4
1.7
1.6
0.5
17.8