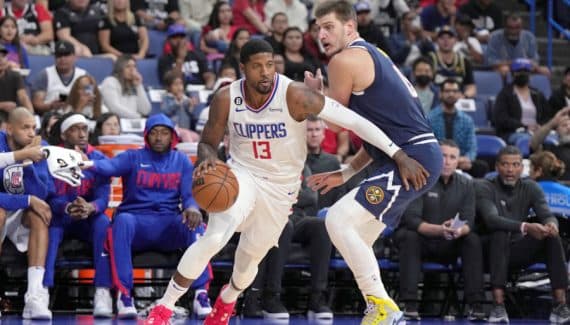 After a first preseason game disputed at the beginning of the month, Nikola Jokic had to go to the infirmary because of a sprained wrist. And as in this first meeting, the pivot was satisfied with two points scored, on free throws, and only two shot attempts in 16 minutes. Sign that his wrist is still fragile?
In the meantime, he had a real impact in his team's victory over the Clippers (126-115) with his passing game. Thanks to his good connection with Kentavious Caldwell-Pope in particular, he distributed his seven assists, in addition to three rebounds, in the first period alone. A half during which the Nuggets scored… 74 points to afford an eight-point lead at this stage.
Moussa Diabate ignites the room!
Without Jamal Murray or Bones Hyland, on the sidelines to treat sores, the Nuggets had no problem scoring points. Ish Smith (15 points and 8 assists) was a good stint in the lead and finished top scorer in a formation where no less than eight players passed the 10-point mark.
Brand much less well distributed on the Clippers side who played without Kawhi Leonard. Paul George clumsy, Norman Powell was hyper aggressive during his 25 minutes of play by slamming… 34 points (11/14 on shots).
At his side, only Marcus Morris and Luke Kennard exceeded 10 points. Returning tied at the end of the third quarter after notably a monstrous poster from Frenchman Moussa Diabate, the Californians were limited to 15 points in the fourth quarter.
LA Clippers

/

115
Shots
Bounces
Players
Minimum
Shots
3 points
LF
O
D
T
pd
party
Int
bp
CT
+/-
Points
Rating
Mr. Morris Sr.
16
4/7
3/3
2/2
1
1
3
-5
13
11
N.Powell
25
11/14
4/6
8/8
1
2
3
1
1
1
1
34
35
I. Zubac
16
3/5
0/0
3/5
1
2
3
2
3
1
1
-6
9
10
R.Jackson
12
0/1
0/1
1/1
2
1
-4
1
1
P.George
16
1/6
0/3
0/0
6
6
4
2
5
3
-8
2
9
N. Batum
17
1/4
1/3
0/0
1
1
1
2
2
+3
3
2
R. Covington
9
1/2
0/1
1/2
2
2
2
1
1
+5
3
6
Mr. Fitts
6
2/3
0/1
0/0
1
1
+3
4
5
Mr Diabate
15
4/8
0/0
0/0
2
3
5
1
1
1
1
-8
8
10
Mr. Brown
5
0/1
0/0
0/0
2
2
3
1
-2
J.Wall
10
3/4
0/1
2/2
3
3
4
2
1
-6
8
13
X.Moon
9
1/2
0/1
2/2
1
1
3
1
2
-10
4
5
J.Preston
18
1/4
0/2
0/0
1
1
2
3
4
3
3
1
+9
2
5
T. Mann
18
1/7
1/1
1/2
3
3
2
1
-12
4
3
L. Kennard
17
5/6
1/2
0/0
1
1
1
1
1
+2
11
11
A.Coffey
15
1/4
1/2
1/2
3
3
2
1
1
-8
4
4
B.Boston Jr.
15
1/5
0/1
3/4
2
2
2
2
-7
5
2
N.Darling
1
0/0
0/0
0/0
1
-1
1
40/83
11/28
24/30
5
33
38
28
23
13
20
8
115
133
denver

/

126
Shots
Bounces
Players
Minimum
Shots
3 points
LF
O
D
T
pd
party
Int
bp
CT
+/-
Points
Rating
A.Gordon
16
5/10
0/1
2/2
3
2
5
1
1
1
+1
12
14
B.Brown
16
3/4
0/0
3/3
2
2
1
2
1
2
+1
9
10
Mr. Porter Jr.
16
4/6
3/3
1/1
1
2
3
1
2
+1
12
14
N.Jokic
16
0/2
0/1
2/2
3
3
7
3
1
4
+2
2
7
K. Caldwell-Pope
15
4/8
2/6
4/4
2
2
2
1
+2
14
13
Z.Nnaji
23
5/6
0/0
3/6
2
6
8
1
3
3
2
+16
13
17
J. White
17
3/3
1/1
0/0
2
2
1
1
1
+9
7
11
G.Golden
1
0/0
0/0
0/0
+1
P.Watson
16
3/9
1/3
0/0
4
4
3
4
2
2
1
+9
7
9
V.Cancar
25
4/8
1/3
2/2
2
2
1
2
1
1
-6
11
10
I.Smith
23
7/11
0/1
1/2
1
3
4
8
2
1
3
1
+17
15
21
D.Reed
20
4/8
2/2
0/0
1
3
4
1
2
1
-4
10
10
C.Randle
9
0/1
0/1
2/2
1
1
1
1
1
-6
2
2
C. Braun
30
5/11
0/1
2/4
4
4
2
1
2
2
+12
12
10
47/87
10/23
22/28
8
36
44
28
24
12
20
4
126
148