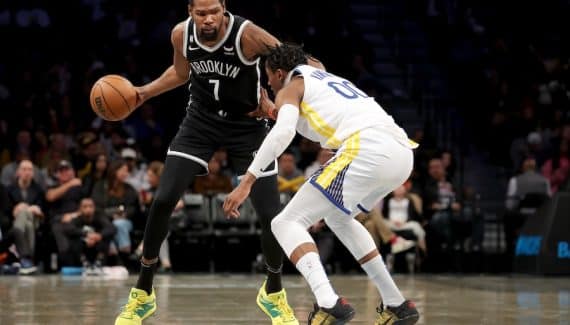 He probably first thought of passing the leather on to Nic Claxton. But seeing that the latter did not cut towards the circle, Kevin Durant was responsible for sanctioning 3-pointers to register… the 89th, 90th and 91st points for his team! This shot ended a nightmare first half for the Warriors and a dream for the Nets.
At this point, "KD" was already at 21 points and his team had just broken a franchise record for the most points scored in a quarter, 46 units in the first, which the Nets came close to breaking in the second (45).
Leading by 40 points at the break (91-51), the New Yorkers broke a franchise record with these 91 points scored in the first period, the third best collective performance in history. The Suns become the absolute record with 107 points in the first half of a game against the Nuggets in November 1990 (173 in total). In second position, we find… these same Warriors, but in the right role, with 92 points passed to the defense of the Bulls, the evening when Klay Thompson had seized the record at 3-pointers.
The Nets put up 91 points in the 1st half of their game against the Warriors tonight. That is the 3rd-highest 1st half point total in NBA history.

The Suns had 107 1st half points in a 1990 game vs Denver & the Warriors had 92 in the 1st half against Chicago in 2018. pic.twitter.com/5rAnmCc8sQ

— ESPN Stats & Info (@ESPNStatsInfo) December 22, 2022
This is basketball
" They were phenomenal in the first half ", noted Steve Kerr, whose team helped the Nets well by losing 21 balls, including 7 coming from Jordan Poole alone, generating 36 points. " They seem to be in good health. They obviously have a lot of talent. Their guys play well together. They are in a good rhythm ", Continues the coach of the defending champions, deprived of three holders (Stephen Curry, Klay Thompson and Andrew Wiggins), while Kyrie Irving missed in front.
" It's the Warriors, we always respect them, no matter who's on the floor. They have a system and players calibrated for the title. Even though these guys aren't there, they have this mentality of taking over so they can't be taken lightly. ", pays tribute Kevin Durant who appreciated the concentration of the Nets to start this part.
The former Warriors player finished top scorer (23 points) in a formation where the mark was exceptionally well distributed: nine players with ten or more points, a franchise record equaled.
" I think we had in mind the word professionalism and being mature enough to play tonight was a first step. Our approach was quite good, especially the first quarter after (slow starts in) in the last two games. This is what happens when you come to work and are ready to work from the start ", Judge Jacque Vaughn, whose team generated more assists than it captured rebounds (32).
This ratio of 42 assists for 54 shots scored (including 21/33 from 3-pointers!!) makes Ben Simmons say: " This is basketball for me. »
Shots
Bounces
Players
GM
Minimum
Shots
3 points
LF
Off
Def
Early
pd
bp
Int
CT
party
Points
Kevin Durant
30
36.7
56.5
36.2
92.4
0.3
6.3
6.6
5.3
3.6
0.7
1.6
2.4
30.4
Kyrie Irving
22
36.6
49.0
33.7
91.7
0.8
4.0
4.8
4.5
2.4
0.8
1.0
2.7
26.1
Nicholas Claxton
28
27.8
74.0
0.0
44.4
2.6
6.1
8.6
1.2
1.3
0.7
2.4
2.9
11.6
Royce O'Neale
29
35.7
37.8
40.5
64.0
0.9
4.4
5.3
4.5
1.8
1.0
0.6
3.3
9.0
Seth Curry
20
21.7
43.7
40.2
93.3
0.2
1.9
2.1
2.2
1.1
0.6
0.2
1.9
8.6
Joe Harris
28
25.9
41.5
37.1
70.6
0.4
2.4
2.9
1.6
0.6
0.6
0.3
2.5
8.4
Ben Simmons
21
27.5
61.1
0.0
51.4
0.9
5.8
6.7
5.9
2.3
1.3
0.6
3.6
8.2
Yuta Watanabe
18
19.1
56.3
52.7
69.2
0.8
2.3
3.1
1.1
0.4
0.4
0.6
1.6
8.1
Tj Warren
7
16.0
56.8
14.3
83.3
1.0
1.1
2.1
1.3
0.3
0.6
0.1
1.7
8.0
Edmond Sumner
26
15.2
45.4
29.4
91.8
0.4
1.2
1.5
1.5
1.0
1.0
0.2
1.6
7.2
cam thomas
23
14.8
39.5
34.5
78.3
0.1
1.2
1.3
1.4
0.7
0.4
0.1
1.0
6.9
Patty Mills
21
12.0
44.0
38.1
91.7
0.2
0.8
1.0
1.3
0.4
0.2
0.0
0.5
5.5
Markieff Morris
18
11.4
42.9
45.7
100.0
0.5
1.9
2.4
0.9
0.6
0.3
0.2
1.2
3.9
Day'ron Sharpe
17
8.9
51.1
75.0
70.6
1.3
2.1
3.4
0.6
0.7
0.2
0.6
1.8
3.6
David Duke
14
9.0
44.2
0.0
50.0
0.4
0.6
1.1
0.9
0.9
0.4
0.1
1.6
3.0
Kessler Edwards
13
5.7
27.3
18.2
50.0
0.5
0.6
1.1
0.2
0.3
0.2
0.1
0.2
1.2
Alondes Williams
1
5.3
0.0
0.0
0.0
0.0
1.0
1.0
0.0
2.0
0.0
0.0
1.0
0.0