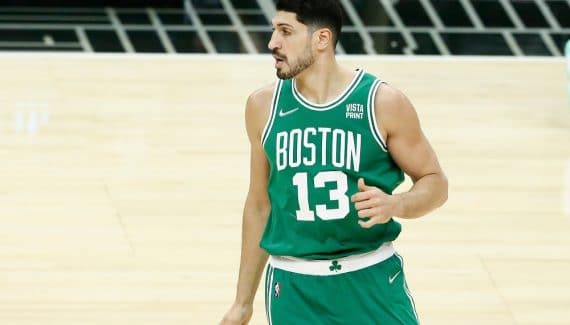 This season, Enes Freedom has been talked about more for his political statements, his change of nationality and name or his alliances of circumstance than for his performance on the ground.
A fierce opponent of the Turkish government for years, to the point of being the target of an international arrest warrant, the former interior of Portland has targeted China for a few months. His criticisms, on Twitter or on his shoes, were intended to highlight the situation of the Uyghurs, a Muslim minority victim of strong repression, and shook the NBA.
So much so that a Norwegian parliamentarian proposed his name for the 2022 Nobel Peace Prize. The one who was known as Enes Kanter is of course "honoured".
"Sometimes taking a stand is more important than your next salary"he wrote on his Twitter account, he who is currently without a club, in reaction to this news.
According to an article by The Atlantic, thirty Nobel Peace Prize laureates had asked the Boston franchise last week to support Freedom in its fights, to be with it on the "good side of history". As we know, the Celtics have since traded the interior to Houston, and the latter was cut in stride.
Nevertheless, it should be said that the player is not really in the race for this symbolic reward. Each year, names are proposed by former winners or members of governments and parliaments. So much so that, in the past, those of Donald Trump or Nicolas Sarkozy had been launched.
If the political fights of Enes Freedom are known, this gesture of the Norwegian parliamentarian can just as well be a tribute for the work of the NBA player as a simple political or media maneuver.
I'm honored and humbled to receive the nomination for the Nobel Peace Prize. @NobelPrize

Sometimes taking a stand is more important than your next paycheck.https://t.co/ZjAPiHUoaD

— Enes FREEDOM (@EnesFreedom) February 16, 2022
Enes Freedom
Percentage
Bounces
Season
Team
GM
Minimum
Shots
3 points
LF
Off
Def
Early
pd
party
Int
bp
CT
Points
2011-12
UTH
66
13
49.6
0.0
66.7
1.6
2.6
4.2
0.1
1.3
0.3
0.8
0.4
4.6
2012-13
UTH
70
15
54.4
100.0
79.5
1.9
2.4
4.3
0.4
1.7
0.4
1.4
0.5
7.2
2013-14
UTH
80
27
49.1
0.0
73.0
2.8
4.7
7.5
0.9
2.9
0.4
1.8
0.5
12.3
2014-15*
All Teams
75
29
51.9
35.6
78.2
3.7
5.3
9.0
0.7
2.5
0.5
1.9
0.4
15.5
2014-15*
UTH
49
27
49.1
31.7
78.8
3.0
4.8
7.8
0.5
2.3
0.5
1.9
0.3
13.8
2014-15*
OKAY
26
31
56.6
75.0
77.6
5.0
6.0
11.0
1.1
2.9
0.5
2.0
0.5
18.7
2015-16
OKAY
82
21
57.6
47.6
79.7
3.0
5.1
8.1
0.4
2.0
0.3
1.4
0.4
12.7
2016-17
OKAY
72
21
54.5
13.2
78.6
2.7
4.0
6.7
0.9
2.1
0.4
1.7
0.5
14.4
2017-18
NYK
71
26
59.2
0.0
84.8
3.9
7.1
11.0
1.5
2.6
0.5
1.7
0.5
14.1
2018-19 *
All Teams
67
25
54.9
29.4
78.7
3.8
6.0
9.8
1.7
2.5
0.5
1.8
0.4
13.7
2018-19 *
NYK
44
26
53.6
31.8
81.4
3.9
6.6
10.5
1.9
2.4
0.4
1.8
0.4
14.0
2018-19 *
ORP
23
22
57.7
25.0
73.5
3.7
4.9
8.6
1.4
2.7
0.6
1.7
0.4
13.1
2019-20
BOS
58
17
57.2
14.3
70.7
2.8
4.6
7.4
1.0
1.7
0.4
1.0
0.7
8.1
2020-21
ORP
72
24
60.4
25.0
77.4
3.9
7.1
11.0
1.2
2.3
0.5
1.1
0.7
11.2
2021-22
BOS
35
12
52.6
40.0
85.7
1.7
2.8
4.6
0.2
1.2
0.1
0.6
0.4
3.7
Total
748
22
54.8
28.9
77.7
3.0
4.8
7.8
0.9
2.2
0.4
1.4
0.5
11.2