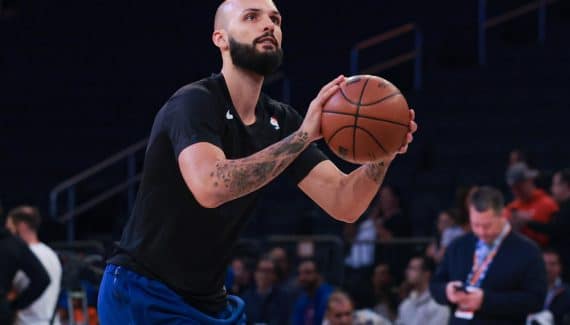 Very average since the start of the season, Evan Fournier did not start that night, and it was a first this season. The Frenchman is angry with his shot, and Tom Thibodeau had chosen to start Quentin Grimes, just back from injury. Last season, the Knicks coach waited for the 20th game of the season to change his starting five. This time, he reacted from the 8th game, and while Quentin Grimes had only a few minutes in his legs.
"We didn't have the opportunity to see Quentin as a starter in preseason" justifies Tom Thibodeau. "We're going to assess that, and it gives us an opportunity to do that now. »
Frankly, even if the Knicks won in Philadelphia, we cannot say that the experience was frankly conclusive. Quentin Grimes scored 2 points in 15 minutes, and finished with a +/- of -20. Same record for Evan Fournier with 2 points in 14 minutes.
Two individual bankruptcies that benefit Cam Reddish, who scored 11 points at 100% on shots in 15 minutes.
"We just want to see what happens, and see if it will help us in certain areas"
"There is nothing set in stone. It will be game by game, to get an overview with different players. assures Tom Thibodeau. "You have to make sure you study everything, and it's difficult to point the finger at a particular group (about the difficulties in defense). »
The shooting guard position is therefore considered the weak link in the starting five, and more than the 3-point address, Tom Thibodeau seems to be looking for defense. "We just want to see what happens, and see if it will help us in certain areas" he repeats.
One thing is certain, he really appreciated the performance of Cam Reddish, especially for his defense on Tyrese Maxey in the fourth quarter. "He was very good. He fought, there is his wingspan, he runs, he moves without the ball… He did a lot of good deeds" lists Tom Thibodeau.
A Cad Reddish who waxed the bench for 17 minutes in the second half, before Tom Thibodeau called on him… A winning "coaching" since the Knicks were trailing by 10 points when he entered the game, and they will s impose two small points.
Evan Fournier
Percentage
Bounces
Season
Crew
GM
Minimum
Shots
3 points
LF
Off
Def
Early
pd
party
Int
bp
CT
Points
2012-13
DEN
38
11
49.3
40.7
76.9
0.2
0.8
0.9
1.2
1.7
0.5
0.8
0.0
5.3
2013-14
DEN
76
20
41.9
37.6
75.6
0.5
2.2
2.7
1.5
2.4
0.5
1.3
0.1
8.4
2014-15
ENT
58
29
44.0
37.8
72.8
0.5
2.2
2.6
2.1
2.0
0.7
1.4
0.0
12.0
2015-16
ENT
79
33
46.2
40.0
83.6
0.4
2.4
2.9
2.7
2.7
1.2
1.7
0.0
15.4
2016-17
ENT
68
33
43.9
35.6
80.5
0.7
2.4
3.1
3.0
2.7
1.0
2.1
0.1
17.2
2017-18
ENT
57
32
45.9
37.9
86.7
0.4
2.8
3.2
2.9
2.4
0.8
1.7
0.3
17.8
2018-19
ENT
81
32
43.8
34.0
80.6
0.5
2.7
3.2
3.6
2.8
0.9
1.9
0.2
15.1
2019-20
ENT
66
31
46.7
39.9
81.8
0.3
2.3
2.6
3.2
2.4
1.1
1.9
0.2
18.5
2020-21 *
All Teams
42
30
45.7
41.3
78.8
0.2
2.8
3.1
3.4
2.3
1.1
1.7
0.5
17.1
2020-21 *
ENT
26
30
46.1
38.8
79.7
0.2
2.7
2.9
3.7
2.1
1.0
2.1
0.4
19.7
2020-21 *
BOS
16
30
44.8
46.3
71.4
0.3
3.0
3.3
3.1
2.6
1.3
1.2
0.6
13.0
2021-22
NYK
80
30
41.7
38.9
70.8
0.4
2.2
2.6
2.1
2.3
1.0
1.3
0.3
14.1
2022-23
NYK
7
24
40.0
39.0
85.7
0.1
2.6
2.7
1.6
2.9
0.7
1.0
0.1
10.6
Total
652
29
44.5
38.1
79.9
0.4
2.3
2.8
2.6
2.4
0.9
1.6
0.2
14.3