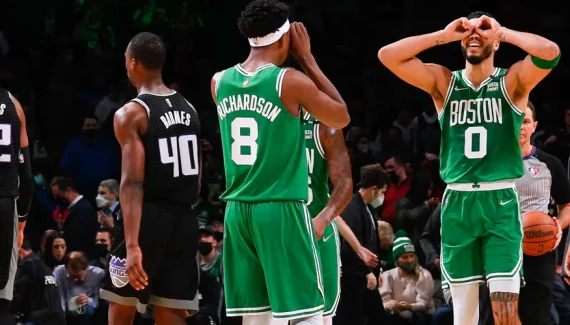 With 30 points and 10 rebounds from Jaylen Brown and 36 points from Jayson Tatum, the Celtics have the perfect game against the Kings (128-75). A meeting folded very quickly by Boston with two big series from the first quarter: 11-0, followed by a 16-0. Sacramento is asphyxiated and clumsy (1 of 12 from 3-pointers), and after twelve minutes, the Celtics were already leading by 25 points (38-13).
The rest will be the same barrel, and at the break, Boston had a 33-point lead (63-30). As the gap will reach 60 points, Ime Udoka took the opportunity to rest his stars in the 4th quarter, and his players finally won by 53 points to finally switch to the positive (25v-24d). For Sacramento, the great performance in Milwaukee is already forgotten.
WHAT YOU MUST REMEMBER
A dazzling first quarter. The Celtics announced the entry color with an 11-0 in three minutes to escape (17-4). Terence Davis has just enough time to plant a 3-pointer that Boston continues with a 16-0. In seven minutes, the Kings have just cashed a 27-3, and they will never recover.
The return of Marcus Smart. A zero point for Smart for his recovery after a short period of isolation. Let's hope for the Celtics that this return is final since their leader has had a lot of problems at the start of the year with only three games in 15 days.
The permanent "switch". The Celtics had decided to change on all screens, and Alvin Gentry regretted that his players did not take advantage of certain "mismatches". Deprived of De'Aaron Fox, the Kings were without rhythm or movement.
TOPS/FLOPS
✅ The "Jay's". Since Robert Parish and others criticized them more harshly, Jaylen Brown and Jayson Tatum have raised their level of play. Clearly, there is still a lot of individualism in Tatum, author of 36 points, after his 51 units against the Wizards. On the other hand, there is Brown's desire to make others play. At the very least, he drops the ball faster than his teammate and returns it too. But they are lucky to be surrounded by altruistic interiors…
✅Robert Williams. We only saw him in the racket. He's athletic, he runs fast and he has good hands. With a good playmaker by his side, he can make a career like Clint Capela, whom he will meet on Friday.
⛔The Kings. There is not a player who limits the damage… Totem of the group, Harrison Barnes finishes at 1 out of 12 on shots. Buddy Hield is the only player with more than 10 points, but 4 of 14 on shots. A collective and total bankruptcy.
THE FOLLOWING
Celtics (25-24) : Friday trip to the Hawks in great shape.
Kings (18-31) : back-to-back in Atlanta precisely.
Celtics

/

128
Shots
Bounces
Players
Minimum
Shots
3 points
LF
O
D
T
pd
party
Int
bp
CT
+/-
Points
Rating

J. Tatum

31
14/23
7/14
1/2
2
2
4
6
2
2
1
+36
36
35

A.Horford

23
1/9
1/2
0/0
3
5
8
2
1
+19
3
6

R.Williams III

27
6/8
0/0
1/1
7
10
17
4
3
2
+42
13
37

Mr. Smart

24
0/3
0/1
0/0
3
3
7
1
3
+36
5

J.Brown

24
11/19
5/12
3/3
10
10
3
3
+35
30
35

G.Williams

23
3/6
2/3
0/0
2
1
3
3
1
1
1
+28
8
11

A.Nesmith

19
4/8
1/4
1/1
1
3
4
2
+12
10
10

E.Freedom

12
0/2
0/0
0/0
1
3
4
1
2
+11

D.Schroder

16
1/5
0/1
0/0
4
4
2
1
1
1
+9
2
4

P. Pritchard

9
4/8
1/3
0/0
1
1
3
1
+8
9
10

J.Richardson

22
6/9
2/4
0/0
1
7
8
1
2
2
1
+21
14
19

R.Langford

9
1/3
1/1
0/0
1
1
1
+8
3
3
Total
51/103
20/45
6/7
17
50
67
32
12
6
11
6
128
Kings

/

75
Shots
Bounces
Players
Minimum
Shots
3 points
LF
O
D
T
pd
party
Int
bp
CT
+/-
Points
Rating

Mr. Bagley III

21
3/7
0/1
0/0
6
6
1
1
1
1
-29
6
9

H.Barnes

30
1/12
0/6
2/2
2
2
4
2
-34
4
-1

R.Holmes

24
4/6
0/0
1/2
1
8
9
1
-29
9
15

T. Haliburton

27
2/9
0/5
3/3
3
2
5
7
1
1
2
1
-40
7
12

T.Davis

10
2/5
1/2
2/3
2
2
1
-17
7
6

L. King

12
2/5
1/2
1/2
1
1
1
2
-11
6
4

Mr. Harkless

12
1/5
1/2
0/0
1
1
2
1
2
1
-13
3
4

R.Woodard II

12
0/4
0/1
0/0
2
2
4
1
1
-11
2

D.Jones

16
1/2
0/0
2/2
2
2
1
1
2
-16
4
8

N.Queta

8
3/4
0/0
0/1
1
1
2
2
2
-8
6
8

D.Mitchell

30
3/15
0/5
0/0
1
1
2
1
1
3
-34
6
-5

B.Hield

24
4/14
3/9
0/0
2
3
5
1
2
1
2
-11
11
6

J.Ramsey

15
3/7
0/0
0/0
1
1
2
2
2
-12
6
2
Total
29/95
6/33
11/15
15
30
45
15
14
7
10
8
75