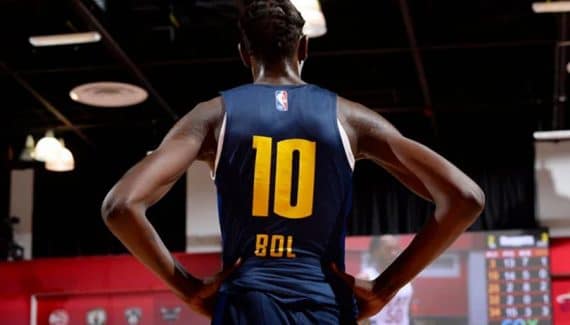 No trade is official until the players have passed their medical examination in their new team. The "trade" of Bol Bol in Detroit, in exchange for Rodney McGruder, has just been recalled.
The Denver Post announces as well as Detroit discovered a medical problem in the son of the late Manute during his visit to the club's doctors. As a result, the trade around the 44th pick of the 2019 Draft is canceled, and the interior (2m18, 22 years old) is sent back to Colorado… for now.
Even if his physique worried, to the point of having him fall in the second round of the Draft, the former Oregon had not yet been slowed down by injuries since his arrival in the NBA. It was simply his inexperience and his own limitations that prevented him from finding a real role in the rotation of Mike Malone.
This cancellation is in any case a blow for Bol Bol, who hoped to find playing time with the Pistons, and could have other consequences, in particular on a DeMarcus Cousins ​​who was waiting for the place to become available.
bowl bowl
Percentage
Bounces
Season
Team
GM
Minimum
Shots
3 points
LF
Off
Def
Early
pd
party
Int
bp
CT
Points
2019-20
DEN
7
12
50.0
44.4
80.0
0.7
2.0
2.7
0.9
1.6
0.3
1.4
0.9
5.7
2020-21
DEN
32
5
43.1
37.5
66.7
0.0
0.8
0.8
0.2
0.4
0.1
0.4
0.3
2.2
2021-22
DEN
14
6
55.6
25.0
40.0
0.3
1.1
1.4
0.4
0.3
0.1
0.3
0.1
2.4
Total
53
6
47.8
37.8
66.7
0.2
1.0
1.2
0.3
0.6
0.1
0.5
0.3
2.7