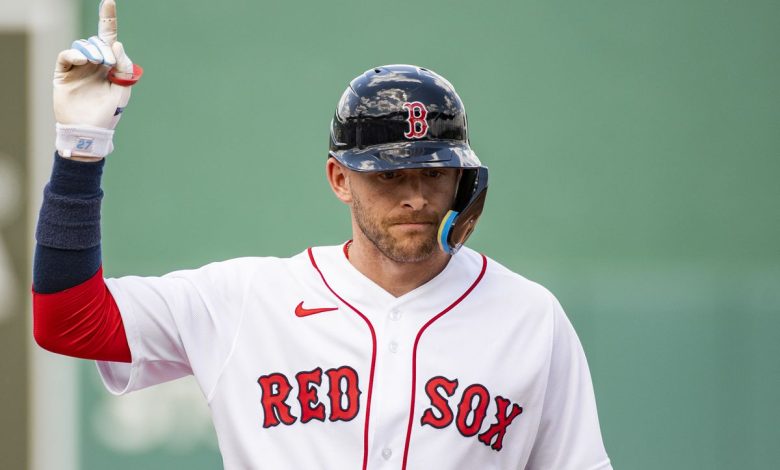 Boston Red Sox shortstop Trevor Story has some great plans for his next off-season. Indeed, the 30-year-old intends to create a training camp for Red Sox infield prospects and the whole thing would be held at his home in his native Texas.
So where did this original idea come from? Back when he was a minor league prospect in the Colorado Rockies organization, none other than Troy Tulowitzki held a camp just like this for him.
Pay it forward
The Boston star player therefore wants to reproduce what Tulo created several years ago. At the time, the former Rockies star, who later wore the uniform of the Blue Jays as well as the Yankees, had invited Story to his Las Vegas home. The latter was a top prospect for the Colorado affiliate and Tulowitzki had taken him under his wing, so to speak.
Number 10 of the Sox has a wonderful memory of it. This is, according to him, the thing that had the most impact during his time in the minors. For a week, he was taught how to train like a pro, to become not only a star player, but one of the best players at his position. Obviously, it worked well, because a few years later, Tulowitzki was traded to Toronto to make room for the rookie Story who was gaining ground within the club's hierarchy.
Camp Story
It's undeniable that players like Marcelo Mayer, the eleventh-best prospect in MLB, as well as Nick Yorke, the team's 2020 first-round pick and sixth-best in the organization, will receive an invitation. Mayer and Yorke play shortstop and second base respectively and represent the club's future in the infield. It is certain that such a winter camp can only be beneficial for both, particularly in terms of cohesion on the ground, work ethic and relational complicity.
In fact, unlike the private camp that the main interested party in this text was entitled to, this one wants to invite as many people as possible. He may even plan to expand the invitation for hitters. For what? Because Story simply loves to hit!
Story's gesture is very noble and generous and says a lot about the quality of the human being he embodies. It begs the question whether more mentoring initiatives like this should take place across not just baseball, but professional sports more broadly.