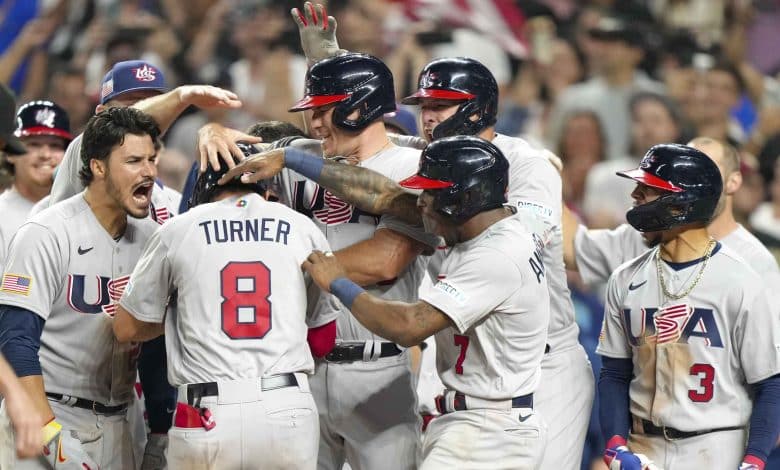 Yesterday, as part of the World Baseball Classic, the United States team faced that of Venezuela, vying for the right to face the Cubans in the semi-finals.
After giving themselves three-run leads twice, the Americans saw the Venezuelans come from behind and take the lead in the bottom of the fifth inning. It must be said that the American relief was atrocious at this precise moment of the match.
Trailing 7-5 in the eighth inning, Trea Turner came to the plate against reliever Silvino Bracho (Reds), who had just entered the game to face the newest member of the Philadelphia Phillies and Turner was quick to rouse the crowd at loanDepot Park by hitting a grand slam, which propelled the Americans forward.
The team led by Mark DeRosa never looked back as they won 9-7 and will face the Cubans in the semi-finals tonight.
Interestingly, Houston Astros star player José Altuve left the game in the fifth inning after being hit by a right-handed shot from Rockies reliever Daniel Bard. The worst was confirmed a few hours later: Altuve suffered a fracture.
Bard totally lacked control while on the mound, as in addition to reaching Altuve, he was credited with two bad pitches.
This defeat was the first suffered by the Venezuelan team during this classic 2023. This formation will have fought body and soul until the end before seeing its journey end in Miami.
The Americans had a total of 15 hits against opposing pitchers in that game. All players in the starting roster have at least one. Kyle Tucker (Astros) led the way with three hits in five at bats.
On the Venezuelan side, Luis Arraez (Miami) shone on offense thanks to two home runs and four RBIs. He also scored three points.
Lance Lynn (White Sox) started the game for the Americans, but the win went to David Bednar (Pirates). Ryan Pressly (Astros) picked up his second save of the tournament.
Tonight, veteran Adam Wainwright will be responsible for facing Team Cuba in the semi-finals, he will face Roenis Elías. The game will start at 7:00 p.m.