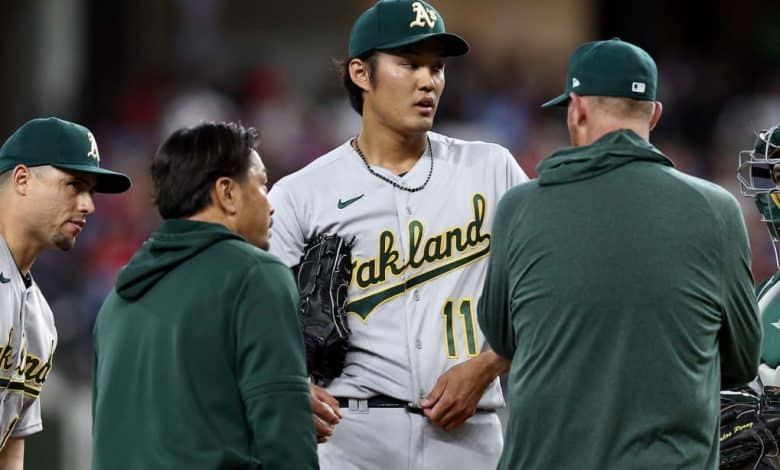 To say that the Oakland A's are doing badly would be to put rose-colored glasses on a simply catastrophic situation.
For what? Because right now, in Oakland, nothing is going right.
Off the field, you and I know that the club is destined to go to Vegas. The club announced its intentions in the last few days in this regard.
Building a stadium in Vegas has become mission impossible.
But on the ground, it is not better. By dint of having liquidated all the quality players of the organization against hopes (in order to save money), the club no longer has a player capable of holding the fort.
Result? The 4-17 record is the worst in franchise history to start a season.
I know the fans don't flock to the Colosseum in large numbers, but that's a shame for those who pay attention to the club.
It's reminiscent of the 2022 Reds (3-16) or this season's Royals (5-16), but the fact remains that the A's have even fewer resources to get by.
Not only are the pitchers not doing the job (it's hard to blame them since the guys are placed in an impossible situation), but neither are the hitters.
The proof? For a little over three weeks, since the start of the season, no less than 173 points have been awarded and only 73 points have been scored in 21 games.
That's a difference of 100 points, or nearly five per game. FIVE!
On nine occasions this season, the club has granted no less than 10 points to its opponents. It's just sad to death, all that.
For comparison purposes, the Royals have a differential of -50, which is literally twice as good as the A's. And that's not a good differential…
In the positive, two clubs are over +50: the Rangers (+57) and the Rays (+85), who are completely on another planet this year.
If we want to put things into perspective, in 2022, only three clubs had a differential of at least -200: Washington (-252), Pittsburgh (-226) and… Oakland (-202), of course.
At least the Pirates have found a way out this year – for now, at least.
To see the A's already at -100 with April not yet over is simply disheartening for the players and coaching staff. How to get up from this?
The Athletics will have a -771 differential if they continue at the same pace. Nobody is going to tell me that it's not embarrassing for the sport, that.
After many years in the minors, Drew Maggi has his chance.
The Braves are dominant this year.
No fracture for Santiago Espinal.
It brews in the rotation of the Red Sox.
Mike Trout is proud of his ninth Silver Rod.