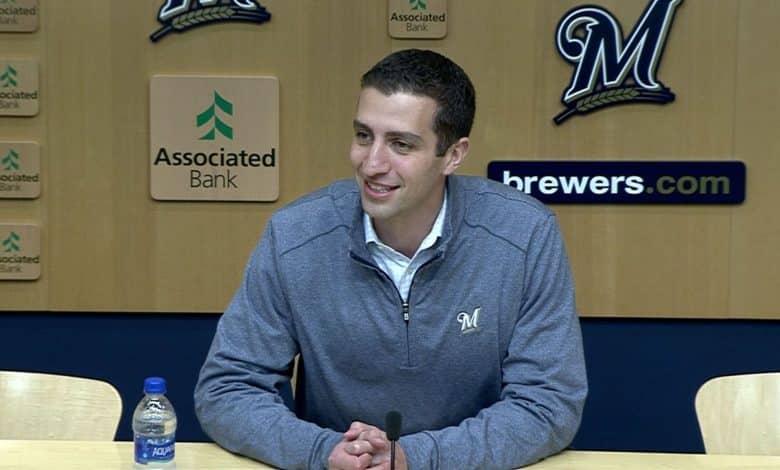 The Milwaukee Brewers had an excellent man running their baseball operations in David Stearns. He wasn't perfect (the Josh Hader trade got people talking), but he's seen as an excellent baseball executive.
I compare him a bit to Kyle Dubas in the world of hockey: a talented youngster.
Recently, the young father, who had one year left on his contract, decided to leave the manager's seat to become a simple adviser. He wants to give time to his family.
Many people see it as a technique to spend the 2023 season more peacefully before taking a job elsewhere in the league.
The native of New York has often been approached for the position of president of the Mets, he who gets along well with DG Billy Eppler.
That said, he won't be working anywhere else in 2023 (the Brewers won't and he's under contract) and the more time passes, the more Eppler seems to be appreciated.
Stearns would therefore not be the savior he would have been a little over a year ago with the Mets, for example.
But even if the Mets will talk to him next winter, when he is free as air, another club could be interested, according to Jon Heyman: the Red Sox.
If things go badly this season and the club decides to wipe the slate clean, the New York native could be a candidate to lead the Red Sox' baseball operations.
And clearly that would be a different situation from Milwaukee, a club that doesn't always have the means to match its ambitions – especially with the contract of Christian Yelich which is in the way…
The Sox are lining up to approach the luxury tax in 2023 (without exceeding it), which is different from the Brewers. $219 M versus $145 M, it's not the same game – and maybe with the budget, Hader stays in Wisconsin.
It's still at the rumor stage, but it's to be continued. If Chaim Bloom doesn't survive the next season, let's look to Milwaukee.