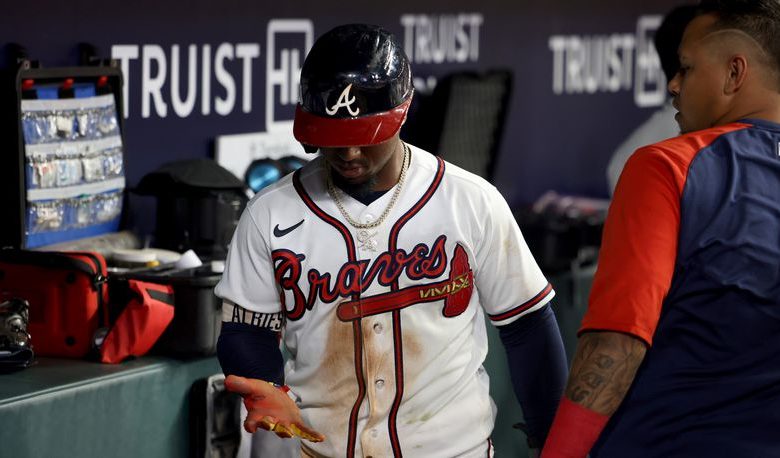 The Atlanta Braves will need all their ammunition if they want to repeat their exploits from last season. The departure of Freddie Freeman, replaced by Matt Olson, does not seem to have shaken the columns of the temple too much, but it does not take more turbulence to move the organization away from its ultimate goal.
Currently embroiled in a two-way battle with the New York Mets for first place in the National East, the team saw its small second baseman, Ozzie Albies, leave yesterday's game against to the Philadelphia Phillies with a finger injury. He finally has a fracture.
Albies had been back in action for two games after missing playing time with a foot injury.
The Curacao native had a dream season in 2021 and is one of the reasons for the Braves' World Series victory.
Injury is hard to prevent in baseball like in other sports and when a player gives 100% every time like Albies does, the risk is drastically increased.
The Braves still won the match by 4-3 over the Phillies, but the loss of the small number 1 again forces the hand of manager Brain Snitker. Yesterday, rookie Vaughn Grissom replaced Albies at second base.
Following a first absence of three months due to a broken foot, Albies will have played only 64 games so far in 2022. Well surrounded within a very high quality line-up, he still arrives to act as a spark plug when healthy as was the case last season.
It remains to be seen whether he will be back in time to start the real season with his teammates.
Before having to leave yesterday's match, Albies had had time to score twice in the victory of his team.
Atlanta hit the 90-win plateau, but still find themselves one game away from the New York Mets.

Mitch White will keep his hand in the AAA.
Aaron Judge wants to make the playoffs.