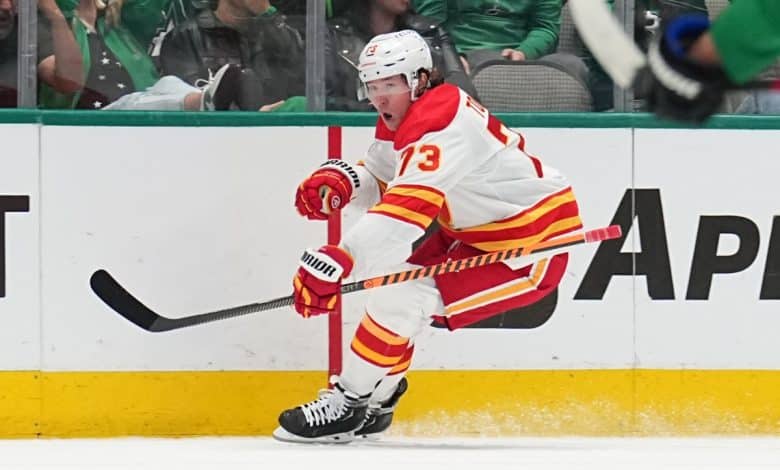 Tyler Toffoli broke away from Jake Oettinger and beat him with 6.2 seconds left in the third period, and the Calgary Flames inflicted a heartbreaking loss to the Dallas Stars 5-4 on Monday.
Jonathan Huberdeau took the puck in the defensive zone, and spotted Toffoli who had stood out behind the Texas defense.
The former Canadiens sniper fired a precise wrist shot into the top corner, on the side of Oettinger's glove. He now has 54 points to his name, including 26 goals, in 64 games.
The Stars had the wind in their sails, however, a few seconds later, the result of two goals scored in the last third to make up for a 4-2 deficit.
Roope Hintz scored on a shorthanded breakaway, and captain Jamie Benn set the record straight four minutes later, thanks to a deft deflection of a shot from Esa Lindell.
It was Hintz's 30th goal of the season, seven shy of his career high set last season.
Nick Ritchie, Nikita Zadorov, Elias Lindholm and Rasmus Andersson also scored for Calgary (28-23-13), who had lost their previous five games in regulation.
Oettinger faced 37 shots, four more than his counterpart Jacob Markstrom.
Darryl Sutter's men are struggling in the playoff race in the West, they are nine points behind Seattle and Edmonton, joint third-place holders in the Pacific Division.
For their part, the Stars (34-17-13) see their first place at the top of the Central become more precarious; they lead by just three points over the Minnesota Wild (36-21-6), who have a game in hand and are posting a four-game winning streak.
Max Domi scored his first goal for the Stars since being traded by the Chicago Blackhawks, just after the Stars played at the Hawks on Thursday night.
The Flames acquired Ritchie, 27, just before Friday's trade deadline from the Arizona Coyotes for his older brother, Brett. Young Ritchie had scored nine goals in 58 games with the Coyotes.