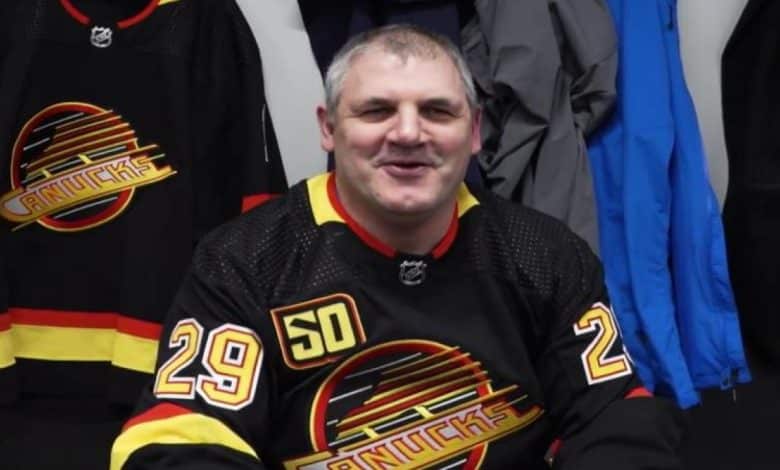 Proud Algonquin, proud of his culture, proud of his beliefs, Gino Odjick knew he would one day join the spirits of his ancestors floating above Kitigan Zibi to guide and inspire the young people growing up on this reserve located near Maniwaki.
The reserve where he was born in the northern Outaouais. The reserve where he grew up; where he learned to work hard to make his place in life, to reach his dreams. The reserve where he took his first steps on the skates and began a slow and long ascent that led him to the National Hockey League.
Gino was sick. He was even very ill. After diagnosing AL cardiac amyloidosis, a very rare and incurable disease, the doctors had also announced his imminent death: he had only a few weeks left. For a few months at most.
It was in 2014.
"I know the Spirits are coming to get me, but it could wait another 20 years", which Gino had laughed at me during our last meeting in the fall of 2019. At that time, the strong man weakened by the disease had nevertheless been able to thwart the prognoses. Or at least push them away. We were talking about a miracle then. He had even resumed an almost normal life. A life that allowed him to see his youngest children grow up; to oversee development in Native American communities in British Columbia; to keep in touch with his friends; to reconnect with supporters who have always treated him like a star. Like a big star.
Sunday afternoon, the Spirits came for him.
"We still spoke at least once a month. He had been in bad shape for a few weeks. He had to be hospitalized before the holidays. His heart has finally let go", that Donald Audette, his great friend and almost brother, told me when contacted at the start of the evening on Sunday, a few minutes after the news of Gino Odjick's death spread to the four corners of the hockey planet.
Friends everywhere
Gino was of course adored in all the Native American reservations where he appeared.
He also had friends everywhere. From Maniwaki to Laval where he played with the Titan in the late 1980s via Hawkesbury where he donned the uniform of the Hawks in the third ranks 2 in Ontario. He had friends in every NHL city. His former teammates were his friends. Several of his former adversaries were his friends. In fact, whenever you had the chance to spend some quality time with him, Gino treated you like a friend.
Donald Audette and his family members were in a class of their own, however.
Like Pavel Bure, who he protected to help the Russian Rocket become the big star he became with the Canucks from 1991, when he arrived in the NHL, until January 1999 when he set the course over South Florida after a trade that moved him to the Panthers.
"Gino was part of the family. He was always with us," Donald Audette pointed out during a brief interview on Sunday.
"I knew him when he arrived with the Titan in 1988. He was boarding with our neighbours. Gino has never been a great talker. But at that age, when he arrived in the QMJHL, he spoke even less. The doors to our house were still open and Gino started coming to our house for coffee and to read the paper. He said nothing and then left. Then he started talking with my father Claude. With my mother and my brother. He developed a much tighter relationship than a relationship between teammates, "recalls Audette, who reconnected with Odjick when he was traded from the Dallas Stars to the Canadiens in the fall of 2000.
"I was very happy to be able to count on him in Laval. It was another era. Hockey was harder than today and it got me out of trouble many times. But what always impressed me with Gino was what he did off the ice. It's to see the man he became throughout his career and after his retirement while he was doing big business in British Columbia. I'm losing more than a friend today," insisted Audette.
More than just a vindicator
Gino Odjick has always proudly and respectfully fulfilled his role as a vindicator. At that time, players like Odjick ignored concussions and their harmful consequences. They went to war night after night.
"I saw Gino play games and throw away the gloves even though he had a broken finger or fingers. I can't even imagine what that meant in terms of concussions. He gave everything for the team. He was highly respected. He didn't speak often, but when he did, the guys listened. He didn't back down from anything or anyone to help the team win," added Donald Audette.
But Gino was more than a vindicator.
Behind his tough looks hid a much more sensitive guy. A guy close to his culture. "We already lost him for a few days. It was hunting time and he had received the call of nature," laughs Donald Audette.
Those who thought they were dealing with a simple brawler when they exchanged with Gino Odjick have often learned the hard way that appearances should not always be trusted.
Gino always recounted with obvious pleasure this slice of life when he was aboard a taxi in Moscow where he had gone to join his friend Pavel Bure. Believing to have a simple tourist easy to cheat on the back seat of his car, the driver had hit a wall when Gino had asked him, in Russian, why he multiplied the detours on the way to his final destination.
I also remember a funny episode that occurred during the 2000-2001 season at the Marriott Hotel in front of the Nassau Coliseum where the Islanders were playing at the time.
Gino Odjick was talking to journalists in the lobby the day before a match when he saw Andrei Bashkirov, his roommate, coming out of the elevator. The Russian was about to leave the hotel when Gino apologized to the journalists to join Bashkirov. Proud of his achievement, Gino had come back to finish his conversation by explaining that he had just scolded his teammate, reproaching him for leaving for supper without inviting his roommate. All this in his mother tongue!
A language he had learned just like that, day by day, through Pavel Bure.
Gino liked to please. He liked to give fans back the attention they gave him. One Saturday, after a morning workout, he had approached my two young sons, then tall as three apples, whom I had been able to bring with me into the Canadian's locker room. Happy and smiling, Gino approached them to shake their hand. Already larger than life in everyday life, he was huge in his uniform and with his skates on his feet. His smile reflecting the repercussions of the many fights disputed on the rinks, the blows of sticks and pucks received in the face had had the opposite effect to that which Odjick anticipated. Impressed and perhaps a bit fearful, the guys started crying.
Odjick had looked at me sheepishly and shouted: "Don't move! I'm going to put my teeth in! "
Hundreds of comical and human stories resonate everywhere Gino has gone since the announcement of his death. In unison, those who tell these stories speak of the good, warm man who was often upstaged by the brawler who for years made his mark in Vancouver, Uniondale, Philadelphia and Montreal during of her career.
Odjick also liked to talk about his beliefs. From the trust he had in the spirits of his ancestors whom he turned to for guidance.
During a somewhat tumultuous visit to the Antechamber set several years ago, Gino had raised his voice because he found that journalists and analysts were far too negative and harsh towards the Canadian.
We had always had a very good relationship, but that night he left the set furiously.
An hour later, when I reached him on the phone to go over the events, he apologized, indicating that he regretted having lost his temper and that he was just in meditation somewhere on the Kahnawake reserve. to regain his composure.
Wherever you are today, I hope you have found calm and serenity. Rest in peace Gino Odjick.