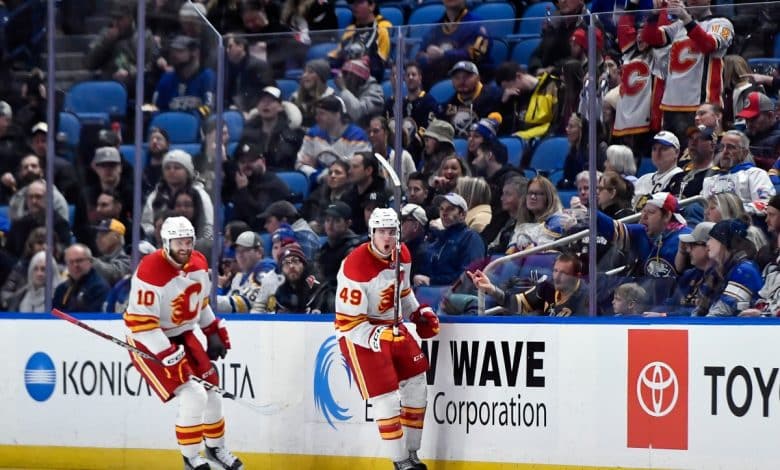 Jakob Pelletier hasn't come out of his cloud yet since he arrived in the NHL.
The Calgary Flames forward now has nine games behind the tie in the Bettman circuit and he made no secret of it in an interview with the Antechamber that he loves his experience.
"When I wake up every day, I think to myself: is this a dream or not? I've been up there for a month and a half and I tell myself that it's a dream. "
His new reality also means that he has recently played alongside Jonathan Huberdeau and Nazem Kadri. He wants to take advantage of this opportunity as much as possible and he is well aware that playing with two attacking players also puts some pressure on production.
"I think it's a dream too to be able to play with superstars. It's a chemistry that might take a bit of time (to settle in) because I'm a rookie and I want to understand how the game plays out. I bring speed, "Jo" passes the puck and "Naz" is the one who scores. "
"I'm definitely starting to feel more comfortable. I think it's up to us to produce more and me too. If we want to make the playoffs, I think all the lines have to produce and us even more", underlined Pelletier.
"We have a lot of players who want to win. We have a team built to make it through the playoffs. Yes there is pressure, but I come here to do my best. Of course, I would also like to produce a little more," he added.
The Flames' 2019 first-round pick had the chance to break the ice on Feb. 11 against the Buffalo Sabres. Another moment he savored to the full as his family members were on hand for the occasion.
"I had been getting excellent chances for four or five games. My family was in Buffalo, so to be able to experience that was a very special moment. "
The Quebecer is no stranger to some trade rumors as the March 3 deadline approaches. But he doesn't care about things he can't control outside the rink.
"Last year too I think there were some for Chiarot, then for Toffoli. I'm fine here and I have no control over the rest. I have no worries about that, "he said wisely.
The Flames are in the thick of the hunt for a playoff berth with 61 points in 55 games, which currently ranks them fifth in the Pacific Division.