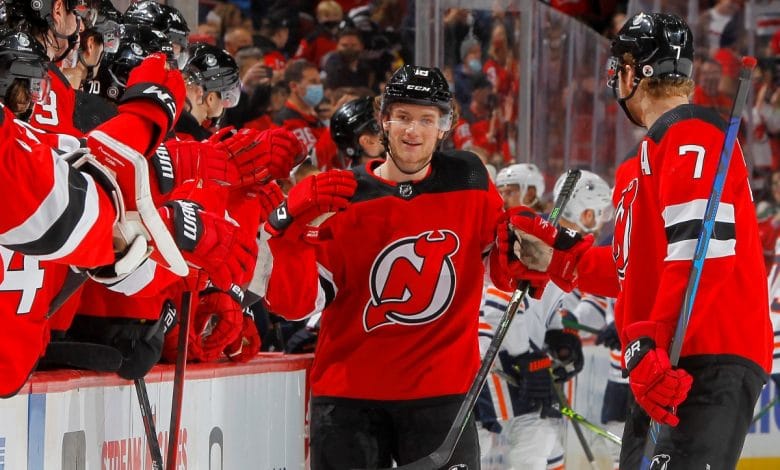 MONTREAL – Saturday night, Dawson Mercer was to play his first game at the Bell Centre. He was entitled to imagine a nice scenario in front of his family and friends, but this part was postponed. While waiting to be able to recover, the 20-year-old striker can console himself with his impressive rookie season.
"I was excited to return to Canada to play in Montreal and Toronto. But it almost seems like it has become a routine with the repechage that was canceled (in 2020) in Montreal and this game this time. I can't wait for it to happen eventually, it will be fun, "replied Mercer by videoconference with RDS.ca.
Even though the Devils are going through a rebuild, Mercer has surprised some observers by carving out a spot for themselves this year. But what really surprises is how much he has already gained the confidence of coaches who keep giving him more responsibilities.
After starting the season with usage ranging mostly between 12 and 14 minutes, he reached his peak last Saturday with 21:39 of action against the Columbus Blue Jackets.
" I love that ! Of course, I like to contribute offensively, but I'm proud to be able to play so many minutes while doing my job well defensively. It gives me opportunities and the coaches are not afraid to turn to me for important situations. I want to make sure I'm doing well so that it continues," reacted Mercer, who scored 9 goals and 11 assists in 36 games.
In the summer of 2020, in anticipation of the draft, Mercer was recognized as a logical candidate for the top-20. But the hockey players who knew him best agreed that he was a safe bet. His sense of hockey and his passion could only lead to great things.
The Devils recruiter, André Savard, had made the same diagnosis and he had ranked him favorably on the list. Less than two years later, he's not surprised by his early prowess in the NHL.
"I liked him a lot as soon as I saw him in Drummondville. He's a kid with a lot of hockey sense, he's smart and he works hard. He is in line with a Patrice Bergeron in Boston. He has improved his skating over the years and that makes him a very responsible player in all areas while being able to contribute offensively, "described Savard, who takes pride in this selection in 18th place.
"Coaches are all a bit the same in the sense that their players have to be responsible on the ice. If the young person does not understand certain defensive notions, they have hesitations. This is not the case for Dawson," boasted the one who carries out mandates at the junior and professional levels.
The fact remains that Mercer was not long in convincing his bosses to bet on him this year.
"Our team is young and there were openings. I had a good junior year last year and I came in with the mentality of carving out a job for myself. Seeing the portrait at the rookie tournament, I saw where I was in the hierarchy of prospects. After a few games, I found that I was able to hold my own and that I could have a role to fill with the Devils. I kept pushing and didn't want to miss that chance," the right-hander explained.
At first glance, he left with a catch since his physique is not yet very developed. But, as Denis Gauthier, who welcomed him to his boarding house in Drummondville, pointed out to us, he already manages, at the age of 20, to compensate thanks to his intelligence on the ice.
In addition, the Devils have used him mostly at center, a position that requires a more alert game, but which removes him from several physical confrontations along the boards.
"I didn't know what to expect when I arrived with the Devils. I played on the wing in the last game, but I mostly played in the middle. It goes back to the rookie tournament and it continued. It's the position I prefer, but I'm comfortable on the wing because it doesn't make a huge difference in our system," Mercer noted on the matter.
No need to remind him of the face-off challenge, he knows better than anyone his efficiency of 36% is not enough.
"I work every day on the face-offs since the opposition is much tougher. I'm trying to improve on that," Mercer continued even before being asked.
This weakness, typical for young people, does not prevent him from looking very good among the best recruits of 2021-2022. He sits sixth in points, but the Calder Trophy race won't change his approach.
"I'm not thinking about this race, above all I'm trying to play consistently since it's a long season. I want to keep improving," he said.
To continue his ascent, Mercer can count on the coaching of assistants Mark Recchi, Alain Nasreddine and Chris Taylor, but also on the support of players including Dougie Hamilton who took him under his wing.
"He's been good to me. He has a lot of experience and, right from training camp, he was interested in my adaptation. I felt welcome, especially thanks to him, "explained Mercer, who also had good words for Tomas Tatar who likes to spend time with the young people of the club.
Mercer comes from a close-knit Newfoundland and Labrador family and the shock of living in the New York area was going to be considerable. In order to facilitate his integration, he shares accommodation with Mason Geertsen. The latter, however, was declared positive for COVID-19 so that Mercer resides at the hotel these days.
With all that he has to assimilate, the weeks pass very quickly in his eyes. But he won't soon forget his first two games.
"The solo lap, before my first game, with my family in the stands, was very special. The next game I scored my first goal, it was wonderful and it happened against Seattle, a new team," Mercer concluded of the unforgettable memories of his promising young NHL career.