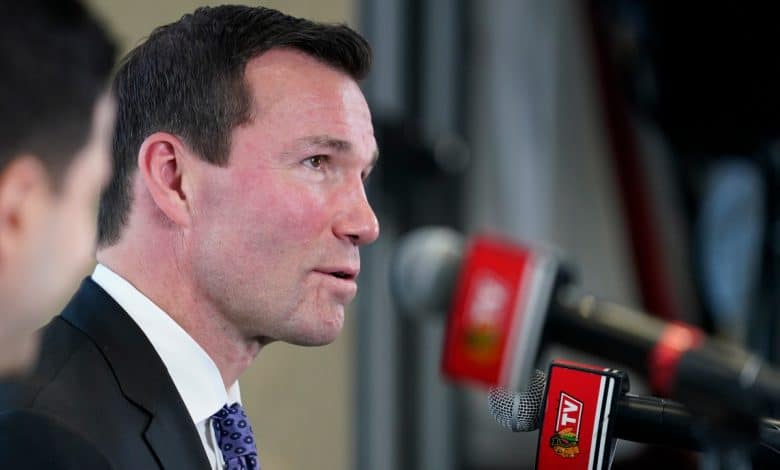 Luke Richardson is eager to get down to business after being hired as head coach of the Chicago Blackhawks on June 27.
"It's been an exciting summer, but it's the moment I've been waiting for, especially for the past few weeks. It's the same feeling as a player at this time of year. We are ready and eager to get started," Richardson said on the eve of the opening of training camp for the Blackhawks.
Richardson isn't just waiting to make his NHL head coaching debut this summer. Having been an assistant coach for the Ottawa Senators (2009-2012), New York Islanders (2017-2018) and Montreal Canadiens (2018-2022), Richardson has accumulated a lot of experience behind the benches of the NHL and had been waiting for his chance for a decade.
"I've seen how he behaves with the players, the respect he commands and what a good person he is," said Blackhawks forward Max Domi, who played under Richardson with the Montreal Canadiens from 2018 to 2020.
"He treats the players with respect, he doesn't play a game and he gets straight to the point. If you play with intensity and accomplish what he asks for, you will get playing time."
In Chicago, Richardson will lead a rebuilding team with whom he wants to grow as a coach.
"I know I'll learn a lot along the way and I'm ready to do that and develop new ideas and grow as a coach. I've been behind a bench for a long time and I was a head coach in the American League, but I know it's not the same thing.
"I like to come to the rink every day being positive and I think that's contagious on the players. If, on the other hand, you are negative and grumpy, that too is contagious. I want to make sure I'm consistent while improving."