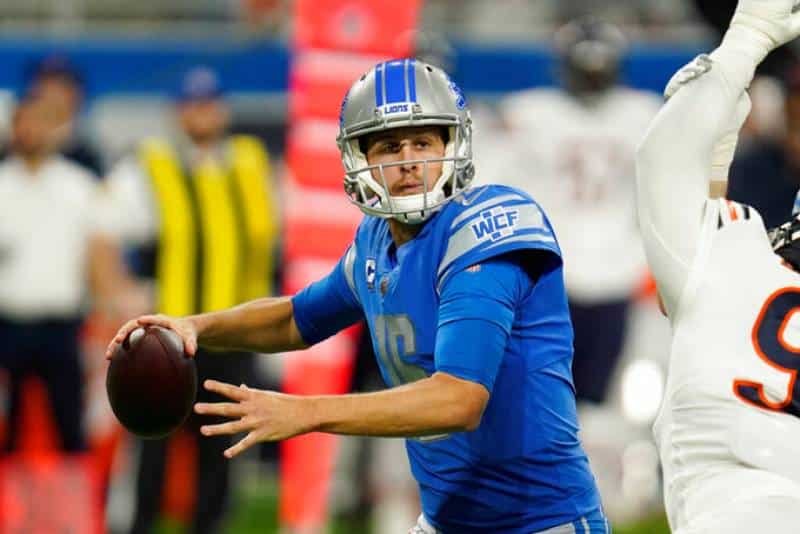 The Lions have won four of their last five games, and they're not afraid of anyone anymore. After having made the Bills tremble at Thanksgiving, here they are facing the Vikings who always win in difficulty. Half of the editorial staff therefore see Detroit winning!
In other games, the Steelers are also seen as a surprise against the struggling Ravens.
A few favorites are emerging in the rest of the fixtures.
In the standings, Alain Mattei (119) is joined in the lead by Victor Roullier (118). Grégory Richard (106) is just behind. Raphaël Masmejean (114) continues his fall, he is joined by Raoul Villeroy (114) and Lucas Vola rejoins the peloton (113).
To predict, you can join the DNA of Sports league on Pronos with friends.
Podcast team predictions
| | | | | | | | |
| --- | --- | --- | --- | --- | --- | --- | --- |
| Residence | Outside | Alain | Raoul | Gregory | Raphael | Lucas | Victor |
| rams | Raiders | Raiders | Raiders | Raiders | Raiders | Raiders | Raiders |
| Giants | Eagles | Eagles | Eagles | Eagles | Eagles | Eagles | Eagles |
| bills | Jets | bills | bills | bills | bills | bills | bills |
| bengals | browns | bengals | bengals | bengals | bengals | bengals | bengals |
| Cowboys | Texas | Cowboys | Cowboys | Cowboys | Cowboys | Cowboys | Cowboys |
| lions | vikings | vikings | vikings | lions | lions | vikings | lions |
| Titans | Jaguars | Titans | Titans | Titans | Titans | Titans | Titans |
| Steelers | Ravens | Steelers | Ravens | Steelers | Steelers | Steelers | Steelers |
| Broncos | Chiefs | Chiefs | Chiefs | Chiefs | Chiefs | Chiefs | Chiefs |
| 49ers | Buccaneers | 49ers | Buccaneers | 49ers | 49ers | 49ers | 49ers |
| Seahawks | Panthers | Seahawks | Seahawks | Seahawks | Seahawks | Seahawks | Seahawks |
| Chargers | Dolphins | Dolphins | Chargers | Chargers | Dolphins | Dolphins | Dolphins |
| Cardinals | Patriots | Patriots | Patriots | Patriots | Cardinals | Cardinals | Patriots |