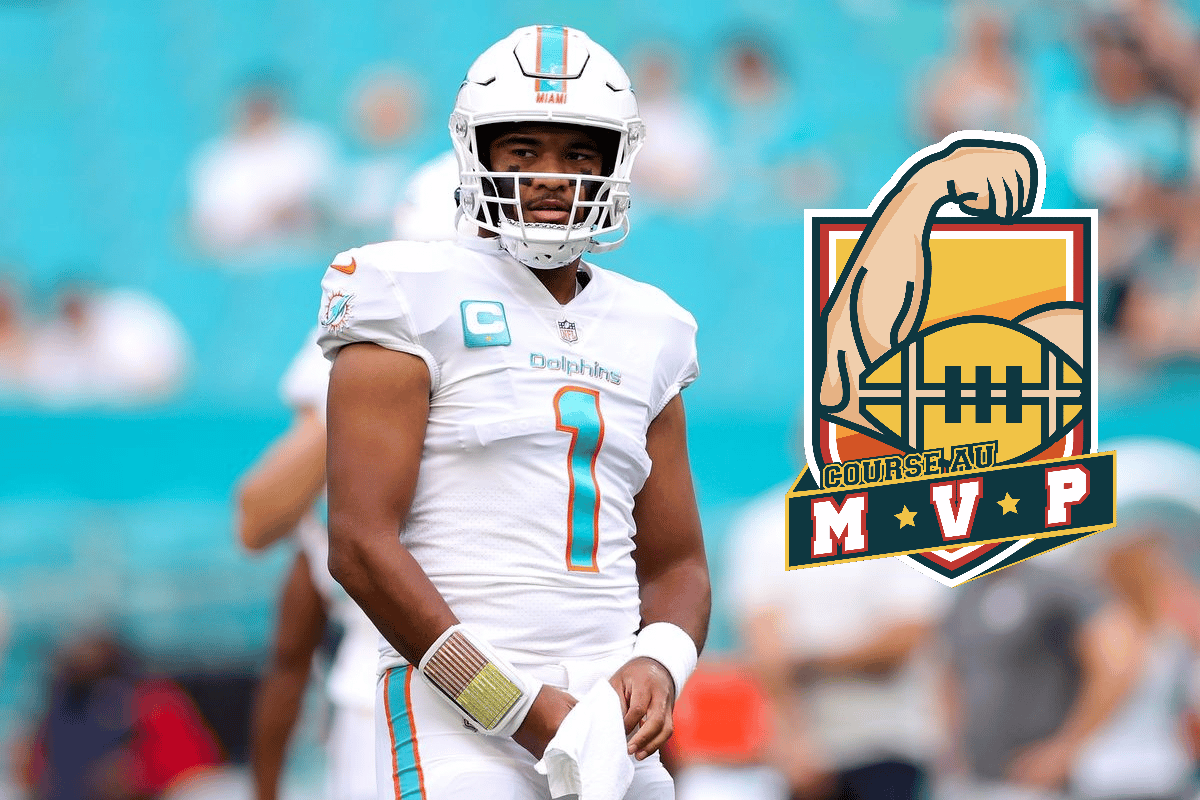 Thursday is MVP! The weeks go by and the observation remains the same, Patrick Mahomes does not seem on the same planet as the others. Especially not Jalen Hurts who still secures second place but who sees a Tua Tagovailoa coming back on his heels that nothing and no one seems able to stop. Josh Allen has apparently let the train pass, he who has been dragging a stroke less well for five weeks and who is now threatened by a Joe Burrow in ascending form.
1- Patrick Mahomes (-) Quarterback – Kansas City Chiefs (9-2)
11 games – 3,585 yards at 66.1% – 29 touchdowns, 8 interceptions – 274 yards rushing, 1 touchdown – 105.3 rating
No sign of slowing down for Patrick Mahomes. Still, with an 85.4 rating in the win over the Rams, he had his third-worst game of the season in a contest where he racked up 320 yards and a touchdown for one interception. That is to say how exceptional his season is in every way. Fairly clear leader in thrown touchdowns and passing yards, Mahomes has relegated the competition far enough.
2- Jalen Hurts (-) Quarterback – Philadelphia Eagles (10-1)
11 games – 2,560 yards at 67.3% – 17 touchdowns, 3 interceptions – 597 yards, 8 rushing touchdowns – 105.6 rating
Launched in a somewhat desperate hunt for Patrick Mahomes in this last part of the season, Jalen Hurts is far from undeserving. Against the Packers, the Eagles quarterback used all facets of his game as he knows how to do so well. In addition to his 153 yards and two passing touchdowns, Hurts added 157 yards on 17 carries. Third best rating among quarterbacks this season, Hurts confirms his position as the perfect expression of the double threat.
3- Tua Tagovailoa (+1) Quarterback – Miami Dolphins (8-3)
9 games – 2,564 yards at 69.7% – 19 touchdowns, 3 interceptions – 35 yards rushing – 115.7 rating
Probably the second quarterback in the league at the moment, Tua Tagovailoa had no trouble confirming this status against a completely overwhelmed Texans. Released in the third quarter, the Dolphins quarterback still hasn't thrown an interception since Week 4. Still carried by a duo of exceptional receivers Tyreek Hill-Jaylen Waddle, Tua continues to climb in the hierarchy and is approaching the second place crowned with the best rating in the entire NFL.
4- Josh Allen (-1) Quarterback – Buffalo Bills (8-3)
11 games – 3,183 yards at 63.9% – 23 touchdowns, 11 interceptions – 561 yards, 5 rushing touchdowns – 95.2 rating
No renewal this week for Josh Allen. Always appeared vulnerable against the Lions, he still provided the essential with 253 yards, two touchdowns and an interception. But in the last five games, Allen's rating has only exceeded 81 once. However, the Bills still win but are much less scary when Josh Allen is no longer the ultra-dominant player he was at the start of the season.
5- Joe Burrow (+1) Quarterback – Cincinnati Bengals (7-4)
11 games – 3,160 yards at 68.2% – 23 touchdowns, 8 interceptions – 178 yards, 4 rushing touchdowns – 101.7 rating
On the rise, Joe Burrow seems to be improving every week and the Titans can attest to that. With 270 yards and a touchdown, the Bengals quarterback further strengthens his position. In recent weeks he has shown that even without Ja'Marr Chase he is capable of carrying his team to success. But with the return now very close to its number 1 receiver, the Bengals seem well on their way to trying to renew their magnificent course of last season.
Special Mentions
Lamar Jackson (QB, Ravens) – 2,231 yards on 62.1% completion, 17 touchdowns, 7 interceptions – 91.2 rating
Geno Smith (QB, Seahawks) – 2,802 yards at 72.8% completion, 19 touchdowns, 5 interceptions – 107.9 rating
Jimmy Garoppolo (QB, 49ers) – 2,381 yards at 67.4% completion, 16 touchdowns, 4 interceptions – 103 rating
Justin Jefferson (WR, Vikings) – 1,093 yards on 15.2 yards/reception, 4 touchdowns
Stefon Diggs (WR, Bills) – 1,110 yards at 13.2 yards/reception, 9 touchdowns
Tyreek Hill (WR, Dolphins) – 1,233 yards on 14.2 yards/reception, 4 touchdowns
Derrick Henry (RB, Titans) – 1,048 yards at 4.2 yards/rush, 10 touchdowns
Nick Chubb (RB, Browns) – 1,039 yards at 5.2 yards/rush, 12 touchdowns
Travis Kelce (TE, Chiefs) – 912 yards on 12.5 yards/reception, 12 touchdowns
Micah Parsons (LB, Cowboys) – 42 tackles, 10 sacks, 2 passes defended
Nick Bosa (DE, 49ers) – 27 tackles, 6 passes defended, 11.5 sacks