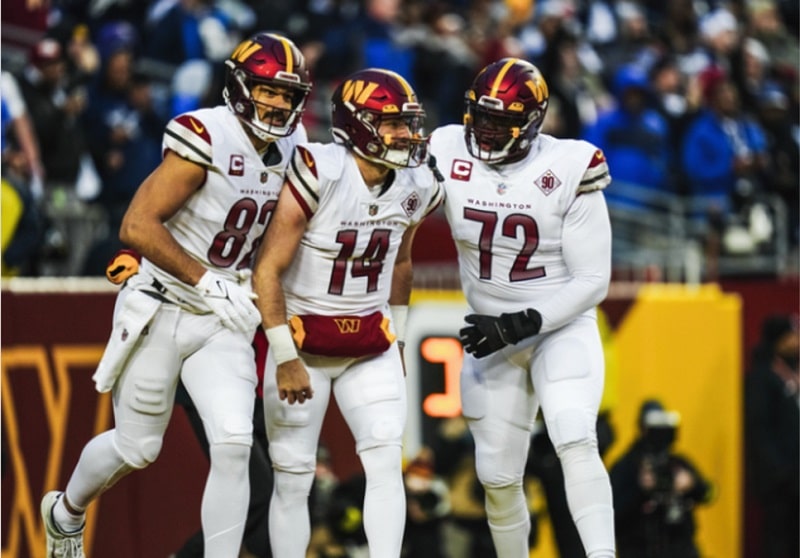 Has Washington found its quarterback for next season? Dallas worries before the playoffs.
Washington Commanders (8-8-1) – Dallas Cowboys (12-5): 26-6
For their last game of the regular season, Dallas had to win and hope for unfavorable results for the 49ers and the Eagles to hope for the first place in the NFC conference. For Washington, this is an opportunity to end a rather interesting season on a high note with the tenure of their last quarterback drafted in 2022: Sam Howell.
And for the first of the former North Carolina, it's a success. The quarterback was decisive in the air and on the ground against an increasingly worrying Dallas team. To wonder why the Commanders did not establish him before.
Already not transcendent against a revamped team of Titans, the Cowboys were not more reassuring when all the holders were present. This does not bode well for the playoffs where the opposition against the Buccaneers will be anything but a formality.
A story of lost ball
In recent games, Dallas has a habit of being feverish at the start of the game. This match will not escape the rule in a first period marked by lost balls.
First, the Dallas special teams with a fumble from punter Bryan Anger who was penalized with a touchdown from Sam Howell (11/19, 169 yards, 1 TD, 1 INT – 5 carries, 35 yards, 1 TD) for Terry McLaurin (3 REC, 74 yards, 1 TD). His NFL career first on his first attempted pass. Then a muff punt of KaVontae Turpin who was not sanctioned because Joey Slye missed his field goal.
Second, the attacks will show up negatively. First, Washington with Sam Howell who, after his first touchdown a few minutes ago, threw his first career interception on Malik Hooker. Opposite, Dak Prescott (14/37, 128 YDS, throws his 7th interception in a row in an NFL game on Kendall Fuller. Except that it has consequences since it allows Washington to widen the gap.
After a new field goal missed by Joey Slye, CeeDee Lamb's touchdown (5 REC, 52 YDS, 1 TD) allows Dallas to close the gap in a difficult first period for Mike McCarthy's team, where the motivation of the players questions.
Dak Prescott in trouble
It will be necessary to wait until the middle of the 3rd quarter to see a first attempt won in the 2nd half. Better, this first attempt will lead to Sam Howell's first touchdown on the ground for the Commanders against a Dallas defense which has dropped in level.
Dallas has a lot of trouble in offensive execution like a Dak Prescott not on his plate, author of 8 incomplete passes in a row during the second half. The symbol of this second period is this QB sneak on 4th attempt totally missed in the 4th quarter, allowing Washington to recover the ball.
It is therefore a game to forget for Dallas who must face Tampa Bay and Tom Brady in a week for their playoff debut.
Sam Howell's first NFL pass attempt goes for a TD to Terry McLaurin!

📺: #DALvsWAS on FOX
📱: Stream on NFL+ https://t.co/2tZrKMRiWu pic.twitter.com/6a0KfqblwI

— NFL (@NFL) January 8, 2023