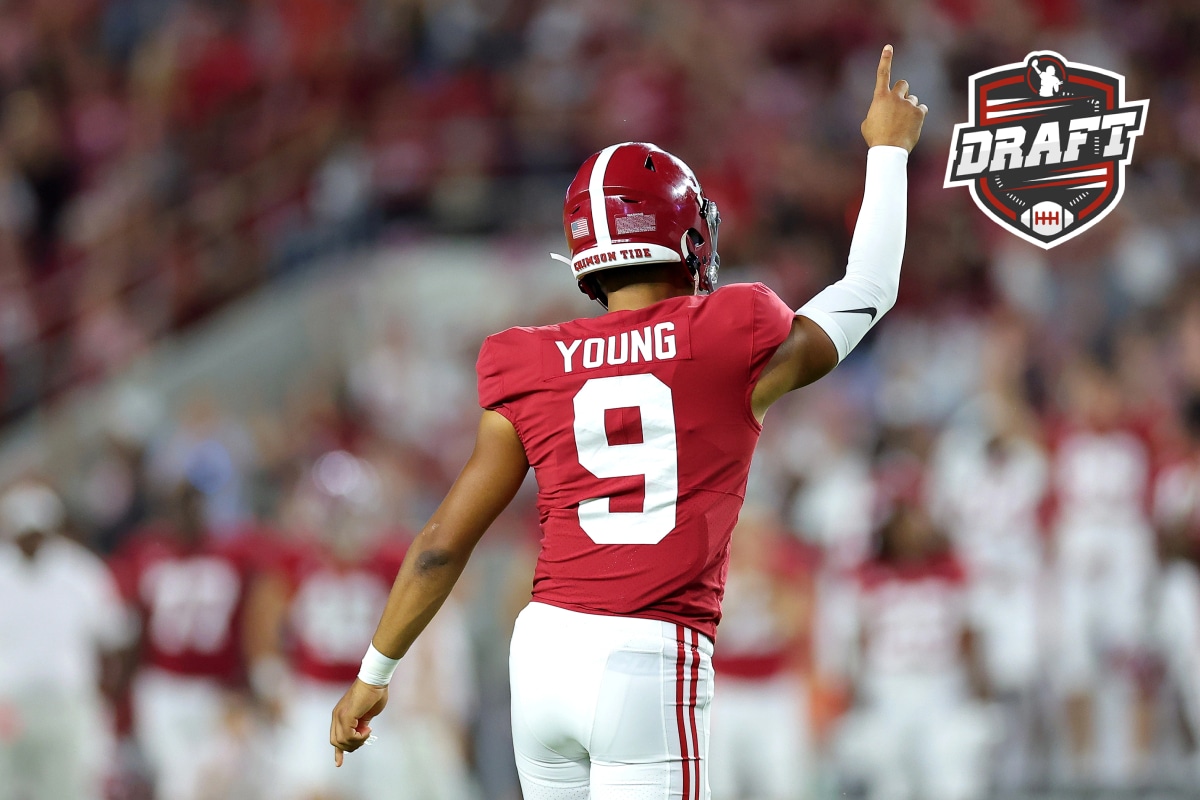 Every Sunday, the editorial staff of DNA of Sports offers you an update on university players. Who performed well and who disappointed? Here is a weekly focused on the individual performances of future NFL players. Only players eligible for the 2023 draft are listed here.
On the program for week 5 of college soccer, the first division duel for Alabama against Arkansas. After Wake Forest, Clemson again faced a division rival with NC State in the clash of the week. The Big 12 is also in the spotlight with a match between two top 25 teams, Baylor and Oklahoma State. Finally, for the service of the American nation, a small Navy versus Air Force duel whose focus is in the bonus of the week.
quarterback of the week
This 2023 promotion is rich in quarterbacks. The opportunity to focus on a player in this position.
Max Duggan (QB, TCU): 23/33, 302 yards, 3 TDs, 5 carries, 116 yards, 2 TDs
A 4-star rookie upon leaving high school, ranked number 3 as a double-threat quarterback in the United States, Max Duggan is propelled as a starter from his freshman season when he chooses TCU ahead of major universities such as Georgia, Notre Dame or Ohio State. Yesterday, he completely demolished the Oklahoma Sooners defense for the weekend upset. He becomes the first player to throw a touchdown pass and a touchdown run over 60 yards since a Kyler Murray of … Oklahoma. For next April, his name could be heard between the 5th and 7th round where he could be a solid understudy in the NFL.
Just so everyone knows, it takes @MaxDuggan_10 11 seconds to run 67 yards. #GoFrogs pic.twitter.com/o69gN3Ub9g

— TCU Athletics (@TCU_Athletics) October 1, 2022
Mentions
Bryce Young (QB, Alabama): 7/13, 173 yards, 1 TD, 1 INT
Cameron Rising (QB, Utah): 19/25, 199 yards, 3 TDs, 7 carries, 73 yards, 1 TD
DJ Uiagalelei (QB, Clemson): 21/30, 209 yards, 1 TD, 14 carries, 73 yards, 2 TDs
Grayson McCall (QB, Coastal Carolina): 23/34, 335 yards, 3 TDs, 10 carries, 34 yards, 1 TD
Bo Nix (QB, Oregon): 18/29, 161 yards, 2 TDs, 6 carries, 141 yards, 2 TDs
Will Rogers (QB, Mississippi State): 31/45, 329 yards, 3 TDs
We mention Bryce Young here because he was hit in the shoulder while having a good game despite an interception. If Nick Saban assured that his injury is not serious, the player of Crimson Tide could miss a few weeks of competition. Nevertheless, he joined his teammates on the side of the field: which can be reassuring. But without him, Alabama struggled more on offense.
On a more positive note, a lot of quarterbacks double-threat with Cameron Rising being his team's best passer and runner in his team's win over Oregon State. DJ Uiagalelei led Clemson to victory in the clash against NC State including 1 rushing touchdown that sealed the game and won his duel from distance with Devin Leary. Grayson McCall and Bo Nix had less difficult oppositions but did most with a special mention for the 2nd city which put an 80-yard touchdown in the 3rd quarter. Finally, Will Rogers led his team to one of the weekend's upsets against the Texas A&M Aggies.
Offensive Player of the Week
Jahmyr Gibbs (RB, Alabama): 18 carries, 206 yards, 2 TDs
If you have listened to the podcast concerning him, his name is therefore not unknown to you. After Bryce Young's injury, Jahmyr Gibbs carried Alabama to victory over Arkansas with his first rushing touchdowns of the season from 72 and 76 yards to sink the Arkansas Razorbacks. He seems to be gaining momentum over the weeks and could challenge Bijan Robinson in the race for the first runner called up to the 2023 NFL Draft.
TD ALABAMA!

The Razorbacks are back to 5 points? The Crimson Tide responds with two TDs including this one on this run by RB Jahmyr Gibbs.

There will be no miracles in Fayetteville.

Arkansas 23, Alabama 42

📺 @CBSSports pic.twitter.com/5dTqMuWCxo

— TBP College Football (@thebluepennant) October 1, 2022
Mentions
Sean Tucker (RB, Syracuse): 23 carries, 232 yards, 3 TDs
Blake Corum (RB, Michigan): 29 carries, 133 yards, 1 TD
Jake Bobo (WR, UCLA): 6 receptions, 142 yards, 2 TDs
Zay Flowers (WR, Boston College): 5 receptions, 152 yards, 2 TDs
Cooper Beebe, OG, Kansas State
More than 200 yards and 3 touchdowns and all that in one half, that's what Sean Tucker achieved. Admittedly, the opponent was very weak with the Seahawks of Wagner but they made the match easy. Only downside: his injury at the start of the 2nd half. As for Blake Corum, he (once again) reigned over the lands of the Iowa Hawkeyes.
If Zach Charbonnet could have been cited given his performance against the Washington Huskies in one of the upsets of the week, what about Jake Bobo. In addition to a name that hurts, he was very useful in the 3rd attempt, converting important plays for the Bruins. Zay Flowers also helps his quarterback Phil Jurkovec well by beating a double coverage on a 69-yard touchdown against Louisville.
If Kansas State has one of the best ground attacks, it owes it to a very lively runner like Deuce Vaughn. She also owes it to the game of left guard Cooper Beebe. Strong and intractable for the blocks, he is an expert at opening a breach. Mobile enough to play protection, he could hear his name called in the 1st round in 2023. Yesterday against Texas Tech, when the starting left tackle was injured in the 4th quarter, he occupied this position outside to finish the match, not without success.
Defensive Player of the Week
Clark Phillips III (BC, Utah): 3 tackles, 3 interceptions including 1 returned for touchdown
His height (1.78m) may be a handicap against taller receivers but his mentality is contagious. Starting his freshman season at Utah after snubbing Ohio State, he showed his playmaker instincts last night. Facing Oregon State who had planned to test him, he responded in style with a career high in interceptions. 2 in the 1st quarter, including 1 pick six and 1 in the last quarter in the end zone where he showed his instincts for reading, covering and… receiving. His name could be heard from the first round by an NFL team in need of quality cornerbacks.
3rd INT of the match for DB Clark Phillips! 🤯

Utah rides against Oregon State. 42-16.

📺 @Pac12Network pic.twitter.com/I67AWL8d4S

— TBP College Football (@thebluepennant) October 1, 2022
Mentions
TreVious Hodges-Tomlinson (CB, TCU): 2 tackles, 2 passes defended
Emmanuel Forbes (CB, Mississippi State): 1 deflected pass, 2 interceptions including 1 for TD
Mike Morris (EDGE, Michigan): 3 tackles, 2 sacks, 2 pressures
Felix Anudike-Uzomah (EDGE, Kansas State): 6 tackles, 3 sacks, 1 forced fumble
Deshawn Pace (LB, Cincinnati): 5 tackles, 1 sack, 1 interception for TD
He too is short in stature, but Tre'Vius Hodges-Tomlinson had Marvin Mims in front and won his duel in the TCU upset at Oklahoma, including a big defensive play in the 3rd quarter that forced the Sooners receiver to release the ball. Mississippi State forced 4 ball losses against the Texas A&M Aggies. Among them, the interception returned for Emmanuel Forbes' touchdown which allowed his team to fold the game.
Able to evolve in all positions on the defensive line, Mike Morris takes advantage of the two-man catch on Mazi Smith to record 2 sacks in addition to 2 pressures. Felix Anudike-Uzomah completely smothered Texas Tech's offense where his duet with Khalil Duke recorded 6 sacks.
Finally, we could have mentioned a lot of linebackers like Dee Winters from TCU, Ty'Rion Hopper from Missouri or Ayinde Eley from Georgia Tech, but we chose Deshawn Pace. The Cincinnati linebacker is a name to watch during the Draft process. If his brother Ivan, also a linebacker, was in the statistics with 10 tackles and 2 sacks, he gave him the action of the match: an interception from the second opposing game returned for a touchdown which launched the Bearcats towards victory.
Disappointments of the week
CJ Stroud (QB, Ohio State): 13/22, 154 yards, 2 TDs, 1 INT
Kayshon Boutte (WR, LSU): 1 reception, 4 yards
Kelee Ringo (BC, Georgia): 2 tackles (including 1 for loss)
It may seem harsh to put CJ Stroud in this section. But against one of the worst teams in B1G, Rutgers, he was not sharp. If the victory is obvious for the Buckeyes, the quarterback did not shine, even throwing an interception on Avery Young.
But where is Kayshon Boutte? If LSU made a comeback, the receiver of LSU was targeted only twice in the game and sees his rating down.
Kelee Ringo had a good first period with a tackle for loss. But in the second half, he was strawberries against receivers yet not elite Missouri Tigers. He notably conceded a very expensive penalty on a 3&17 which allowed Missouri to register 3 new points. While other cornerbacks have shone this week, this has not been his case.
The cocorico moment
The French playing in the NCAA are few in number but nevertheless more and more present. To Wilfried Pene (DE / Virginia Tech), Jeffrey M'Ba (DT / Auburn) and Thomas Le Boucher (OT / Arizona State), we can add Axel Lepvreau. The left-handed kicker was perfect against Samford: 3 successful field-goals out of 3 attempted, 2 points in touchdown conversions.
Born in La Roche-sur-Yon, he completed his high school at Manatee High School in the state of Florida and was spotted by the prestigious Miami Hurricanes. But because of too high school fees, he cannot follow up (70,000 euros per year). He therefore bounced back to Furman in South Carolina (second level university) where he obtained a scholarship that covers 83% of his costs. He can thus let the lightning of his left foot speak there!
Axel Lepvreau's 34-yard FG 🇫🇷

His stats against Samford: XP 2/2 and FG 3/3. @AxelLepvreau pic.twitter.com/224yAzGoc6

— The Trick Play Podcast – NCAA/CFB (@TheTrickPlayFR) October 1, 2022
action of the week
A winning race with a hurdle(like a hurdle jump in athletics). Coastal Carolina is still undefeated this season. Moreover, it is a specialty in this university. The proof.
Coastal Carolina's CJ Beasley with the hurdle TD for the win 🔥pic.twitter.com/tjP4DumRzo

— 247Sports (@247Sports) October 2, 2022
The other action of the week
Jaylon Lofton (WR, Liberty) takes himself for OBJ.
YOU'RE KIDDING @jaivianlofton 😱
One-handed, in the back of the end-zone.

🔥 TOUCHDOWN FLAMES 🔥 pic.twitter.com/MBcymM2O5X

— Liberty Football (@LibertyFootball) October 1, 2022
Bonus of the week
As explained in the introduction, the Navy Midshipmen faced the Air Force Falcons this week for the first game of the Commander-in-Chief Trophy. This trophy is disputed between 3 teams: Army, Navy and Air Force, and this over 3 games spread over the NCAA season. This trophy was created in 1972 despite the first opposition in the 1960s. In terms of awards, it is the Air Force which holds the record with 20 trophies won. But, rare in 2021, the 3 teams each won 1 match so the trophy was "shared" but remained with Army who had won it in 2020. This fact has already happened 5 times in the history of this trophy .
And as for the game, it was the Falcons who won 13-10 and communicated that in their own way.
Victory of Air Force against Navy. We let you admire the MASTERCLASS of the Falcons communication team. 🤪 pic.twitter.com/5KBwaH823u

— The Trick Play Podcast – NCAA/CFB (@TheTrickPlayFR) October 1, 2022