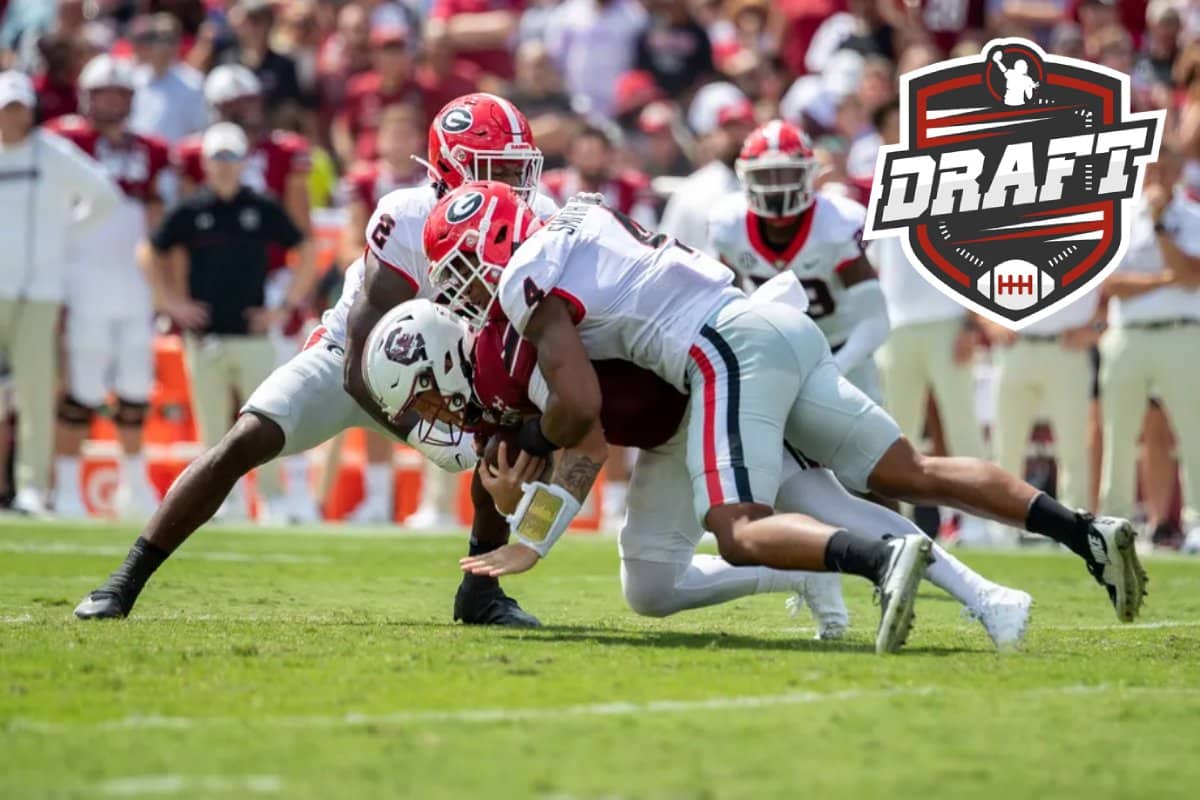 Every Sunday, the editorial staff of DNA of Sports offers you an update on university players. Who performed well and who disappointed? Here is a weekly focused on the individual performances of future NFL players. Only players eligible for the 2023 draft are listed here.
On the program for week 3 of college soccer, Mickey Joseph's first with Nebraska against a very tough opponent, Oklahoma. After 2 inaugural defeats, will Notre Dame raise its head against California? In other games, a worthwhile opposition between BYU and Oregon, Spencer Rattler faces the best team in the country, Georgia. Finally, not one but two Florida State derbies between South Florida and Florida in the Swamp and between UCF and Florida Atlantic.
quarterback of the week
This 2023 promotion is rich in quarterbacks. The opportunity to focus on a player in this position.
Dillon Gabriel (QB, Oklahoma) : 16/27, 230 yards, 2 TDs, 6 carries, 55 yards, 1 TD
While Spencer Rattler and Caleb Williams, the former Oklahoma quarterbacks are experiencing mixed fortunes on their respective teams, the southpaw Dillon-Gabriel revived with the Sooners after his transfer from UCF. His record is almost perfect after 3 games. 70% completed passes, 8 touchdowns, including one on the run this weekend from 61 yards.
Sooners equalize on a 61-yard run from QB Dillon Gabriel! wow!

Nebraska 7, Oklahoma 7

📺 @CFBONFOX pic.twitter.com/SkyHl5Njiw

— TBP College Football (@thebluepennant) September 17, 2022
Mentions
CJ Stroud (QB, Ohio State) : 22/27, 397 yards, 5 TDs
Grayson McCall (QB, Coastal Carolina) : 16/24, 251 yards, 3 TDs
Cameron Ward (QB, Washington State) : 26/36, 292 yards, 4 TDs, 1 INT
Bo Nix (QB, Oregon) : 13/18, 222 yards, 2 TDs
Michael Penix Jr. (QB, Washington) : 24/40, 397 yards, 4 TDs
In his duel with Bryce Young to be the first quarterback drafted, CJ Stroud takes a good lead. 5 touchdowns and about 400 yards and all that in 3 quarters. Grayson McCall was very clean with a new game with 3 touchdowns. Washington State is still undefeated and that's thanks to Cameron Ward, author of a monstrous match against Colorado State. After his failed first game in Georgia, Bo Nix revived and had a solid game, contributing to Oregon's upset over BYU.
Finally, Michael Penix Jr. and Washington pull off one of the weekend's upsets against Michigan State. If the precision still leaves something to be desired, he shows that he has the ability to lead the Huskies to a Bowl at the end of the season.
Offensive Player of the Week
Blake Corum (RB, Michigan) : 12 carries, 71 yards, 5 TDs
Admittedly, he only ran for 71 yards, but in the end, it's the number of touchdowns that counts. With his skinny physique but speed and game vision above the norm, Blake Corum can be a solid runner in the NFL. He ties a record for most touchdowns scored in a single game. The last player to have done so is very recent since it is Hassan Haskins, today at the Tennessee Titans.
Mentions
Bijan Robinson (RB, TX) : 20 carries, 183 yards, 3 TDs
Mohamed Ibrahim (RB, Minnesota) : 23 carries, 202 yards, 2 TDs
DeWayne MacBride (RB, UAB) : 28 carries, 223 yards, 4 TDs
Zach Evans (RB, Ole Miss) : 18 carries, 134 yards, 2 TDs
Hunter Luepke (FB/TE, North Dakota State) : 3 REC, 65 yards, 1 TD, 18 carries, 115 yards, 2 TDs
Charlie Jones (WR, Purdue) : 11 REC, 188 yards, 1 TD
Rashee Rice (WR, SMU) : 11 REC, 193 yards
Andrew Worhees (IOL, USC)
Many runners and few receivers in the mentions. Bijan Robinson is the offensive player of the moment with in particular a touchdown on the ground from 78 yards. Mohammad Ibrahim is the leader of the best rushing offense in the nation, Minnesota and equals a legend of his university at the level of the number of touchdowns, the former Packer Darrell Thompson. Zach Evans and DeWayne MacBride are two runners more intelligent than powerful and have contributed to the victories of their teams. The first city raises its head after the first 2 ups and downs.
If he is a training tight-end, Hunter Luepke is above all a jack of all trades. If he does not have the ideal size to be a full-time tight-end in the NFL, there is no doubt that his Kyle Juszczyk profile (49ers) will seduce an NFL staff on Saturday of the 2023 draft (rounds 4 to 7).
charlie jones is Aidan O'Connell's safe man at Purdue. Already more than 400 yards in 3 games for the receiver. Rashee Rice still exceeds 100 yards this week despite the defeat of his team. Like Hunter Luepke, these 2 players could be called up on Saturday.
Finally, Andrew Vorhees helped pass protection and 2 rushing touchdowns for Caleb Williams (Class of 2024) at USC. In a fairly deep position this year, he could see his name mentioned on Friday (2nd and 3rd round).
Gotta Blast 🚀 @Bijan5Robinson

📺: @LonghornNetwork pic.twitter.com/S5WOxE8fH8

— Texas Football (@TexasFootball) September 18, 2022
Defensive Player of the Week
Isaiah Foskey (EDGE, Notre Dame) : 4 tackles, 2 sacks, 2 pressures
Notre Dame has finally won a match and it is mainly thanks to its defense. Isaiah Foskey was a 4-star rookie in 2018 and could have made it to the 2021 draft given his last season where he had 11 sacks and 6 forced fumbles. In the match against California, he made an important sack in the 4th quarter which allowed his team to recover the leather. There is no doubt that his coach, Marcus Freeman, already in an ejection seat, will still need him to straighten out a disappointing team since the start of the season.
Mentions
Mikel Jones (LB, Syracuse) : 10 tackles, 1 sack, 3 pressures
Will Anderson (EDGE, Alabama) : 5 tackles, 1 sack, 1 INT, 1 TD
Brian Branch (S, Alabama) : 5 tackles, 1 sack, 1 pass defended, 1 TD
Jaylon Jones (BC, Texas A&M) : 9 tackles, 1 pass defended
Jack Campbell (LB, Iowa) : 10 tackles including 1 for loss, 1 pressure
If Syracuse conceded a lot of points against Purdue, Mikel Jones was everywhere and notably saved a touchdown at the start of the 4th quarter. If Alabama won, it's not really thanks to the attack but rather the defense. Will Anderson makes a pick 6 and Brian Branch was useful in defense but also in the special team where he put a punt return touchdown from 68 yards.
During a duel between 2 teams ranked in the top 25 between Texas A&M and Miami (FL), Jaylon Jones was back and distinguished himself with a defended pass on the last play of the match to allow his team to win.
Finally, Iowa conceded 0 points against Nevada. If Lukas Van Ness could have had the honors with 2 sacks, we preferred the leader of this defense, Jack Campbellwho will be a solid player in the NFL.
TAKE IT TO THE 🏡
@Will_anderson_28

📺 @SECNetwork
📱https://t.co/a1346IORpt pic.twitter.com/L7NVHTsPHe

— Alabama Football (@AlabamaFTBL) September 17, 2022
Disappointments of the week
Spencer Rattler (QB, South Carolina) : 13/25, 118 yards, 2 INT
Tank Bigsby (RB, Auburn) : 9 carries, 39 yards
Dontay Demus Jr. (WR, Maryland) : 1 catch, 5 yards
The first quote necessarily tells you something. Starred since high school and appearing on the show QB1: Beyond the lights (Apprentice Quarterbacks in VF), Spencer Rattler has struggled a lot since he went to college. After being benched by Oklahoma, his rating was at rock bottom. And she is not ready to get up after her match against Georgia. In 3 games this season, he has already made 5 interceptions. His connection to Jaheim Bell is non-existent. The next two games, against less strong opposition, should allow him to shine but nothing is certain. A former 5-star recruit, he could end up undrafted at the end of this season.
Not helped by questionable play calls at Auburn, Tank Bigsby did not shine against a team that dominated on both sides of the field at the lines, Penn State.
If Maryland is still undefeated, Dontay Demus Jr. does not contribute particularly with in particular an incredible drop in the 3rd quarter of the match against SMU. His place in the first 3 rounds is threatened.
action of the week
It's the most fun team to watch but also the one where the fans shouldn't be heartbroken. Appalachian State faced Troy in a conference duel that we do not talk about enough, the Sun Belt. There are 2 seconds left, 4th & 10. And the rest is in the video below.
APP STATE WON ON A HAIL MARY ON THE FINAL PLAY‼️ pic.twitter.com/yDlzYYtU19

—ESPN (@espn) September 17, 2022
Bonus of the week
Another miracle. We're in Syracuse this time. A touchdown praised by Purdue coach Jeff Brohm. Syracuse is still undefeated this season.
SYRACUSE TAKES DOWN PURDUE IN THE FINAL SECONDS‼️ pic.twitter.com/qszG17zsnG

—ESPN (@espn) September 17, 2022