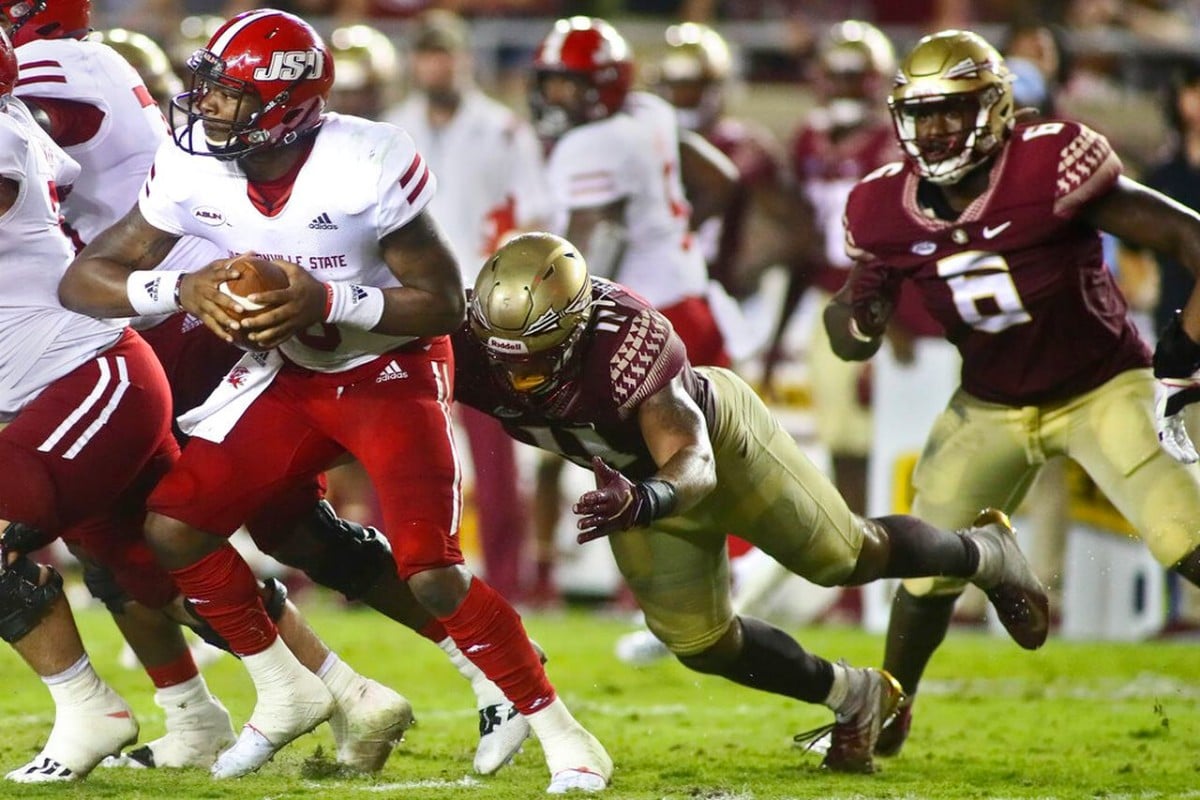 Starting from afar, the defender has risen through the ranks to be one of the most courted players in this class.
Jermaine Johnson II – edge rusher – 23 years – Senior –Florida State
Cut : 1m96
Weight : 119 kilos
Estimated draft position: 1st round
Stats 2021 : 70 tackles, 11 and a half sacks, 2 defended passes, 2 forced fumbles, a touchdown.
NFL Comparison: chandler jones
Strong points
– Athletic and versatile
– Set of moves
– Reactivity
A man full of resources … It is an understatement to say that Jermaine Johnson II had a tortuous journey to arrive in the NFL. An athletic phenomenon from a young age, the native of Eden Prairie, Minnesota, was closed to the university first division in 2017 due to unmet academic standards. It is in Kansas, in the famous Junior College of Independence, a program long highlighted by the Netflix documentary Last Chance U, that the defender will learn his skills. Two seasons later, he is unsurprisingly the JUCO prospect that makes the flagship universities salivate the most. Direction Georgia, within one of the most intimidating defenses of the country. If the spotlight is there, the exposure leaves something to be desired, with an impressive number of 4 or 5 star recruits on the Athens campus. Used in the rotation until 2020, in the squad which will finish national champion a year later, "JJ2" must again resolve to bounce elsewhere, on the side of Florida State. The Seminoles' accounting season will leave something to be desired, but not the investment of the man, who has become a real team leader on and off the field. Tall and lanky, Johnson is distinguished by constant activity and an ability to adapt to what is happening around him. His first step is decent, and his aggressive first contact allows him to quickly infiltrate the pocket, to put pressure on the quarterback, or simply close options on the outside. The number 11 is also one of the very best "edge-setters", capable of hitting the mark on the ground game, thanks to his vision of the game and the ability to accelerate that goes with it. Beating in life, Johnson is also on the ground. Because when his plan A doesn't go as planned, he is able to "improvise" thanks to a range of effective moves and constantly moving hands on the pass rush. His arm length also allows him to complete actions, by grappling on his target or simply beating the fly ball in his area.
Weak points
– Improvable technique
Concretely, Jermaine Johnson is an extremely complete prospect, but too few things can worry NFL scouts. His relative lack of experience in the first university division (two seasons as a luxury substitute and a real year as a confirmed starter) made him a perfectible player in certain areas. His natural power still seems to suffer from duels against bigger and beefier linemen. When the physical challenge is less obvious, Johnson's technique suffers and can tend to eliminate it from the equation right away. Another significant element: his possible contribution as an outside linebacker. His size and speed make him a potential asset on the cover, but he hasn't been used enough in this exercise for the past two seasons.
The stat
17.5: the number of tackles for loss in the 12 matches of the 2021 season. The figure is notable because, if the other defensive end of the Seminoles, Keir Thomas, was able to generate pressure (6 sacks and a half ), Johnson was the most closely watched defenseman on the Tallahassee schedule and yet largely rotated in a cohesive and competitive conference. More than half of this ratio (9.5) was also accumulated against Miami, Clemson and Notre Dame, three of the best formations played by FSU last season.
Possible destinations
New York Jets, Cleveland Browns, Los Angeles Chargers, Philadelphia Eagles, Atlanta Falcons
Barred by academic standards and competition, Jermaine Johnson has demonstrated his talent for adapting to all types of situations. Capable of performing as a back-up in Georgia, in a 3-4 linebacker role, or growing in power at Florida State, in an almost exclusive role as a 4-3 defensive end, the Seminole has more than one string to his bow to become an impact player among the pros. His ceiling may seem lower than other star players in the position, but with his investment and constant aggression, Johnson can become a main threat in the league, capable of regularly crossing the 10 sack mark.