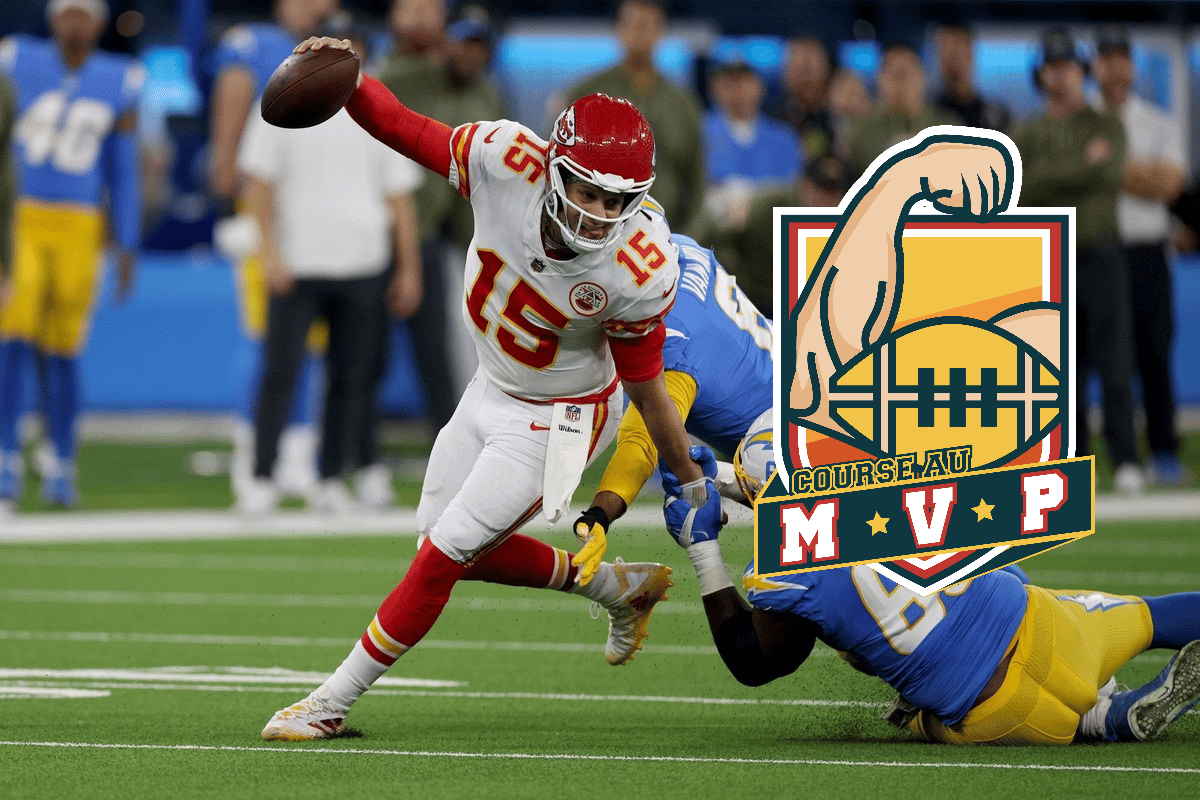 Thursday is MVP! Still as convincing, Patrick Mahomes continues to reign supreme in this race for the 2022 MVP after another imperial performance at the end of the game against the Chargers. Less serene, Jalen Hurts clings to second place after having ensured the essentials in front of a decidedly very worrying Josh Allen at the moment. At rest Tua Tagovailoa retains his fourth place ahead of Joe Burrow who finds the top 5.
1- Patrick Mahomes (-) Quarterback – Kansas City Chiefs (8-2)
10 games – 3625 yards at 66.3% – 28 touchdowns, 7 interceptions – 238 yards rushing, 1 touchdown – 107.3 rating
This Sunday, Patrick Mahomes showed why he is today the undisputed and undisputed favorite in the race for the MVP. Led by the Chargers in the very last seconds of the match, the Chiefs had to rely on the talent of the Mahomes-Kelce doublet to collect another victory. Very impressive in these moments, Mahomes did not tremble. With 329 yards and three touchdowns, the Chiefs quarterback signed a second consecutive game with an evaluation higher than 120. If he continues on this rhythm, difficult to imagine a scenario where he would not become a double MVP this season.
2- Jalen Hurts (-) Quarterback – Philadelphia Eagles (9-1)
10 games – 2,407 yards at 68.3% – 15 touchdowns, 3 interceptions – 440 yards, 8 rushing touchdowns – 106.5 rating
He also had to work in a tense end to the game to get rid of Colts decidedly very catchy since the takeover of Jeff Saturday. True to form, it was in the race that Jalen Hurts sought victory for his Eagles. With 190 yards and a touchdown, Hurts was not dazzling in the pass but his 86 yards on 16 carries hurt the Colts. More consistent in recent weeks than Josh Allen, Hurts is now firmly in second place. But the gap seems to be widening every week with Patrick Mahomes.
3- Josh Allen (-) Quarterback – Buffalo Bills (7-3)
10 games – 2,930 yards at 64.7% – 21 touchdowns, 10 interceptions – 483 yards, 4 rushing touchdowns – 96.9 rating
Relocated to Detroit because of the snow, Josh Allen's Bills were able to find the way to victory against the Browns. But the quarterback is clearly in the form of MVP which was his on the first part of the season. With 197 yards and a touchdown, Allen really seems to blame the blow. Rumors of an injury to his throwing arm are beginning to justify his slowdown, but the fact remains that Allen will have to regain his mojo or risk being downgraded again, threatened by a Tua Tagovailoa who will return to the field this week.
4- Tua Tagovailoa (-) Quarterback – Miami Dolphins (7-3)
8 games – 2265 yards at 71% – 18 touchdowns, 3 interceptions – 35 yards rushing – 118.4 rating
Tua Tagovailoa and the Dolphins were off this week.
5- Joe Burrow (+1) Quarterback – Cincinnati Bengals (6-4)
10 games – 2,980 yards at 69.1% – 22 touchdowns, 8 interceptions – 146 yards, 4 rushing touchdowns – 102.8 rating
Joe Burrow's ability to adapt was put to the test this week. Without the injured Ja'Marr Chase, the Bengals quarterback also lost Joe Mixon to concussion during the third quarter. But relying in particular on Samaje Perrine and Tee Higgins, Burrow managed to throw for more than 350 yards and four touchdowns in just 12 completed passes. The two interceptions hurt but are more attributable to a TJ Watt in superman mode than to a real failure by Joe Burrow. As the season progresses, and like their quarterback, the Bengals seem to be gaining momentum at the best time.
Special Mentions
Justin Fields (QB, Bears) – 1,642 yards on 59.6% completion, 13 touchdowns, 8 interceptions – 86.2 rating
Geno Smith (QB, Seahawks) – 2,474 yards at 72.8% completion, 17 touchdowns, 4 interceptions – 108 rating
Jimmy Garoppolo (QB, 49ers) – 2,159 yards on 67% completion, 15 touchdowns, 4 interceptions – 104.1 rating
Justin Jefferson (WR, Vikings) – 1,093 yards on 15.2 yards/reception, 4 touchdowns
Stefon Diggs (WR, Bills) – 1,033 yards on 13.6 yards/reception, 8 touchdowns
Tyreek Hill (WR, Dolphins) – 1,148 yards on 14.2 yards/reception, 4 touchdowns
Derrick Henry (RB, Titans) – 1,010 yards at 4.4 yards/rush, 10 touchdowns
Saquon Barkley (RB, Giants) – 953 yards at 4.5 yards/rush, 6 touchdowns
Nick Chubb (RB, Browns) – 923 yards at 5.3 yards/rush, 11 touchdowns
Micah Parsons (LB, Cowboys) – 42 tackles, 10 sacks, 2 passes defended
Matthew Judon (DE, Patriots) – 38 tackles, 3 passes defended, 13 sacks