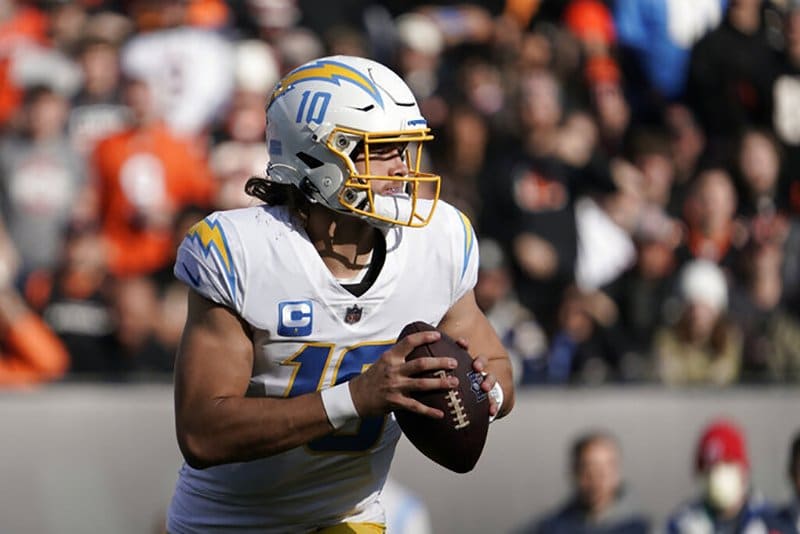 hot news
– Bills: Micah Hyde out the rest of the season
– Titans: Taylor Lewan out all season
Uncertainty until the last moment for Justin Herbert
There is really a doubt about the participation of Justin Herbert (QB, Chargers) in this Sunday's game against the Jaguars. According to NFL Media, the decision will really be made at the last moment, when the player can test himself in the warm-up. On Friday, Chase Daniel took all the snaps with the starters in practice. Herbert suffers from a broken rib cartilage.
Jimmy Garoppolo is done going to Washington
Having shoulder surgery may have saved Jimmy Garoppolo from a serious mess. In any case, according to ESPN, the 49ers and Commanders had a trade in place at the end of last February. The quarterback would have joined the capital in exchange for several Draft choices.
But the Commanders would have slowed down when Garoppolo decided to have surgery. In the end, they preferred to send two third-round picks and a fourth-round pick to the Colts to get Carson Wentz.
injuries
– Sammy Watkins (WR, Packers), has been placed on the injured list and will miss at least 4 matches (NFL Network).
– Season over for Anthony Walker (LB, Browns), who suffered a quadriceps tear in Thursday's game against the Steelers. (franchise)
– Had knee surgery in August and not seen on the pitch since, Van Jefferson (WR, Rams) doesn't appear to be making any progress, as his side eventually decided to place him on the injured list, meaning he will at least miss four games.
They should hold their own (according to NFL Network/ESPN):
49ers: George Kittle (TE, groin)
Bears: Roquan Smith (LB, hip)
Broncos: Jerry Jeudy (WR, ribs), Patrick Surtain II (CB, shoulder)
Buccaneers: Russell Gage (WR, hamstring), Breshad Perriman (WR, knee), Leonard Fournette (RB, hamstring)
Giants: Kayvon Thibodeaux (DE, knee), Azeez Ojulari (DE, calf)
Lions: D'Andre Swift (RB, ankle), TJ Hockenson (TE, hip), Frank Ragnow (C, foot), Aidan Hutchinson (DE, thigh)
Packers: Randall Cobb (WR, sick), David Bakhtiari (OT, knee)
Ravens: JK Dobbins (RB), Marlon Humphrey (CB, groin), Marcus Peters (CB, knee)
Saints: Alvin Kamara (RB), Jameis Winston (QB, back/ankle)
Vikings: Eric Kendricks (LB, foot)
They will not play this Sunday:
Bears: Ryan Griffin (TE), Matt Adams (LB), Dane Cruikshank (DB)
Bills: Dane Jackson (CB, neck), Micah Hyde (S, neck), Jordan Phillips (DT, hamstring), Ed Oliver (DT, ankle)
Colts: Shaquille Leonard (LB, back)
Falcons: Elijah Wilkinson (OG, personal reasons)
Raiders: Hunter Renfrow (WR, concussion), Denzel Perryman (LB, ankle)
Saints: Alontae Taylor (BC), Taysom Hill (TE)
Texans: Brevin Jordan (TE), Austin Deculus (OL), Kurt Hinish (DL), Isaac Yiadom (DB)
Vikings: Harrison Smith (S, concussion)
They are uncertain this Sunday:
Bears: Velus Jones Jr. (WR), Roquan Smith (LB), Jaylon Johnson (DB)
Buccaneers: Julio Jones (WR, knee)
Cardinals: James Conner (RB, ankle)
Packers: Christian Watson (WR, hamstring)
Panthers: Donte Jackson (CB), Stantley Thomas-Oliver (CB)
Saints: Ryan Ramczyk (OT), Paulson Adebo (BC), Marcus Maye (S)
Texans: Pharaoh Brown (TE), Maliek Collins (DL)
Support DNA of Sports
Don't forget to follow us on social networks by clicking on the links: Twitter – Instagram – Facebook
You can support us directly on Tipeee.
Or by betting at Unibet.
Or by subscribing to NordVPN via this link