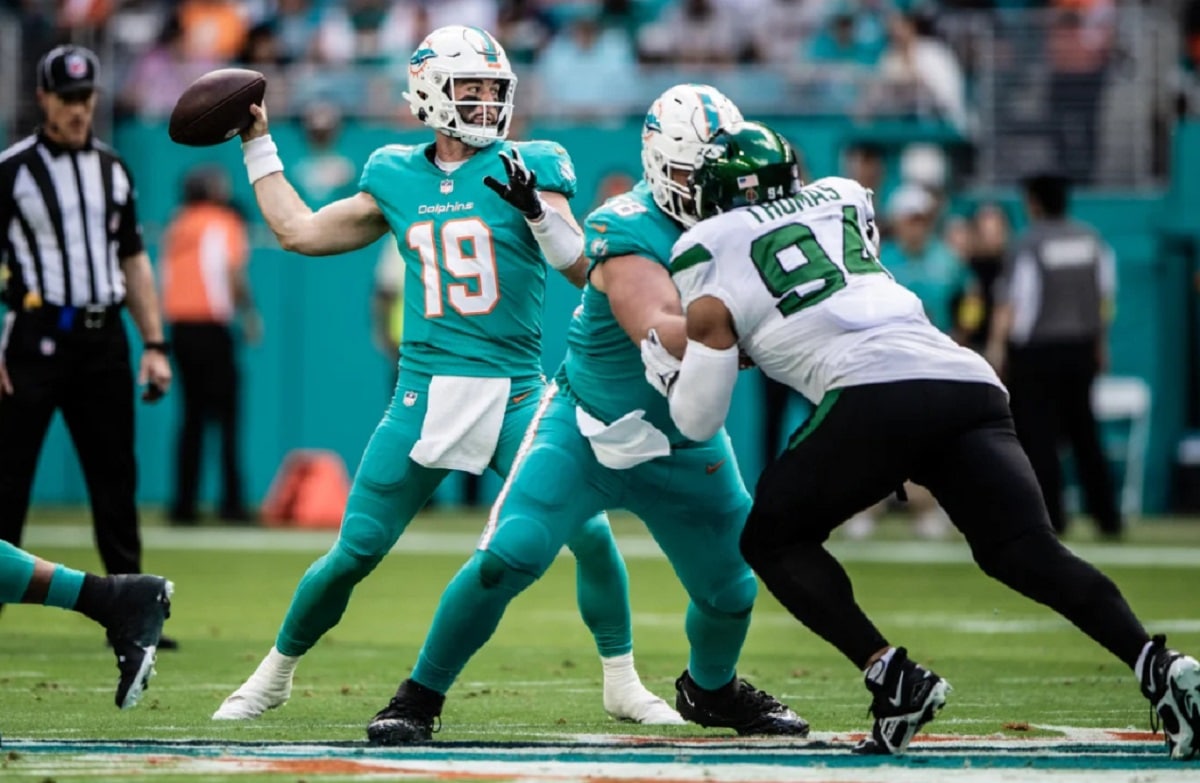 Miami settles for the minimum. At least Mike MacDaniel will have fulfilled his first goal of the season.
Miami Dolphins (9-8) – New York Jets (7-10): 11-6
Beat his division rival to break a 5-game losing streak. This is the objective of the 2 teams with a plus of prestige for Miami: to qualify for the playoffs. But the Dolphins did not have their destiny in their hands since they needed a defeat of the Patriots in addition to the victory to qualify.
In a game where the stakes took precedence over the game, a field goal from Jason Sanders 23 seconds from the end was enough for the Dolphins to win. The Dolphins take advantage of the Patriots' loss to the Bills to steal the qualification from their rival and qualify for a phase they have not seen since the 2016 season.
But in the playoffs, the Dolphins will have to show something else and the question is whether it will be with or without Tua Tagovailoa because Skylar Thompson (20/31, 152 yards) limited errors but was much too soft against a team of Jets who had nothing left to play.
Communication problems
The 2 teams observe each other and do not offer much play. When the starting quarterback is not on the field, the coaches look for other solutions. In addition to a communication problem in the transmission of instructions, we cannot say that they were inspired, the defenses regularly taking over.
The statistics are enough to sum up this first period when Miami did not show that it wanted to make the playoffs. 251 cumulative yards between the 2 teams, an absent ground game, especially on the Jets side and attacks that do not advance despite the magic of Jets receiver Garrett Wilson (9 REC, 89 yards). The other receiver number 1 Tyreek Hill, author of only 23 yards, is frustrated and throws his helmet.
The first half ended with a sack from Jets linebacker Quincy Williams. The symbol of a first period that will not go down in history and under the whistles of Hard Rock Stadium.
Miami in the playoffs while waiting for better
The 2nd half is hardly more exciting. Teams are limited by the production of their quarterback even if they don't make too many mistakes. The ground game of the Dolphins is the spark of a very limited attack, especially as the Dolphins lose Tyreek Hill during the 3rd quarter, as well as Jaylen Waddle (5 REC, 44 yards) late in the game.
The Dolphins defense regularly takes over Joe Flacco (18/33, 149 yards) despite no recorded sack, including a monstrous Jaelan Phillips (4 pressures). This defense will allow Skylar Thompsom to lead the offensive series allowing Jason Sanders to score the winning field goal.