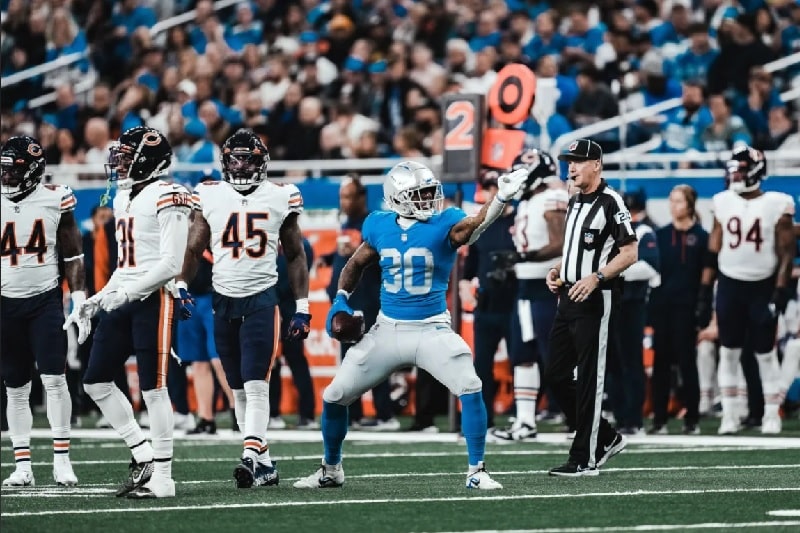 Detroit Lions (8-8) – Chicago Bears (3-13): 41-10
Leos can believe it! At the bottom of the bucket at the start of the season, Detroit continues its fantastic comeback to hang the playoffs by winning once again. On their way this time, Bears who will have deceived at the start of the match before completely sinking.
Bears in flash in the pan mode
Early in the game, Justin Fields (10 races, 132 yards) is simply unstoppable on the ground. The Lions defense has no solution, and the young quarterback is having a field day, like on this 60-yard run, for example. Fields connects with Cole Kmet (2 receptions, 27 yards, 1 TD) in the end zone. The match seems launched for the Bears, then… nothing.
The Lions set up a spy, often Aidan Hutchinson (4 tackles, 0.5 sacks, 1 pass defended, 1 interception, 1 fumble covered) who is only responsible for preventing Fields from running. The Bears find no other solution, their game in the air being far too limited: only 7/21 passing for 75 small yards, 1 TD and 1 INT.
Jared Goff in an armchair, Williams and Swift on a highway
Opposite, Jared Goff (21/29, 255 yards, 3 TD) plays in slippers. The Chicago defense certainly tackles him twice, but he is generally very well protected by his superb offensive line. The ball is ventilated (10 different receivers!), and the ex-Rams makes it easy, whether via Amon-Ra St Brown (4 receptions, 62 yards) or via the unknown of the day, the Tight End Brock Wright author of 2 touchdowns.
But the real satisfaction on the Lions side is above all this racing game with the Jamaal Williams tandem (22 races, 144 yards, 1 touchdown) – D'Andre Swift (11 races, 78 yards, 1 TD, 4 receptions, 39 yards , 1 TD on reception): 265 yards on the ground in total and 6.8 yards per race.
24-10 at halftime, then 38-10 at the end of the 3rd quarter, the Lions attack is well oiled.
With this victory, the Lions are temporarily placed on the seventh and last jump seat towards the NFC wildcards. The decisive match could be played next Sunday at Lambeau Field, against the Packers. Handover ?