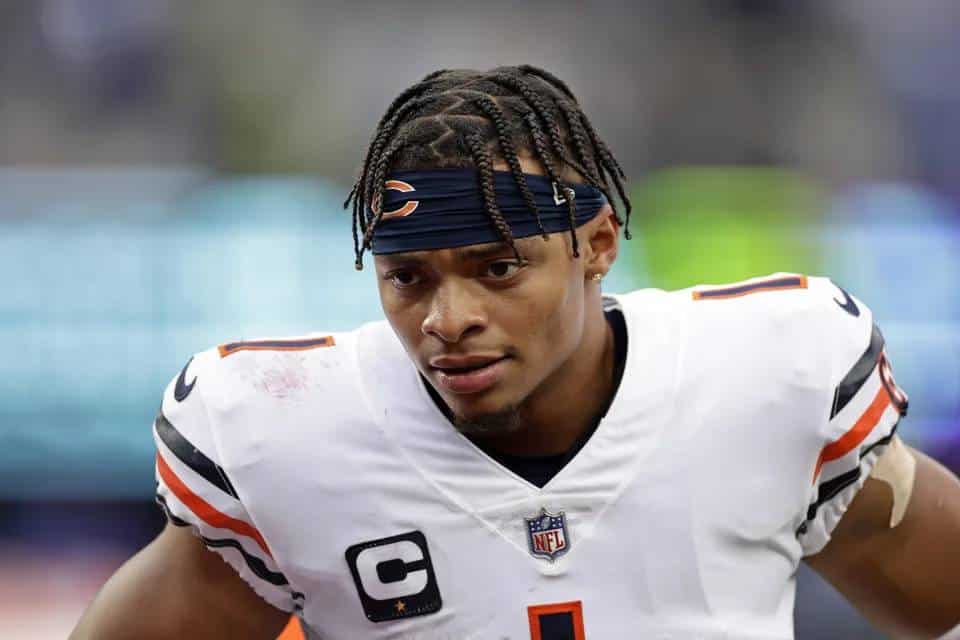 The Bears have the worst aerial offense in the league, averaging just 97.5 yards over the first four games. That's 42 yards shy of the Giants, and 69 shy of the Panthers, the other two worst NFL teams in the area.
On a personal level, Justin Fields saw a second exercise at least as complicated as the first. He completed just 34 passes in four games. For comparison, Yahoo Sports points out that Cooper Kupp already has 42 receptions alone.
What a good kick ass to everyone in Chicago? Not really. The proof with this lunar exchange in a press conference Thursday between a journalist from the Chicago Sun-Times and Justin Fields.
"Reporter: why the air attack does not work?

Fields: Who says air attack doesn't work?

Journalist: the stats.

Fields: Stats don't mean anything. »
If classic statistics are sometimes limited, a priori, even advanced statistics or visual impression cannot save Chicago.
Move on, everything is fine
If Fields doesn't mean anything, it's probably because the example comes from above. Also Thursday, Luke Getsy, the offensive coordinator, assured, visibly without laughing, that his quarterback did not have a difficult first month.
"I don't think he had a difficult month. I think he progressed every week. I think he is making great progress. And you know, it's not easy. We play good teams, and it's not easy to reach the level he wants to reach, and I know he can do it. »
Reaching a correct level would be a first step…
"The important thing is that we stay focused, keep our eyes on that progress or the process and make sure we're improving every week. I think we are in this phase. »
Getsy is perhaps also not for nothing in the problems of the Chicago attack, as the coordinator does not seem to find a balance between the ground game and the attempts of long passes.
"We have to take the receptions when they come. I think he missed a few easy receptions that put you in 2nd and 3 or 4 yards. We have to make progress on this. We have to get these little easy receptions and also apply ourselves better to the ground game. »
This will be the first step. Because for now, Fields has the worst rating (58.7) and the highest percentage of interceptions (6%) among all NFL quarterbacks.