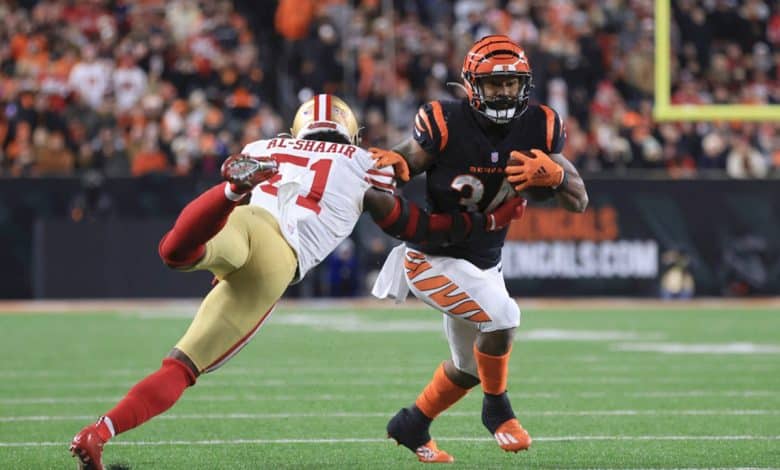 Before the free agency, DNA of Sports offers you its traditional Top 5 free agents which will be available at each position on March 13. Linebackers today.
Once major, the position of linebacker has lost some of its value. And then, the job description has evolved with the roofing skill now a prerequisite. In 2023, the market offers a very nice plateau: both in quantity, quality and diversity.
1 – Tremaine Edmunds – 24 years old
2022 stats: 102 tackles including 6 inflicting a loss, 7 assists defended in 13 games with the Buffalo Bills
Not yet 25 years old and already 82 games played, more than 600 tackles in 5 seasons! Drafted in the 1st round in 2018 (choice 16), his mix of production and youth make him the gondola head of the 2023 linebacker market.
Asked about his strategy at a press conference, manager Brandon Beane said:
"Draft, develop and extend", reported by Democrat & Chronicle
But extending Tremaine Edmunds will not be cheap! The length of the contract could vary, but the annual salary will be around $15 million.
The ideal destination: Buffalo Bills
It will certainly cost the franchise not being able to extend other out-of-contract players. It may cost you not to be able to re-sign Ed Oliver in 2024. A manager has a medium-term vision but the present takes precedence: not retaining Tremaine Edmunds would be a blow for this side of the ball.
2 – Bobby Wagner – 32 years old
2022 Stats: 140 tackles including 6 sacks, 5 passes defended including 2 interceptions in 17 games with the Los Angeles Rams
32 years old and all his teeth. Finally, for the teeth, we are not sure, but what is certain is that he still bites: 140 tackles, 10 QB hits and 22 run stops!
Having already garnered $ 91 million in career, the linebacker may favor a franchise that can allow him to win a second ring. With that in mind, will he agree to a one-year contract at a reasonable rate?
The ideal destination: Philadelphia Eagles
What is missing from this team ready to win the bet? A little quality, a little more experience and an extra touch of leadership. Bobby Wagner can bring all of that to the Eagles. But of course it will depend on the price.
3 – Lavonte David – 33 years old
2022 stats: 124 tackles including 10 inflicting a loss of yards in 18 games (1 in the playoffs) with the Tampa Bay Buccaneers
For his 11th NFL season Lavonte David has, as always, responded. Productive and a leader, his name will soon be displayed in the Buccaneers stadium with his number 54 retired.
A "friendly" contract for one last dance with the only franchise of his career? Or try to win a second champion ring?
The ideal destination: Cincinnati Bengals
Title contenders for two seasons, what are the Bengals missing to get the moon? A little more experience in the games that matter? Cincinnati could decide to add leadership to its defense with Lavonte David.
4 – Germaine Pratt – 26 years old
2022 stats: 119 tackles 13 passes defended including 3 interceptions in 18 games (3 playoffs) with the Cincinnati Bengals
Because he played safety his first two university seasons, Germaine Pratt is a linebacker capable of providing tackle and especially coverage. The Bengals have the salary margin to offer him a new contract but no doubt other managers are on the lookout.
The ideal destination: New York Giants
Jaylon Smith and Jarrad Davis were just short-term patches. The return of Landon Collins as a blatant sign of a real lack, which the young McFadden and Coughlin cannot completely fill.
In full revival in 2022, the Giants want to continue to progress to regain the luster of the years 2005-2011. For this the G Men have a comfortable salary margin to continue to improve the workforce.
5 – Leighton Vander Esch – 27 years old
2022 stats: 110 tackles in 16 games (2 playoffs) with the Dallas Cowboys
After a booming debut in 2018, LVE followed that up with two injury-hit seasons. He has since become a reliable back-curtain player again.
In 2022, he had accepted a modest contract: a season for 2 million dollars. Impossible at 27 years old not to seek a longer and more lucrative contract.
The ideal destination: New England Patriots
LVE has the ideal size in this position for pats, if we stick to the choices of Bill Belichik for years on this position. If he does not offer an extraordinary range, there would nevertheless be a reinforcement in a squad of average linebackers.
Other interesting players: Eric Kendricks (Vikings), Azeez Al-Shaair (49ers), Kaden Ellis (Saints), TJ Edwards (Eagles), Anthony Barr (Cowboys), David Long and Zach Cunningham (Titans), Anthony Walker (Colts ), Devin Bush (Steelers), Kyzir White (Eagles), Alex Anzalone (Lions), Quincy Williams (Jets), Cody Barton (Seahawks), Rashaan Evans (Falcons), Drue Tranquill (Chargers), Denzel Perryman (Raiders), Bobby Okereke (Colts), Alex Singleton (Broncos) etc.