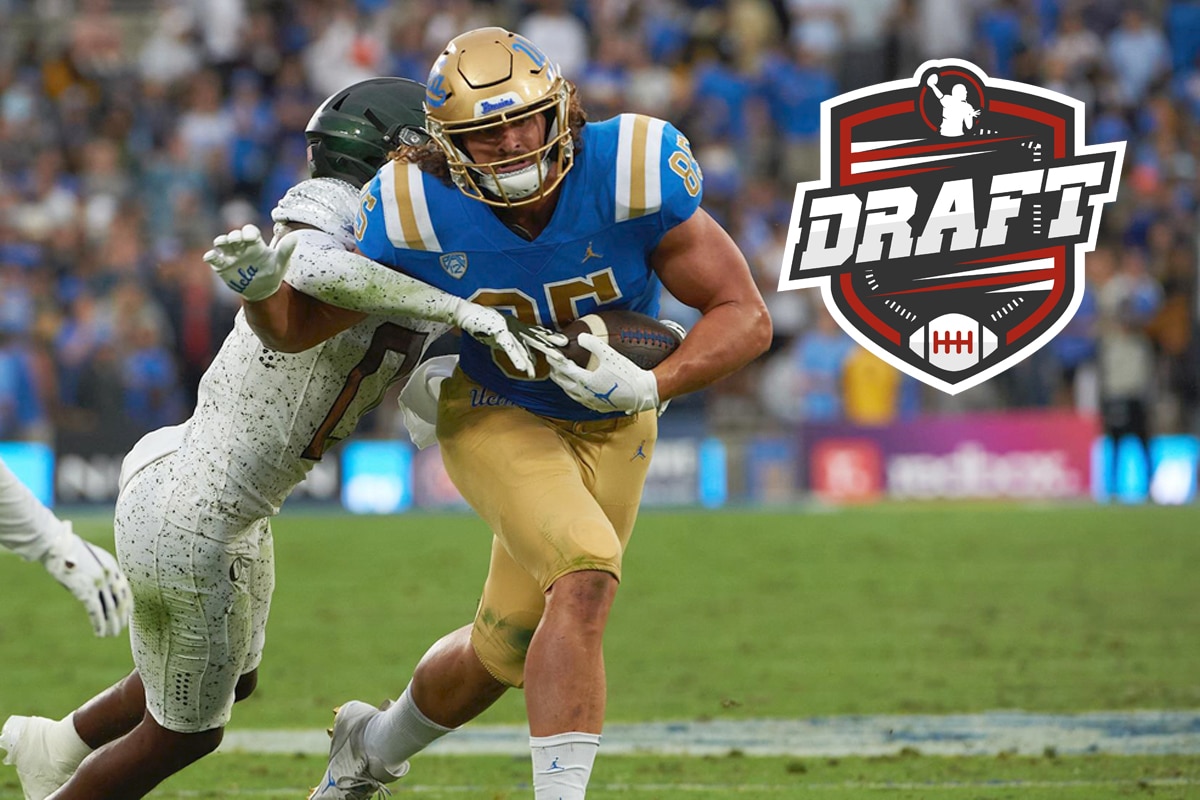 Greg Dulcich – Tight end – 22 years old – Senior – UCLA
Cut : 1m92
Weight : 112kg
Estimated draft position: 3and – 4and round
Stats 2021: 11 games, 42 receptions, 725 yards, 5 touchdowns
NFL Comparison: Austin Hooper (Titans) or Hayden Hurst (Bengals)
Strong points
– Reception
– Global Athletics
– Reliable hands
– Versatility
– Wingspan
With his 192 centimeters and 112 kilos, Greg Dulcich sticks to the composite portrait of the NFL hybrid tight end. He has long arms and a frame to which he can add more muscle. Versatile, he was aligned in different positions during his career (tight end Y at the end of the offensive line, H-back behind the offensive line, wide receiver or in the slot) depending on the games called. He was also used as a moving player on occasion, changing lineups before the snap to throw himself into jet motions.
He's a good athlete overall, with enough speed to threaten defenses vertically. If we add his reception skills, he can be productive from his rookie year. He has the right feeling for finding open spaces, slipping into empty areas of coverage unnoticed by defenders. The tight end masters the route tree and knows how to position itself to maximize its reception windows in order to gain additional yards.
Dulcich also shows that he knows how to use his hands to get out of individual coverage without being slowed down, or having his layout disturbed. He is a natural receiver, very reliable, able to gain yards after reception and has good grip strength to secure the leather when he goes to the ground. He knows how to use his arm length to adjust to throws away from the body, giving his quarterback a prime target. All of this gives him a significant advantage in almost all modern attacks, allowing him to be a useful element in 3and attempt or red zone.
Weak points
– Block technique
– Lack of an elite athletic trait
– Lack of muscle mass
Dulcich can be a very competitive blocker when things are going well. Unfortunately, this only happens occasionally and more often than not it remains more of an annoyance than anything else at this stage of its development. He's not a weak player, and the strength he shows in other aspects of his game suggests he has the potential to do much better. His problem is much more technical. He's just not good at details. It is slow, rigid, and positioned too high on its supports at the start of the action, which causes it to lose leverage and cancel its force on impact. He is quite easily moved by defenders and can struggle to maintain his blocks. Dulcich rarely initiates contact and often allows defenders to earn his chest protector. His athletic qualities are valuable to him when he blocks at 2nd level, but he often stops his movement or shows some hesitation before engaging, which can cause him to lose the advantage.
Although he is an above average athlete overall, he lacks an elite athletic trait, as his speed, explosiveness and agility are nothing exceptional. The Bruins tight end does not have the speed necessary to separate from safeties on deep (Seam) or horizontal (Drag) routes. He is not able to take the ball in hand either. More tight end Y than H*, it lacks explosiveness in its changes of direction and tends to round its trajectories rather than making clean cuts.
When it comes to his receiving abilities, he is sometimes prone to making errors of concentration in midfield. His hands could be a bit stronger and he could be more proactive in contact. His size is still a bit light for the NFL, and that may impact his ability to withstand knocks. But nothing insurmountable. Dulcich is also not very good at rising or contorting himself to collect balls. His level of play is correct, but he lacks flexibility.
* Tight end Y is most often attached to the offensive line as an extended blocker, but has receiving skills to put pressure on the defense regardless of lineup.
The stats
17.3 yards per reception and 60.4 yards per game in 2021
Fearsome in one on one, he takes advantage of his size, his athleticism and the use of his hands to create separations almost at will. Averaging 17.3 yards per reception last season, he was No. 3and the most productive tight end in the country. His 60.4 yards per game represent the 5and highest total on receipt of PAC-12.
Possible destinations
Houston Texans, Baltimore Ravens, Cincinnati Bengals, Indianapolis Colts, Los Angeles Chargers, Green Bay Packers, New York Giants
As things stand, Greg Dulcich projects himself better as a second tight end who could thrive on a team that uses a high personnel ratio 12 (1 running back, 2 tight ends) where his facilities at the reception can wreak havoc. Although he often plays as an oversized wide receiver, he offers an advantage when up against linebackers and has enough speed to stretch defenses. He has the potential to start, but he will have to improve his blocks, both in pass protection and for the ground game, before getting there. He has the tools, with good strength, great resistance to competition and good body control. He just needs to refine his technique.
As an excellent receiver Dulcich would make life easier for Davis Mills in Houston in the middle zones. Without forgetting that he also has the ability to produce in depth. The Ravens need a complementary threat in Mark Andrews to take some pressure and attention off the All-Pro's shoulders. A role that could perfectly suit the prospect of UCLA. At Indianapolis, he would bring that vertical threat to the position to stretch the midfield. Green Bay are looking for reliable targets to compensate for the departure of Davante Adams and can consider this option, especially since Robert Tonyan is returning from a serious knee injury and Marcedes Lewis is not excelling in the aerial game. Cincinnati just picked up Hayden Hurst and adding the youngster would bring even more depth (and targets) to an already explosive squad. The Giants or Chargers already have a veteran in place (Ricky Seals-Jones and Gerald Everett respectively) but this addition would provide a more productive solution for the position.