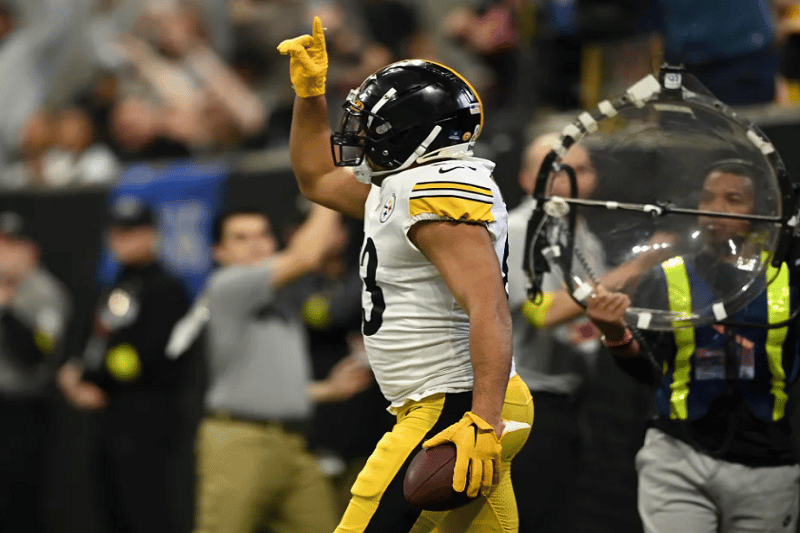 Atlanta Falcons (5-8) – Pittsburgh Steelers (5-7): 16-19
It remains 40 seconds to Marcus Mariota (13/24, 167 yards, 1TD, 1INT) to go up 98 yards while his Falcons are led by 3 points (16-19) against the Steelers.
But the hope will not last long… The quarterback is intercepted on his first pass to Drake London. It was Minkah Fitzpatrick who made the decisive play on defense to give the Steelers the victory.
A logical victory for a Pittsburgh team in the lead all game. As often during his victories, Pittsburgh without being brilliant in attack did not make mistakes and made the difference in defense.
The Wingless Falcons
Nice first half for the Steelers with points scored on each of their series. The attack was initially laborious with two series of 16 and 12 actions but for only 47 and 58 yards to gain… Each time, the visitors therefore had to be content with field goals (0-6).
It was on their third series that the Steelers finally found some explosiveness with the passing game. Kenny Pickett (16/28, 197 yards, 1TD) first finds Pat Freiermuth (3rec, 76 yards) for a gain of 57 yards, then Connor Heyward for the touchdown (3-13).
Pittsburgh adds a field goal before halftime to reach 16 points (6-16). Without being brilliant, this is enough to be well ahead of the Falcons which are too limited in attack.
Indeed, the premises will have scored only two field goals in this first act. Without being bad, the Falcons attack cannot count on its ground game, which is underused with 6 runs, and is limited by a Marcurs Mariota identical to itself (9/16 at half-time but without brilliance) …
pittsburgh resists
The Steelers leave on the same basis as in the first half with an XXL drive in time of possession (7min30) and games (14) but where the conclusion and the efficiency are fishing again with just a field goal (6-19 ).
Atlanta finally finds the fault at the very end of the 3rd quarter after going back 75 yards. Mariota finds MyCole Pruitt who makes a big effort to break the tackle and reach out in the endzone for the touchdown (13-19). The Falcons are getting closer to the score thanks to a new field goal (16-19) after pounding the Steelers defense on the ground for 9 minutes.
But once again Atlanta is not efficient enough in attack to score the touchdown and misses its last chance less than a minute from the end… Desmond Rider must really not be ready for Arthur Smith to be so stubborn with Mariota…