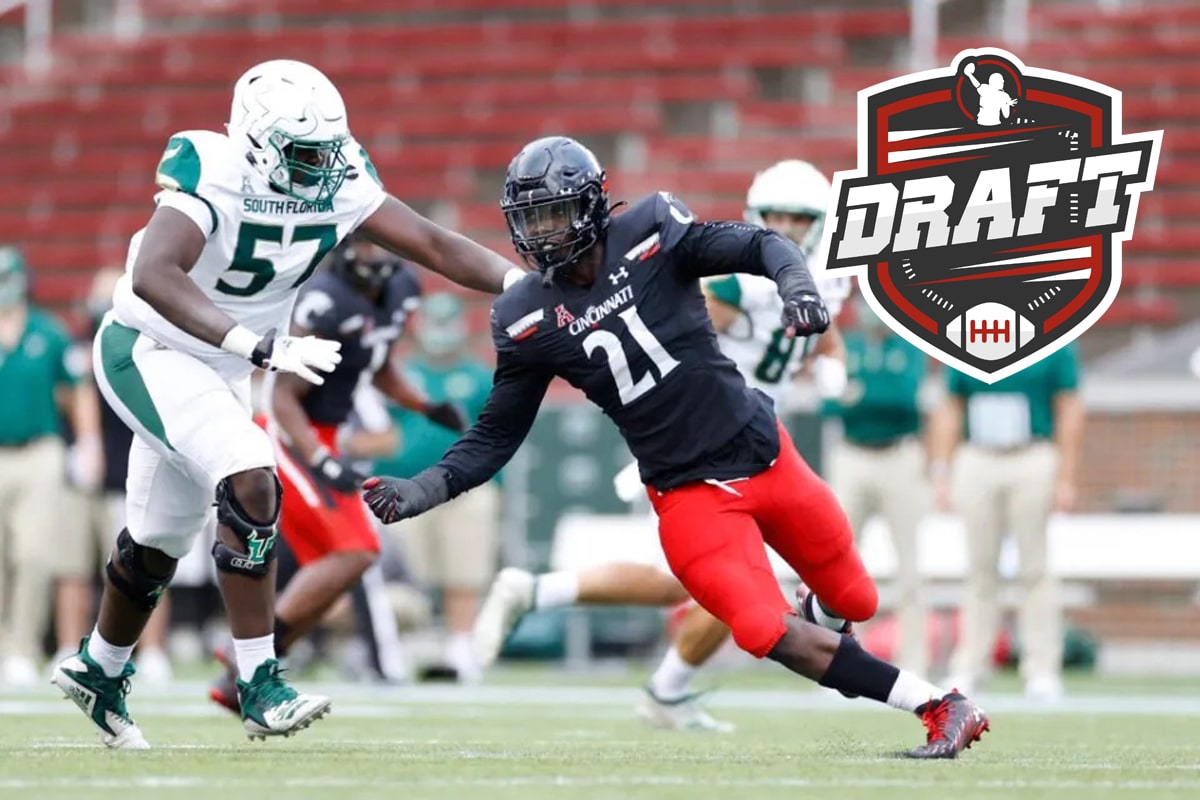 Myjai Sanders – Edge – 22 – Senior – Cincinnati
Cut : 1m96
Weight : 116kg
Estimated draft position: 2nd-3rd round
Stats 2021: 41 tackles, 2.5 sacks, 1 covered fumble
NFL Comparison: Yannick Ngakoue
Strong points
– Athletic abilities
– Technical
– Potential against the race
In a class of pass rushers rich in very big talents, it is not easy to exist for Myjai Sanders. Yet the Bearcats player has shown many qualities during his career in Cincinnati. A fast player as shown by his 4.67 at 40 yards during the combine, he is also very explosive, thanks in particular to a striking and lively first step in small spaces. Beyond his physical qualities, Sanders has a wide range of movements. A complete and robust arsenal with an interesting speed-power ratio. He knows how to dismiss his vis-à-vis to continue his action.
If he's not perfect against the run, he uses speed and technique to disengage from the blocks and stalk the runner. His assiduity in the fight and his big engine should delight a future staff ready to develop these qualities.
Weak points
– Production
– Too light ?
– Progress
In three seasons as starters, Sanders has never shone with his production. Only 13.5 sacks during his career, he never proved he had the potential to be a top quarterback fighter. A lack of production which can be explained by his relatively light size for the position. Moreover, uncertainties exist on this parameter. Arrived at the combine having lost nearly 10 kg, officially due to a virus, he showed up a few weeks later at his pro day having regained the lost weight. A surprising variation that has nothing to reassure an already light player.
After a promising junior year, Sanders did not confirm his progress in 2021. In Cincinnati's excellent defense, he stayed in line. Faced with the outbreak of other phenomena, it inevitably suffers from comparison.
Possible destinations
Green Bay Packers, Baltimore Ravens, Los Angeles Rams, New York Giants
In a class dense and advertised as brilliant, Sanders flies under the radar. Less powerful than the others, it nevertheless offers real qualities that can be expressed at a higher level. If his future as a defensive end could be complicated by his physical dispositions, a repositioning as an outside linebacker 34 would maximize his qualities of speed and mobility. His future staff will have to be patient and take the time to continue his development. Far from being a potential starter, he could be of interest to teams looking to strengthen their rotation.