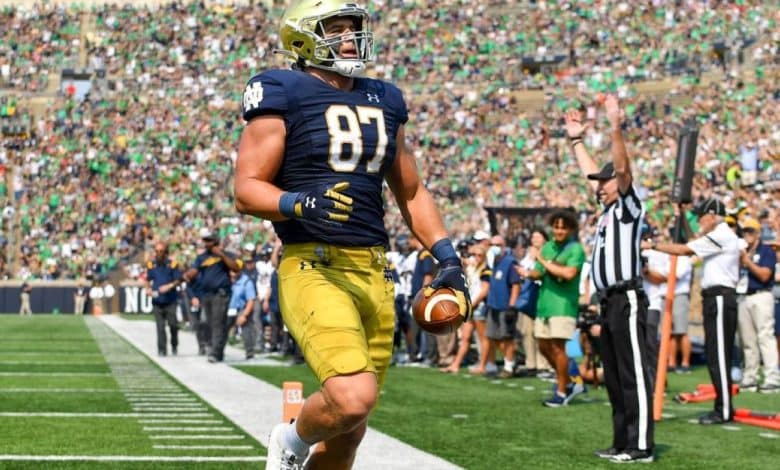 A real offensive weapon to use for all its qualities
Michael Mayer – Tight end – 21 years old – Junior – Notre Dame
Height: 1m94
Weight: 113kg
Estimated Draft Position: Top 20
2022 stats: 12 games, 67 receptions, 809 yards, 9 touchdowns
NFL comparison: Jason Witten (ex-Cowboys)
Very impressive since his arrival in South Bend in the program of Notre Dame, Michael Mayer has really established himself as one of the greatest hopes for the position of tight end during his sophomore and junior seasons. Able to relieve the offensive line on the running game and act as a safety valve in the aerial game, he will be of paramount importance for the franchise that selects him.
Strong points
– Template
– Good blocker
– Very competitive
Receiving record holder for a tight end at the University of Notre Dame, Michael Mayer is a real nightmare to defend. His large size allows him to impose himself on contested receptions and his very sure hands offer his quarterback security in almost all situations. In addition, he knows how to find the holes in the middle of the field to advance the chains. He is very physical on the line of scrimmage with his vis-à-vis, which often allows him to create the separation he needs to offer a solution to his quarterback. On the running game, Mayer has the power to deal with NFL defenders and also knows how to place his hands well so as not to let his opponent pass. His position is very good, which allows him to hold his blocks for a long time, the time that the runner can pass.
Weak points
– Speed
– Tracks
If Mayer is very agile in his way of understanding the game and finding spaces in the defense, he is not the fastest of this vintage in his position. It does not have the best tracks of the 2023 vintage either. Heavier than most of its companions, it has an advantage in blocking, but necessarily a little penalized in terms of explosiveness and speed. These two faults are obviously to be taken with a grain of salt because, as we can often see in the NFL, understanding the game and knowing how to position yourself are much more important for a tight end than having rockets as legs.
Possible destinations
Cincinnati Bengals, Green Bay Packers, Jacksonville Jaguars, Miami Dolphins
The Bengals benefited from a decent season from Hayden Hurst last year, but he is certainly not the long-term solution to the tight end position, especially since he is a free agent. In Green Bay, whatever happens at quarterback, it will take a safe target for the aerial game to advance and the former Notre Dame fits the criteria perfectly. In North Florida, Evan Engram has served well in 2022, but he's not the biggest blocker. Michael Mayer could clearly add strength in protecting Trevor Lawrence and take over if Engram does not extend his contract after 2023. If we go down a bit to South Florida, the situation is almost the same with a Mike Gesicki who is no longer a receiver and is a free agent this year. And there is no player more to protect than Tua Tagovailoa.