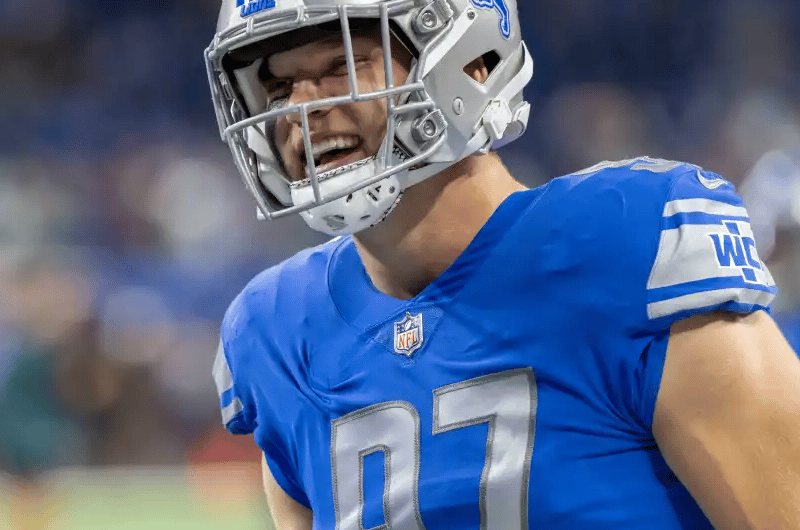 The number two in the draft participated in stifling Washington's attack with 3 sacks. Jared Goff also had a successful match.
Detroit Lions (1-1) – Washington Commanders (1-1): 36-27
There is no point in running, you have to start on time. The maxim is old, but Washington failed to apply it this Sunday. Led 22-0 at the break, the Commanders came back to wing in the second period. In vain.
Less than two minutes from the end, Carson Wentz (30/46, 337 yards, 3 TDs, 1 interception) found Jahan Dotson for the touchdown, but Joey Slye missed the conversion (36-27). With more than one possession away, the mass was said. First victory therefore for the Lions, well led by Jared Goff (20/34, 256 yards, 4 TDs) in attack and Aidan Hutchinson (3 sacks, 2 tackles for loss).
A one-sided first period
Having conceded 38 points from the Eagles had obviously remained across the throat of the Lions. Dan Campbell's men were intractable in defense in the first half, constantly putting Carson Wentz under pressure.
Overwhelmed, the Commanders only converted two first downs in the half for no points, or even a negative total: Charles Harris forced a fumble from Carson Wentz in his endzone, synonymous with safety (0-5).
Aidan Hutchinson, sack #2️⃣#WASvsDET #OnePride

🎥 @NFL pic.twitter.com/zCDPKT43Vx

— DNA of Sports.com – NFL News 🏈 (@DNA of Sports) September 18, 2022
Pressure from Detroit's defense and special teams eventually triggered his attack. After two trips to the redzone rewarded with a field goal and a fourth failed attempt, Jared Goff took advantage of the advantageous position offered by the safety to find Amon-Ra St. Brown in the endzone (12-0). Detroit added a field goal, and a touchdown from Josh Reynolds for a one-sided halftime (22-0).
Wentz vindictive, Goff serene
Muzzled in the first period, Wentz had the merit of reviving in the second. Much more mobile in his pocket and better protected, the former Colts player was able to find solutions by taking advantage of the largesse of the opposing backfield. On 5 drives before these fateful last two minutes, the Commanders scored 4 touchdowns for 1 interception, sending shivers down the backs of the locals.
Carson Wentz ➡️ Curtis Samuel: TD Commanders 🏈 Washington unlocks his counter #WASvsDET #HTTC

🎥 @NFL pic.twitter.com/7w0Jv8o0uH

— DNA of Sports.com – NFL News 🏈 (@DNA of Sports) September 18, 2022
Unfortunately for Ron Rivera's men, their defense couldn't keep up. After getting two punts to allow their team to come back (22-15), the Commanders cracked at the end of the third quarter on a masterful drive. After a 58-yard sweep from St. Brown, D'Andre Swift finished the job on an exceptional individual action (29-15).
Despite the Commanders' perseverance and an exchange of touchdowns in the last quarter, their awakening was too late. After difficult seasons, both teams give off a similar impression of rebuilding. With his future star in defense, the Lions may have a head start.
By Andre Swift, Barry Sanders version 😍#WASvsDET #OnePride

🎥 @NFL pic.twitter.com/3iAxEz7X8S

— DNA of Sports.com – NFL News 🏈 (@DNA of Sports) September 18, 2022