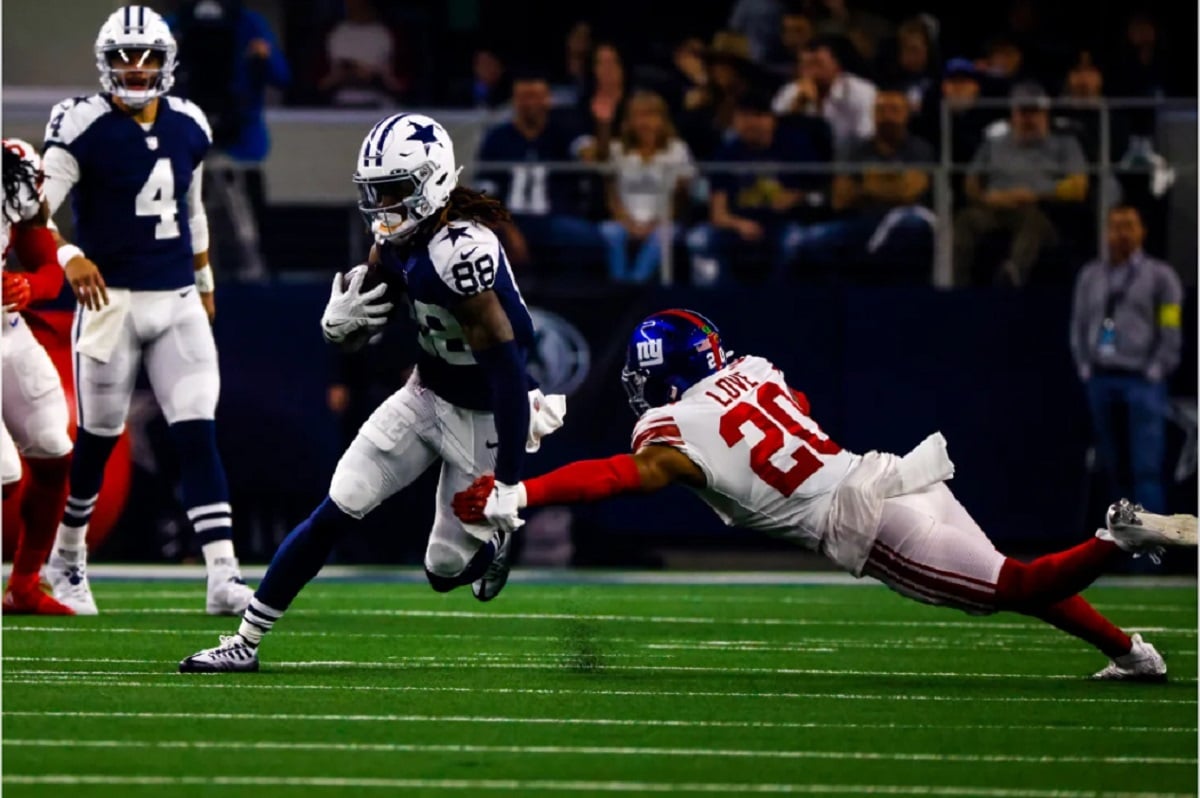 Dallas Cowboys (8-3) – New York Giants (7-4): 28-20
For this 2nd Thanksgiving game, it's an opposition between two teams from the best NFL division this season: the NFC East, between the Cowboys and the Giants who have the same record before this game.
It was in the second half that Dallas made the difference with 21 unanswered points. While the score was 14-13 for the Cowboys, an imprecise pass from Daniel Jones (21/35, 228 YDS, 1 TD) for Saquon Barkley (11 runs, 39 YDS, 1 TD) on 4th & 1 will be penalized by a touchdown from Dalton Schultz. We don't know it yet but at that time, Dallas made the difference for good.
Unruly Dallas
If Dallas gained more yards than the Giants at halftime, they also accumulated more negative statistics (7 penalties) and negative actions.
First of all, a 4th failed attempt by Ezekiel Eliott (16 carries, 92 YDS, 1 TD) which could have been sanctioned with a touchdown from Isaiah Hodgins but the referees decided to sanction the offensive tackle Tire Philips, considering that he was an ineligible receiver. Which infuriated coach Brian Daboll. The Giants must therefore settle for a field goal to open the scoring.
Then, an interception by Rodarius Williams on a bad pass from Dak Prescott but this time the Dallas defense resists the attack from New York.
Then, after 1 touchdown on each side on the run from Ezekiel Eliott and Saquon Barkley, Dallas once again got into trouble, with a new interception by Julian Love on Dak Prescott then 2 defensive penalties, allowing New York to dig the gap with a field goal from Graham Gano (13-7).
Dallas regains control, festival of tight-ends
On the restart, Dallas starts again then passes in front with Dak Prescott (21/30, 261 YDS, 2 TDs, 2 INT) who connects with Dalton Schultz (4 REC, 31 YDS, 2 TDs) despite 2 new penalties offensives. And following the Giants' poor execution on 4th&1 and after an incredible reception from CeeDee Lamb on the Cowboys' next offensive series, Dak Prescott balances his statistical record with a 2nd touchdown pass to his safety valve Dalton Schultz, who scores a double.
CeeDee Lamb (6 REC, 106 YDS) is definitely in all the right moves. The Cowboys receiver is 2 fingers away from registering one of the touchdowns of the season but his heel is outside the end zone.
But, on this Thanksgiving day, the Cowboys decided to feed the tight-ends in touchdowns. Indeed, after Dalton Schultz, it's Peyton Hendershot, on a run of 2 yards, who has the right to his touchdown. The Giants will save the honor with a touchdown from Richie James on a pass from Daniel Jones.
The New York team is marking time and could see the playoffs pass under their noses. As for Dallas, they confirm their impressive victory against the Vikings and take a big step towards the playoffs.
Come for the walk-in Peyton Hendershot touchdown.

Stay for the @SalvationArmyUS whack-a-mole!

📺: @NFLonFOX | #NYGvsDAL pic.twitter.com/Wiu4R9kKqe

— Dallas Cowboys (@dallascowboys) November 25, 2022