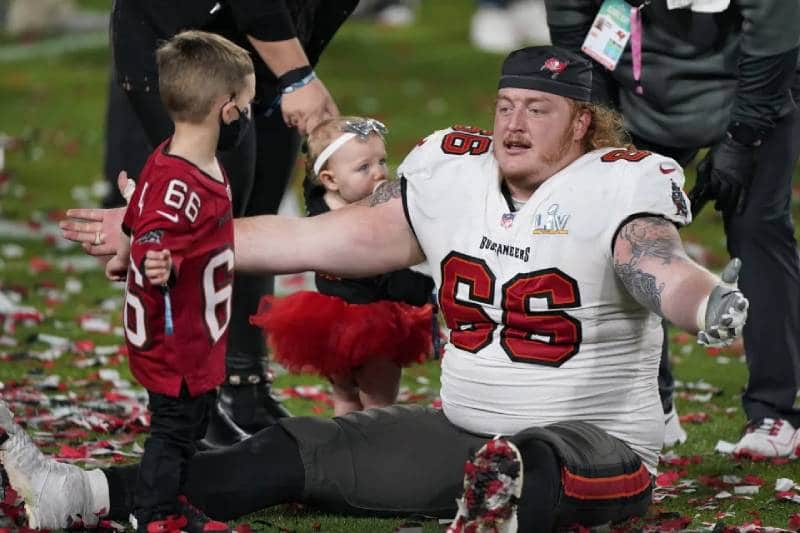 hot news
– Tom Brady is coming out of retirement!
– Vikings extend (and increase!) Kirk Cousins
Program: Live Twitch Free agency this Monday at 8 p.m.
From 8 p.m., Alain Mattei and Gregory Richard will be live to debrief the start of free agency, and of course to talk about the return of Tom Brady.
Click here to follow our Twitch channel.
Coaches
– Scott Turner (offensive coordinator, Commanders) signed a 3-year contract extension, which commits him until the end of the 2024 season. (NBC Sports Washington)
Transactions
– Jason Kelce (C, Eagles) did not come out of retirement for nothing. According to NFL Network, he becomes the highest paid center in the league, with a one-year contract for 14 million dollars.
– Ryan Jensen (C, Buccaneers) re-signed with the Buccaneers for three seasons. According to ESPN, the deal is for $39 million, of which $23 million is guaranteed. Jensen will therefore not reach free agency, of which he was to be one of the best linemen.
– Zach Ertz (TE, Cardinals) re-signed with Arizona for three seasons. ESPN announces a contract worth 36.65 million dollars, of which 17.5 million guaranteed. He caught 56 ​​passes for 574 yards and 3 touchdowns in 11 games with the Cardinals last season.
– Isaiah McKenzie (WR, Bills) signed a new 2-year contract with Buffalo, according to ESPN. He caught 20 assists last season.
– Devin McCourty (S, Patriots) continues in New England for a 13th season. He had his children announce his return on video. ESPN announces a one-year contract for $9 million.
– Christian Kirksey (LB, Texans) extended for two seasons with Houston. (ESPN)
– The Browns have placed a contract tender on By Ernest Johnson (RB), which will give them the right to match all the offers that will be made to the rider. If no one approaches him, he will have a one-year contract for $2.4 million.
– Orphans of Ben Roethlisberger, the Steelers have landed a tender contract on Dwayne Haskins (QB) allowing them to match potential offers for the quarterback. Importantly, if a team wanted Haskins, they would have to give a first-round draft pick as well. It therefore seems almost certain that the ex-Buckeye from Ohio State will play for Pittsburgh next season.
– The Saints modified the contract ofAlvin Kamara (RB) to free up $8.3 million in their payroll. Charges carried forward to subsequent years. They also amended Marshon Lattimore's (CB) contract to free up $18.45 million in payroll.
– Craig Robertson (LB, Saints) announced his retirement after 9 years in the league. A career shared between Cleveland (4 years) and New Orleans (5 years).
– Blake Martinez (LB, Giants) agreed to amend his contract, with a pay cut, to continue playing with the Giants. (ESPN)
– The Falcons gained $12 million in payroll by modifying the contract of Matt Ryan (QB). (ESPN)
They re-sign with their team
Bengals: Joe Bachie (LB)
Broncos: Calvin Anderson (OT), Andrew Beck (FB/TE)
Buccaneers: Aaron Stinnie (OG)
Eagles: Jason Kelce (C)
Lions: Evan Brown (OL), CJ Moore (BC)
49ers: Nate Sudfeld (QB), Demetrius Flanningan-Fowles (LB)
Jets: Lamarcus Joyner (S), Will Parks (S)
Patriots: Jakobi Meyers (WR)
Raiders: Jackson Barton (OT)
Steelers: Miles Killebrew (DB), Arthur Maulet (BC)
Texans: Christian Kirksey (LB), Jeff Driskel (QB), Davions Davis (WR), Carson Green (OL), Jimmy Morrissey (OL), Chris Conley (WR), Chris Moore (WR, Texans)
They sign in a new team

Texans: Cedric Obguehi (OT)
They are cut

Bears: Tarik Cohen (RB), Eddie Goldman (DT)
Giants: Riley Dixon (P)
Jaguars: Carlos Hyde (RB)
Cowboys: Greg Zuerlein (K), Blake Jarwin (TE)
Rumors
– The Cowboys reportedly got in touch with Bobby Wagner (LB). Two of the team's main linebackers (Leighton Van Der Esch and Keanu Neal) will be free agents in a few days. As a reminder, the defensive coordinator of Dallas, Dann Quinn held this position during the great years of the Seahawks defense, and in particular during Super Bowl 48 won 43-8 under the impetus of one of the best defenses in history. , symbolized by Defense General Bobby Wagner.
– Dallas reportedly awarded La'El Collins (OT, Cowboys) and his agents the authorization to find a team interested in the lineman. The franchise would think they have what it takes to replace him with Terence Steele (OT). The Jaguars, Broncos, Bengals and Dolphins are said to have come to information on the player. (ESPN/Jordan Schultz)
– The Bills, Steelers and Chargers would be among the teams interested in Fletcher Cox (DT, Eagles). (Jordan Schultz)
Bobby Wagner disappointed with Seahawks
Bobby Wagner (LB) is free, and he obviously had no say.
"The craziest part of it all is that I played there for 10 years, and I didn't even learn from them that I wasn't staying," the linebacker shared on Twitter.
Crazy part about all this. I played there for 10 years & I didn't even hear it from them that I wasn't coming back.

— Bobby Wagner (@Bwagz) March 11, 2022
Tyler Lockett is going to work with Colin Kaepernick
On Twitter, Colin Kaepernick (QB) explained that he missed throwing the ball to professionals. Tyler Lockett (WR, Seahawks) quickly offered to come and help him. The two men agreed to organize by private message.
Let's do it bro! Me and my brother will come run routes for you! https://t.co/MPvZTKA8PG

—Tyler Lockett (@TDLockett12) March 13, 2022
Tom Brady's "last" touchdown ball sold for $518,000
Hours before Tom Brady's return was announced, someone bought what was supposed to be the last touchdown ball thrown by the quarterback. Last bid: $518,000.
This happened on the auction site Lelands.
The editorial staff feels less alone, since Brady also destroyed the Buccaneers offseason article published on Sunday.
Support DNA of Sports
Don't forget to follow us on social networks by clicking on the links: Twitter – instagram – Facebook
You can support us directly on Tipeee.
Or by subscribing to the ESPN Player to follow the NCAA season and see all the great ESPN documentaries.
Or by subscribing to NordVPN via this link.
And don't forget to subscribe to our Wednesday Newsletter.