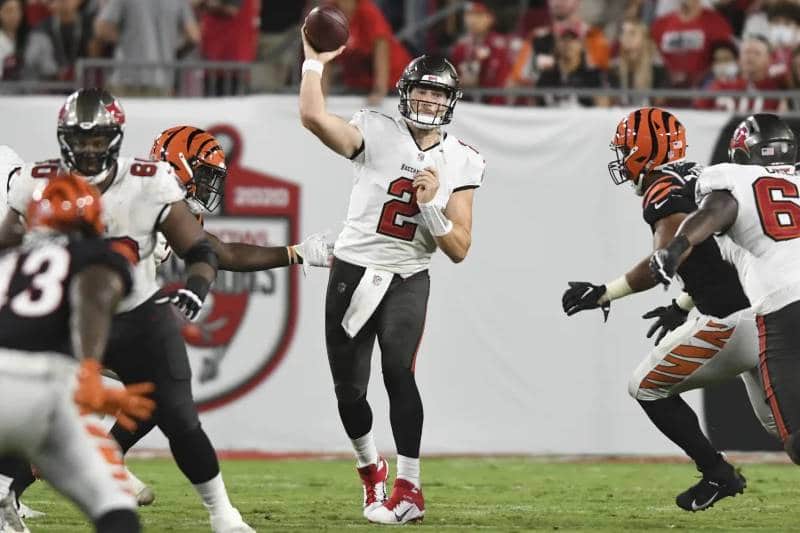 And now ? The departure of Tom Brady leaves a huge void in the NFL. But an even bigger hole for the Buccaneers, who must now replace the greatest quarterback in history.
Behind Brady, there was Blaine Gabbert, who will be free in March and has never represented a solution for the future. The solution could therefore come from the one who was the third pitcher in the squad during the past season: Kyle Trask.
Former of the college of Florida, Trask was selected in the second round in 2021. He did not play this season, but Bruce Arians did not hesitate to compare his mental qualities to those of Andrew Luck, whom he had headed to Tampa.
"Mentally, he's not far behind what Andrew did in the same offense, and what Andrew did in his rookie season was amazing," Arians told the Tampa Bay Times. "I'm not saying he's Andrew Luck, but mentally he's very sharp. "
While waiting to see him potentially play high-stakes matches in the NFL, here is the text of the file dedicated to Trask published in our pages before the Draft.
His pre-Draft file
Cut : 1m95
Weight : 108 kg
Estimated draft position: 2and – 3and tower
Stats 2020: 12 games, 4,283 yards, 301/437 (68.9% completions), 43 touchdowns, 8 interceptions.
NFL Comparison: Kirk Cousins
Strong points
– Precision
– Reading
– Character
– Game in the pocket
Endowed with an ideal size for an NFL quarterback, Kyle Trask has above all an exceptional character and tenacity. The path traveled by the former resident of Florida to get there is proof of great mental strength. Replacing D'Eriq King in the high school ranks, he has never started a meeting at this level. But that doesn't mean he didn't succeed when the opportunity presented itself. During his junior and senior season, he threw 16 touchdowns for zero interceptions, racking up 1,545 yards through the air. He gave insight into his most prized trait – accuracy, with a completion percentage above 70% in his final two years at Manvel High. Landed in Florida, he still had to wait, slowed down by injuries or barred by Feleipe Francks for the position of number 1. This moment arrived by force of circumstance in 2019, following the injury of the holder. But it is clear that the Gators offense has improved week by week under his direction. A feeling reinforced last year when he had a top-notch season in the formidable SEC, finishing at the foot of the podium in the race for the title of best university player. Hardworking, the young man was able to rally his team behind him to become one of the leaders.
Trask has excellent footballing intelligence and uses it to make good decisions on the pitch as evidenced by his low number of interceptions throughout his career. Constantly improving, recruiters should appreciate this element combined with its precision, certainly its greatest asset. Patient, he remains calm in all circumstances and does not limit himself to his first reading. He constantly sweeps the pitch, rarely gets his readings wrong and distributes the ball well using all his targets. He constantly identifies the open target, anticipates the paths of his receivers and throws at the right time in the appropriate area, thus facilitating their work. Thanks to the good positioning of his balls, he is able to throw in tight windows or beat good coverage.
Effective on screen passes, surgical in the middle zone of the field, he is better when he stays in his pocket. He controls his attack wonderfully, and with time he is able to dissect any defense. Trask also has the advantage of having already played behind a center, in shotgun or pistol. A lot of college quarterbacks have never taken a snap under center and many are having a hard time adjusting to this change as a pro. Teams won't have that problem with him. On the other hand, his production will depend on the cast that accompanies him and a solid offensive line to protect him.
Weak points
– Athletic abilities
– Game outside the pocket
– Throwing mechanics
One of his main problems remains his game outside the pocket. When he moves with the open terrain facing him, he appears disoriented. His feet flail, and he faces the defender, preparing to take the hit, rather than trying to make the throw. He also loses all ability to analyze the pitch, which can lead to improper throws that lead to lost balls.
The throwing mechanics are also to be reviewed. He has developed a bad habit of not always accompanying his balloons. When releasing the leather, his elbow remains locked, creating more velocity than the average release on short or intermediate routes (less than 20 yards). But for power throws at the edge of the field or deep, he has more difficulties, with major problems of consistency. His deep ball, for example, can be very accurate at times, or cause his team headaches (eg the game against Oklahoma). He doesn't have a cannon for an arm, which may put off some contenders in a league based on mimicry. The majority of his success in college came from short and middle passes that gave receivers the opportunity to gain yards after receptions. He has the ability to make all the throws but must improve his gestures and his fluidity of movement to become a solid professional quarterback.
Finally, he lacks the mobility and athletic ability, which are almost a prerequisite for success in the modern NFL. He's nimble enough to move around in his pocket and escape pressure, but that's about it. Although he's improved his footwork, he's still "a statue" who isn't going to come out of his protection to extend the ground game. He also won't provide a consistent double threat in the red zone. On the move, defenders chase him easily and he will struggle to avoid pressure.
Possible destinations
Pittsburgh Steelers, Indianapolis Colts, New England Patriots, New Orleans Saints, Washington Football Team
While there are plenty of teams in need of quarterbacks, Kyle Trask's options remain limited. Right now he's behind at least 5 other players and the best destination will be an offense that doesn't require him to throw deep. His lack of athleticism limits him to a few offensive systems, but he would be perfect in a west coast attack, based on high tempo and fast throws.
Substitute at first, it will take him one or two years to develop properly, before why not, glean a starting position. Even if his production will largely depend on the players around him. With this in mind, his name could very well come out of the hat at the 2and tower. If New England does not find happiness on the first evening, the Patriots may very well be interested in the profile of the Texan who has the qualities to integrate into the offensive device of Josh McDaniels in the future. Still in this vision of a project to be developed, it would not be surprising to see him land in Pittsburgh behind Ben Roethlisberger, or Indianapolis, as Carson Wentz's understudy. Another track, New Orleans, which could see in Trask the successor of Drew Brees for the years to come.