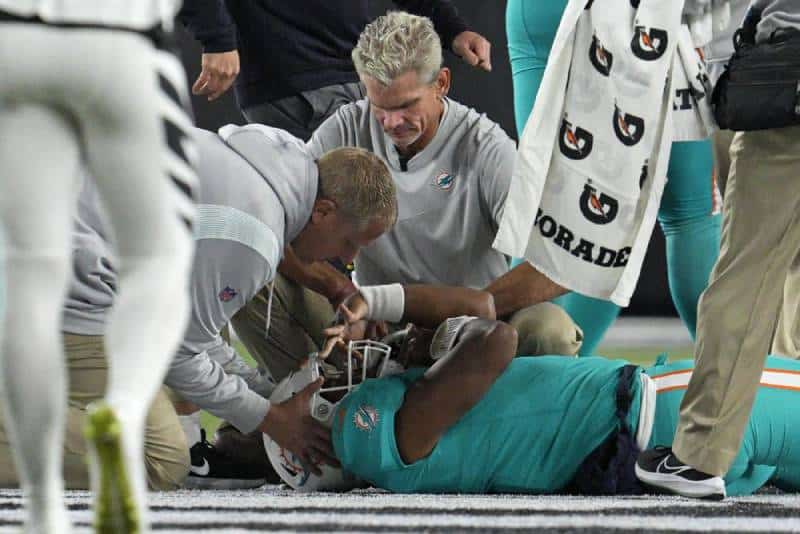 Cincinnati Bengals (2-2) – Miami Dolphins (3-1): 27-15
The strong image of the first match of the fourth week is unfortunately not a game action. It is Tua Tagovailoa, on the ground for seven minutes before being evacuated on a stretcher. Shaken on a sack, the quarterback was evacuated to the hospital with a concussion. The diagnosis was confirmed by Mike McDaniel as early as the post-game conference.
Tagovailoa was conscious and could feel all of his limbs when he was evacuated. He was even released from the hospital so he could return to Miami with his team.
Tua Tagovailoa takes a nasty hit praying he's okay 🙏 #TNF

— Woodward Sports Network (@woodwardsports) September 30, 2022
Led 7-6 at the exit of their starting pitcher in the second quarter, the Dolphins, hung on for a long time, in particular thanks to their defense, before yielding in the last quarter, during which they conceded 13 points without returning any. only one. Teddy Bridgewater only managed to lead his team to three points in the second part of the match, and he was intercepted on the opposing field just over three minutes from the end. An interception returned for 46 yards which put Joe Burrow in position to find Hayden Hurst and the touchdown won a few actions later (27-15).
Cincinnati up and down
Nine actions, 75 yards and a touchdown. The Bengals couldn't have started the game any better. But Zac Taylor's attack still lacks regularity. The next three rounds do nothing. We have to wait for a brilliant action to see Tee Higgins score on a reception from 59 yards before halftime.
Fortunately, Cincinnati's defense is much more consistent. She begins by limiting the visitors to a field goal, before intercepting a Tua Tagovailoa who was looking for Tyreek Hill in depth. Miami returns to one point thanks to another field goal (7-6) before the exit of Tagovailoa. Chase Edmonds even responds to Higgins, and the Dolphins trail just 14-12 at halftime.
Cincinnati plunges back into inefficiency early in the third quarter. Both teams hit two punts each. Miami passes in front of the foot (14-15), but Cincinnati responds immediately with another field goal (17-15). Because in addition to being inefficient, the Bengals are shy. On a 4th 1 yard from the end zone, Zac Taylor prefers the kick. In the middle of the last quarter, Evan McPherson managed a strike from 57 yards to widen the gap (20-15), before the fatal interception of Bridgewater and the final touchdown of Hayden Hurst.
Joe Burrow will be able to congratulate himself for having taken only one sack, but Cincinnati still has yards on offense. The ground game remains ineffective (2.2 yards / race) worrying, and quality series must be linked more regularly. An evening always more successful than Miami, which now has 10 days to hope for the return of its titular quarterback.