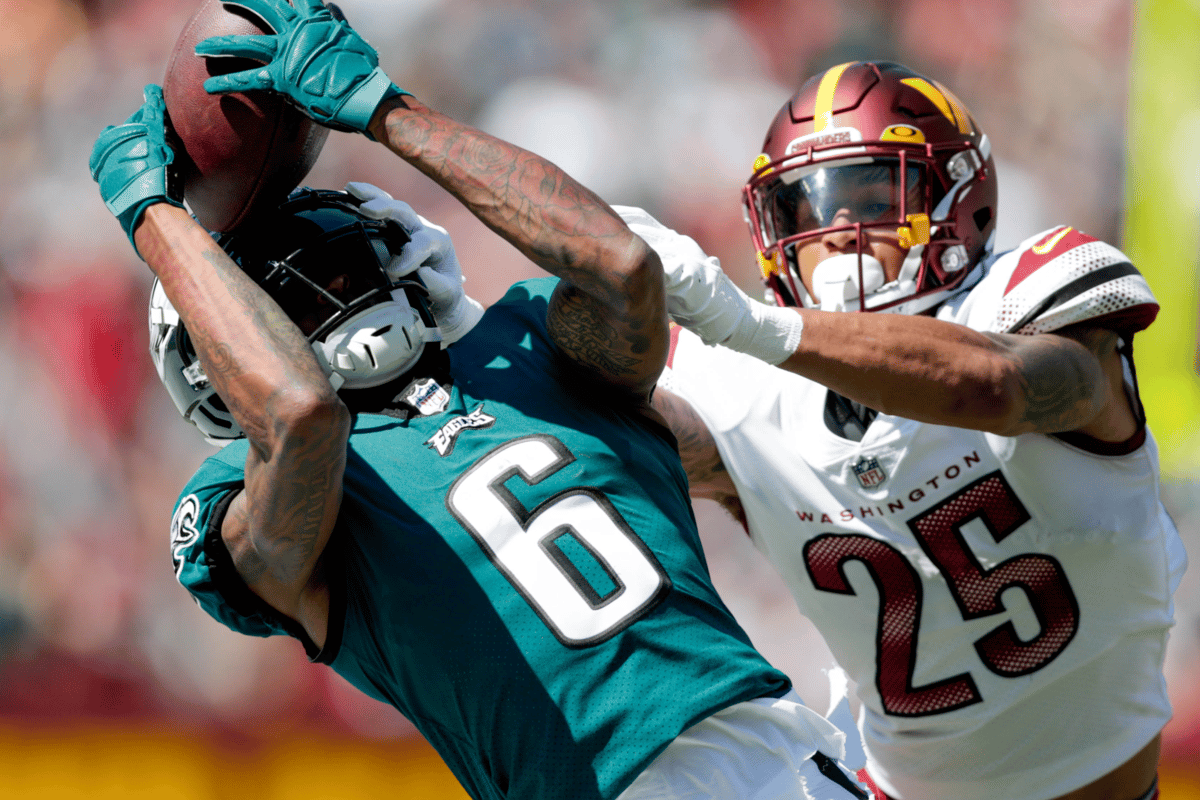 Washington Commanders (1-2) – Philadelphia Eagles (3-0): 8-24
Carson Wentz (25/43, 211 yards) did not have his rematch against the Eagles, he even often came close to ridicule in his pocket management. At halftime, his team was already led by 24 points, with a total in the air of -16 yards for Washington. The Eagles pass rush crushed the Commanders line, making the capital attack harmless and capitalizing 9 sacks!
On the other side, the Eagles' aerial game shone, starting with Jalen Hurts (22/35, 340 yards, 3 TD) who again made a very clean copy. Playing only one half at 100% (like last week against Minnesota), Philly's attack made all the targets shine: Dallas Goedert (26 yards, 1 TD), AJ Brown (85 yards, 1 TD ), Quez Watkins (2 DPI provoked) and especially Devonta Smith (169 yards, 1 TD), author of a capital performance.
Devonta Smith 😱#PHIvsWAS #FlyEaglesFly

🎥 @NFL pic.twitter.com/lGszuSSgHw

— DNA of Sports.com – NFL News 🏈 (@DNA of Sports) September 25, 2022
With this victory the Eagles can still dream of first place in the conference, and are still favorites of the NFC East. Washington will have to quickly regain confidence, and make a choice as quarterback, as Carson Wentz seems definitely broken.
Jalen Hurts – Devonta Smith, gala duo
Throughout the first half, the Eagles unfold in attack as in defense, without encountering opposition. The defense is the first to come into view, with 4 sacks in the first quarter. The whole line participates, including veterans Fletcher Cox (1.5 sacks) and Brandon Graham (2.5 sacks).
After 5 punts to start, the Eagles attack wakes up quickly. First by a field goal, then by a touchdown from Dallas Goedert (0-10). This is when the Devonta Smith show begins. The former Alabama receiver multiplies the acrobatic receptions, taking the best of the Washington defense.
Jalen Hurts took advantage of this and was decisive in the red zone with the pass, finding AJ Brown then Devonta Smith in quick succession for touchdowns (0-24). There is only one team on the field and Ron Rivera returns to the locker room with his head bowed.
A nap in the second half
Like last week, Philly is not going to put energy into the second half and let Washington save the honor. Paradoxically, it is the defense that takes care of it, Daron Payne coming to chase Miles Sanders (46 yards) for a safety (2-24). Carson Wentz finds a rhythm and complementarity with Terry McLaurin (102 yards) but the Eagles defense does not allow anything.
Philadelphia will have a focus for the week, it's the ground attack, traditionally a force. Miles Sanders was a disappointment, as was Antonio Gibson on the other side. The match is bogged down in boredom, and Nick Sirianni fails to mobilize his team. Gibson will still have his touchdown late in the game, with the help of JD McKissic and Terry McLaurin.